Have you heard about the ABC drink? Apple, Beetroot, and Carrot juice is believed to be a miracle drink which can treat a lot of your health issues.
With the pandemic still here, we keep looking for food and drinks which can help boost our overall health and keep health problems at bay. ABC juice or apple, carrot and beetroot drink is one of them and must be consumed for its amazing health benefits.
Individually, apple, carrot, and beetroot are super healthy for our body but when drunk together as a combination it can do wonders. Read on to know how drinking this juice everyday can help you improve your overall health.
Helps In Weight Loss
This low-calorie drink is great for those on a weight loss journey. It helps you stay full for longer and prevents you from munching food between meals. Also, the drink is high in fibre which increases metabolism and further helps in weight loss.
Detoxifies Body
Once in a while, we need a drink that can detoxify our organs and help us throw all the harmful toxins from our body. This apple, carrot, and beetroot juice helps in pushing out all the harmful toxins from the body. It helps in removing toxins from the liver, kidney, and intestines.
Purifies Blood
Apple, beetroot, and carrot juice help in detoxifying the organs and further promote blood purification. This protects the skin and helps fight the free radicals in the body. Drinking this juice also helps in increasing the production of red blood cells which further increases the hemoglobin level in the body.
Don't Miss: Here Is Why You Should Drink A Glass Of Orange Juice Everyday
Great For Skin
Having this ABC drink helps you get flawless, glowing skin. It helps in removing acne, pimples, blemishes, and black spots from your skin. The vitamin A present in these vegetables has anti ageing properties that prevent your skin from premature ageing. The beta carotene present in carrots helps in slowing down the ageing of the skin.
Gives You Healthy Heart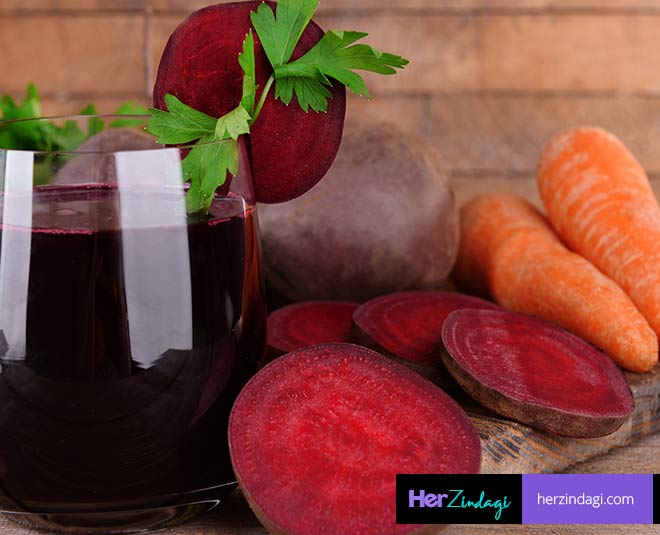 Beetroot and carrots have beta carotene and lutein which keep the heart-healthy. Apples help in keeping the blood pressure in control. They have a good amount of carotenoids present in them which keep the cholesterol levels of the body in check.
Keep Eyes Healthy
We are all hooked to laptops and smartphones all day long. Our eyes keep getting dry and tired. This further can lead to eye issues. The ABC juice has a high amount of vitamin A present in them which prevents your eyes from getting tired and dry. It also helps in improving your eyesight.
Don't Miss: Looking For A Complete Detox? These Juices Will Be Of Great Help
Boosts Immunity
This juice is packed with the goodness of nutrients which are great for your overall health. They help in boosting the immune system which prevents us from getting infected or suffer from any allergies.
How To Make ABC/ Detox Drink?
You Need:
1 Glass Water
1 Tbsp Honey (Optional)
1 Tsp Lemon Juice (Optional)
Carrot
Beetroot
Apple
Directions:
Wash beetroot, carrot, and apple peel and cut into small pieces.
Add them to a blender or juice and add water.
Strain the juice into a glass. Add lemon or honey as per taste or drink as is. Enjoy the miracle drink!
The best time to consume this drink is on an empty stomach in the morning.
Have you ever had this drink before? Share your thoughts with us! For more stories around health, stay tuned.