It was HerZindagi's 3rd anniversary and we organised a 2-day webinar program with celebrated experts. On the second day of the webinar, we got Accredited Dietitian, Nutritionist, Swati Bathwal on board where she interacted with not just team HerZindagi but all our readers and answered all their queries live. Read on to know what all health tips she shared with us during the program.
What Are The Things Affecting Our Immunity?
Nutritionist Swati Bathwal shared that our kitchens are now completely different from what they were years back. There are a lot of factors that can affect one's immunity negatively. She shared that people don't step out to get sunlight which leads to the deficiency of Vitamin D that further weakens one's immunity.
The expert further shared that not just the deficiency of Vitamin D but stress levels also play a key role. She shared that stress levels are too high in city life.
COVID Protection
Accredited dietician and nutritionist, Swati Bathwal further shared a list of things which one must follow for the virus protection. Read on.
Oil Pulling - With sesame oil or coconut oil
The expert shared that if your stomach or mouth isn't clean well then your body won't be able to absorb the vitamins and nutrients. Oil pulling helps in cleaning your mouth and improves gut health. She further shared that oil pulling clears all the bacteria in the mouth and prevents the virus from entering your body.
Gargle
If you have a sore throat then you must gargle with hot water. Make sure you add haldi and black pepper to it.
Giloy or Kadha
Giloy is used as an Ayurvedic herb for ages now and has incredible health benefits. The expert suggested that one must not drink too much kadha as it leads to heat in the stomach.
Vitamin D
Vitamin D plays a key role in our health and the expert suggested that everyone must get their vitamin D levels checked.
Vitamin C - Chutney, Lemon, Fresh Fruits
Swati Bathwal shared that one must include chutney to their meals as it has a good amount of vitamin C, be it coconut chutney or pudina chutney.
Don't Miss: Lose Weight Quickly By Adding These Vitamin C Rich Fruits To Your Daily Diet
Zinc or Zincovit - 13 mg a day
Consuming 13 mg of zinc everyday can prevent the virus from attacking your lungs. The expert shared that if one feels they have symptoms of COVID, then they must include zinc in their diet.
Orange Tea
The Nutritionist further shared the recipe for a healthy cup of orange tea. Add 2 slices orange, 1 slice lemon, turmeric, black pepper to hot water. Let the water boil for a while, strain and drink.
Other measures:
Safety - social distancing
COPD plus Heart and blood pressure
Surgical mask and N95 mask
Exercise
Post-COVID recovery - fatigue, hair fall, gut health
People With Heart Issues And Blood Pressure At Higher Risk Of COVID
The expert further shared that people suffering from any heart disease are at a higher risk of coronavirus. There are also chances of the COVID-19 recurring in such cases if they don't follow the precautionary measures.
She further shared that those suffering from blood pressure are also at a very high risk of COVID-19. Those suffering from asthma or COPD are 8-times higher at the risk of COVID-19.
Tips For Those Recovering From COVID-19
The expert shared that those recovering from COVID will face issues like fatigue and hair loss. She shared that these people should keep themselves hydrated, consume food every 2-3 hours, and avoid fatty or fried foods. Khichdi, dal, barley water are some great food options for these people.
Best Oil For Cooking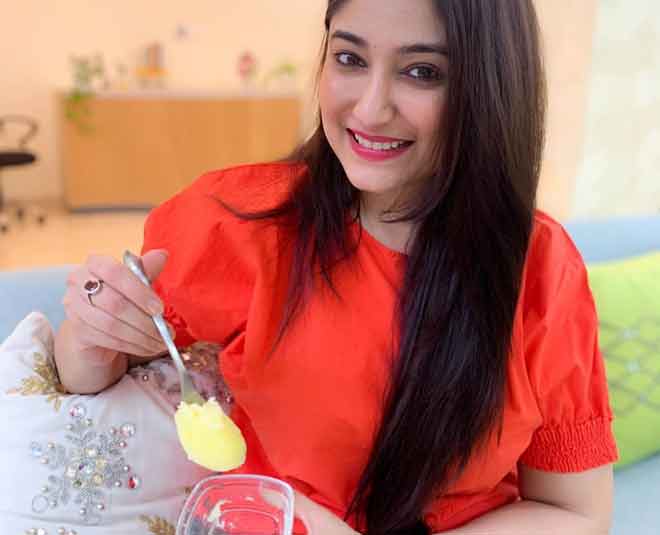 Dietician Swati Bathwal shared that one can consume ghee if it is free from any impurities. The expert shared that all the Aryuvedic products and medicines are prepared using ghee as it strengthens the nerves. She recommended using pure ghee.
Next, she recommended using sarson ka tel or mustard oil as it is great for health. She further shared that peanut oil is equally healthy.
Further talking about pomace oil, she shared that it isn't healthy for our body as it is a by-product of olive oil. She also shared that one must avoid having olive oil as well.
She shared that one must avoid using refined oils as when these are extracted and produced in bulk, the compounds present in them harm your body.
Talking about the quantity of oil, she shared than 1 tbsp of oil or ghee a day is enough for a person.
Harms Of Storing Food In Plastic Containers
The expert shared that there was a time when food used to be stored in ceramics and glass bottles earlier but now everyone has started to use plastic bottles. She further recommended stopping the use of plastic bottles as the chemicals present in the container reach out to the oil.
Don't Miss: Never Cook These Foods In Iron Kadhai Or Pan
Best Utensils For Cooking Food
Talking about the best utensils for cooking food, the expert shared that people these days have an iron deficiency because they have stopped cooking in an iron kadhai and now use stainless steel. She shared that food prepared on stainless steel is toxic for the body.
Flowers To Treat Common Problems
Hibiscus
Swati Bathwal shared that gudhal or hibiscus is beneficial in controlling blood pressure and it also helps in treating hair fall.
Marigold
Marigold's water helps women having issues in menstruation.
Chamomile
Drinking chamomile infused water helps in stress relief.
Rose
Consuming gulkand or drinking milk with crushed rose petals can benefit pregnant women having symptoms like nausea and those suffering from PCOS.
Other than these useful health tips, the expert also answered questions from our readers. See full interaction on our Youtube Channel, HerZindagi. For more such tips from health experts, stay tuned!