Lassi is one of the most popular drinks in India. This thick and delicious cold beverage prepared using curd has been a part of our tradition for a long time now.
The hot summer season is here and nothing like quenching our third with a big glass of homemade lassi. This delicious drink is usually prepared using lots of dahi or curd, water, and sugar. A lot of people like having the salty version too.
Do you know lassi is packed with the goodness of calcium and vitamins which are great for your overall health? Yes, you should add lassi to your daily diet for its amazing health benefits.
Good For Your Digestive System
Do you know why people drink a glass of lassi after their meal? Lassi helps in reducing acidity. It prevents indigestion and heartburn which are common after a heavy or spicy meal.
Lassi has good bacteria present in it which lives in our digestive tract and helps to lubricate the intestines. It helps in breaking down the food, absorbing nutrients, and further helps the bowel movement.
Drinking lassi after your meals will help you prevent any digestive issues like bloating and constipation among others. (Foods to prevent acidity)
Helps Regulate Cholesterol And Blood Pressure
Drinking a glass of lassi will fuel your body with probiotics which are known to lower the bad cholesterol in the body. Drinking lassi also helps in lowering the blood pressure of your body.
Improves Immunity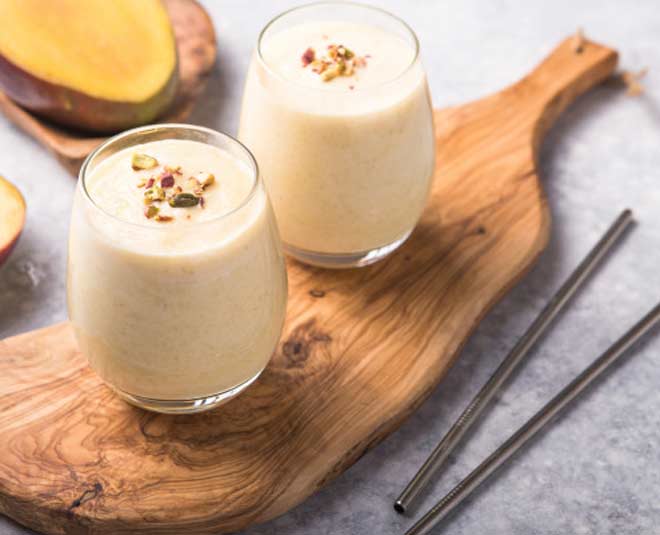 The traditional beverage can help you boost your immune system. How? Lassi has lactic acid and vitamin D present in it which helps in boosting immunity. Fueling your body with a good amount of vitamin D helps you prevent diseases.
Keeps Your Bones Strong
Curd is a rich source of calcium and drinking lassi helps you fuel yourself with an adequate amount of calcium. Having this delicious drink can help you improve your bone health.
Don't Miss: Here Are Some Delicious Ways To Have Chaas This Summer
Not just for your health, lassi is great for your skin as well. The lactic acid found in the traditional lassi is believed to be super healthy for the skin. Drinking lassi will help you improve your skin's texture, remove pigmentation and give you young-looking, beautiful skin. (herbs to improve bone health)
What Does The Expert Say?
Dietician Jaya Johri, LNJP Hospital, said, "Lassi is a soothing summer drink filled with the goodness of milk proteins, calcium and probiotics." She shared that diabetics should avoid sweetened lassi. The expert further shared that the best time to have lassi is with meals. It can also be taken as a midmeal. In the present scenario it's best taken at room temperature, she suggested.
Helps You Lose Weight
Before you ask, we will tell you that to lose weight, you should be drinking salty lassi. It is full of nutrients and low in calories. Drinking a glass of lassi helps you stay full for longer which further prevents you from bingeing on snacks in between meals.
Don't Miss: Aam Panna Easy Recipe And Health Benefits
Treats Body Heat
Especially during the hot summers, a lot of people experience body heat. This is one reason why lassi is one of the most commonly consumed drinks during this season. Lassi has electrolytes that help fight dehydration in your body and fight the body heat.
Lassi is best consumed along with a heavy meal or after it as it helps to ease the digestion process. However, it is important to understand that sweet lassi has a lot of calories and one should drink it in moderation.
Lassi is not just a delicious beverage but has some amazing health benefits too. However, before adding it to your diet, make sure you consult your doctor or dietician if you are undergoing a medical treatment.
For more such health-related stories, stay tuned!