When it comes to a healthy living, it is imperative to eat every nutrient in the right proportion. A diet packed with the right amount of vitamins and minerals can work wonders on your health. One of the most important vitamins which our body needs is Vitamin A. This fat-soluble vitamin can improve our vision, make our bones stronger, keep our skin young, and is also beneficial for other tissues in the body. It also helps in preventing grey hair. So, if you happen to have grey hair, start bingeing on vitamin A-rich foods. No, we are not kidding! Several studies have shown that vitamin A can boost the production of melanin which in turn prevents grey hair.
So, if you wish to have long, silky, and black hair, then you must include vitamin A-rich foods in your daily diet. Here is a list of 7 such foods. Read on to know more about them.
Eggs
Eggs are the powerhouse of various essential vitamins and minerals, especially vitamin A and protein. Including eggs in your daily meals can provide you with a considerable dose of vitamin A. You can also directly apply it on your scalp or make your own DIY egg hair mask.
Dark Chocolate
Now, you have another reason to binge on dark chocolate. Experts believe that dark chocolates are loaded with iron, vitamin A and copper- all of which are responsible for preventing grey hair and ageing.
Carrot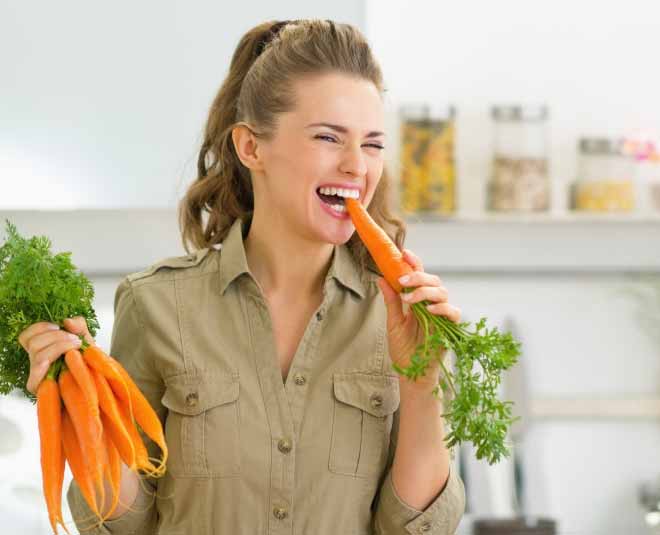 This nutritional showstopper is packed with health benefiting properties. Apart from being rich in vitamin A, carrots also contain dietary fiber which is beneficial for our digestive system and lowers the levels of bad cholesterol.
Broccoli
This green veggie can work magic on your hair, skin, and health. You get 3,788 IU of vitamin A in a bunch. You can either have it cooked or raw in the form of salads.
Sweet Potatoes
If you want something sweet and healthy, reach for sweet potatoes. A 100g serving of sweet potato contains 19218 IU of vitamin A, which is 384% of the daily recommended amount of vitamin A.
Don't Miss: Beat The Heat With These 7 Cooling Foods
Spinach
Spinach is a rich source of Vitamin A. According to USDA data, a cup of spinach contains 2,813 IU of vitamin A. So, if you want to turn your grey hair into black or combat hair fall, start including spinach in your daily meals. It also contains beta carotene, zeaxanthin, lutein, and chlorophyll which are beneficial for our eyesight and immune system.
Liver
Liver is packed with vitamin A that will prevent you from looking like a grandma. According to the United States Food and Drug Administration (FDA), a 3oz serving of pan-fried beef liver contains 6,582 micrograms (mcg) of vitamin A, which is a lot as compared to other food items. And that's not all. According to a study published in Biological Trace Element Research, it is also rich in copper which reduces the chances of premature greying of hair.
Disclaimer: All content, including tips and suggestions, is entirely based on research and data available on the internet. So, it is advised not to construe it as professional medical advice and consult a doctor before making any changes in your diet.
Stay tuned to HerZindagi for more such articles.