One reason why I simply love the summer season is that it brings along so many delicious juicy fruits, mangoes, watermelons, and my favourite, cherries! These red cherries are so flavourful, a good mix of sweet and sour.
While many like to add cherries to bakery goods like cakes, tarts, and pies, I like having them raw or with a bowl of yogurt.
Do you know cherries are believed to be a superfood? The delicious red fruit has great medicinal value because of its anti-inflammatory properties. Consuming cherries have numerous health benefits. Read on to know why you should add them to your diet this season.
Cherries Help In Weight Loss
If you are on a weight loss journey then don't forget to add this fruit to your diet chart. Why? Cherries are low in calories so munching on a handful of them will keep you full for sometime without actually adding up any weight. On the other hand, cherries are rich in vitamins which help in boosting the metabolic rate of your body which further helps in losing weight quickly.
Cherries For Hypertension Or High Blood Pressure
Hypertension is one of the most common health problems women suffer from today. Do you know eating cherries can help in reducing blood pressure? Cherries have potassium present in them which helps in removing excess sodium from the body which is the main reason behind the irregular blood pressure levels.
Cherries Help You Sleep Well
Do you know cherries can help you have a good night's sleep? They have a hormone called melatonin which helps you have a good and peaceful sleep. The hormone helps in regulating your sleep cycle and also controls your body's wake-up clock. If you suffer from insomnia then you should definitely add cherries to your diet.
Cherries Prevent Heart Issues
It is crucial to take care of your heart and have a diet that boosts your health. Cherries have antioxidants present in them which help in reducing the bad cholesterol levels in your body. This further helps in regulating blood pressure and makes your body fight the free radicals that damage your body from the inside. Consuming cherries can help you reduce inflammation and prevent you from the risk of heart issues.
Don't Miss: Check Out Some Incredible Health Benefits Of Mangosteen
Cherries Are Good For Digestion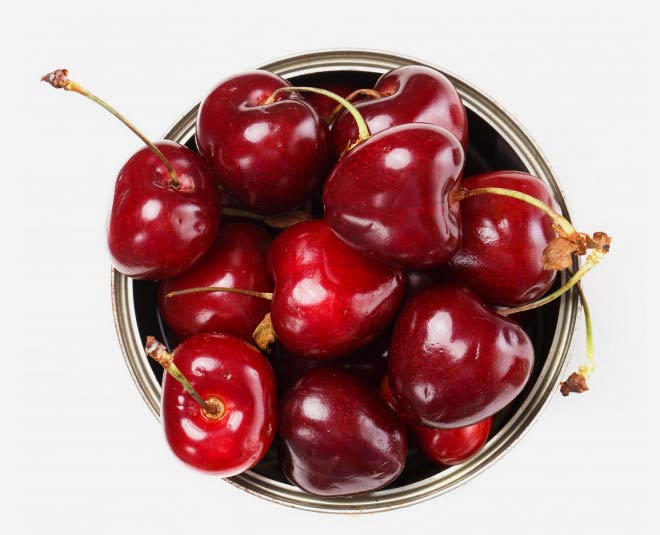 Cherries are alkaline in nature and that's one reason why they come as a saviour during times there is a pH imbalance in the stomach. They help in preventing any digestion-related issues like indigestion or acidity.
Cherries Reduce The Risk Of Chronic Diseases
Cherries are high in antioxidants which help in controlling oxidative stress in the body which usually leads to chronic diseases. This fruit is also rich in polyphenols which are a group of plant chemicals that fight cellular damage in the body. Having cherries can help reduce certain cancer, diabetes among other health issues.
Don't Miss: Can't Find The Blueberries, The Superfood? Go for It's Best Alternative – Kala Jamun
Cherries Are Great For Skin
Lastly, having cherries everyday can help you have a great skin. This delicious fruit is a rich source of antioxidants that help fight the free radicals which make your skin look dull and damaged. You can have them everyday for that gorgeous glow or apply them in the form of a paste or face pack to get flawless skin.
Though cherries are completely healthy and you should add them to your diet for their amazing health benefits, it is best you consult your doctor before adding them to your daily diet if you are under any medication or treatment. For more such health-related stories, stay tuned!