Cantaloupe Or Kharbuja Juice Can Transform Your Overall Health, Celebrity Nutritionist Shares Benefits
Treat yourself with a glass of refreshing cantaloupe or muskmelon juice this summer season for its amazing benefits.
One of the best things about the summer season for me is that it brings along some of my favourite fruits including refreshing and juicy ones like watermelon, muskmelon.
During the hot and humid weather, I prefer eating fruits with high water content because like everyone I suffer from dehydration. These fruits are packed with water, delicious and so filling. Also, they are packed with a lot of different nutrients which benefit our health in multiple ways.
Today, we will be talking about cantaloupe which is also known as muskmelon or kharbuja in Hindi.
Health Benefits Of Cantaloupe Or Muskmelon
Since cantaloupe is rich in water and fiber, it is great for our digestive system. It prevents digestive issues like constipation, diarrhea, and indigestion. Consuming muskmelon on a regular basis helps in regulating bowel movement and also has a cooling effect on your stomach.
During the hot weather, you need something to keep yourself hydrated through the day and cantaloupe is one such fruit. It prevents dehydration as it has water content of almost 90 percent.
Muskmelon or cantaloupe is a good source of antioxidants. These antioxidants are quite beneficial for the skin. They boost collagen and make your skin glow.
If you suffer from blood pressure then muskmelon is a fruit you must add to your diet. The high water and fiber content of muskmelon help in regulating your blood pressure.
How To Make Cantaloupe Or Muskmelon Juice?
One of the best ways to enjoy the health benefits of this fruit is by drinking its fresh juice. Here is how you can prepare it at home.
Ingredients Required -
1 Cantaloupe Or Muskmelon
Sugar As Per Taste (Optional)
2 Tsp Lemon Juice
Crushed Mint Leaves
Ice Cubes
Pinch Of Salt
Directions -
Cut cantaloupe into small pieces and keep them aside.
In a blender, add cantaloupe, mint leaves, salt, sugar, lemon juice. Blend to make a smooth paste.
To make it thinner, you can add some water.
If you don't like pulpy juices, you can strain the juice.
Pour the juice into a glass and add ice cubes.
Enjoy chilled.
We spoke to Celebrity Nutritionist, Shweta Shah, Founder of EatFit247and asked her to share the amazing benefits of cantaloupe juice.
Health Benefits Of Cantaloupe Or Muskmelon Juice
Boosts Immunity
The expert said, "Cantaloupe is rich in Beta-carotene, it even has more beta-carotene than apricots, grapefruit, oranges, peaches, mangoes, etc. Some cantaloupes even have the same amount of beta-carotene as carrots. Beta-carotene is a type of carotenoid that gives fruits and vegetables their bright colors. Once eaten, beta-carotene is either converted into vitamin A or acts as an antioxidant to help fight free radicals in the body. Vitamin A is important to improve eye health and also build immunity in the body."
Reduces Risk Of Cancer
Cantaloupe is a good source of folate which is also known as vitamin B-9. It helps in preventing neural-tube birth defects like spina bifida. It also helps in reducing the risk of some cancers, addresses memory loss due to aging, among other issues.
Don't Miss: Lakshman Phal Or Sour Sop: Benefits Of Adding The Fruit To Your Daily Diet
Fuels Body With Vitamin C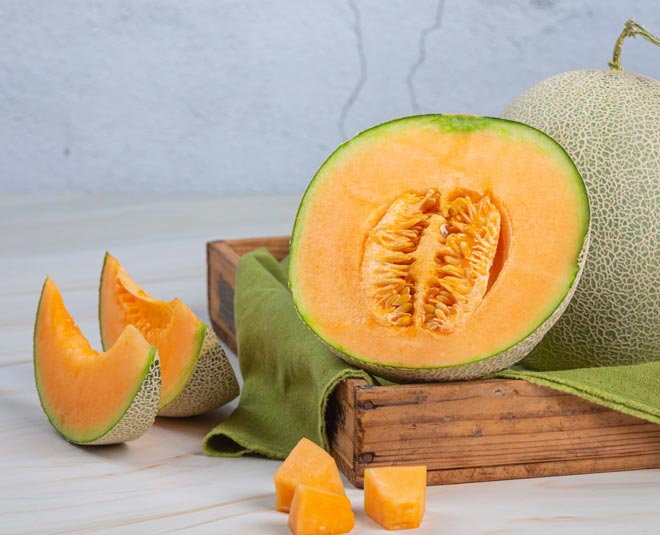 Vitamin C is necessary in the production of blood vessels, cartilage, muscle, collagen in bones, wear and tear of cells, etc. The daily recommended quantity of vitamin C required for the body is fruitfully fulfilled by a single cantaloupe.
Keeps You Hydrated
"Cantaloupe has high water content, at almost 90 percent. Eating cantaloupe helps you stay hydrated throughout the day. Dehydration is a risk factor for developing kidney stones, dizziness, headache, less urination, dry skin, dry mouth, constipation, rapid heart rate," the expert added.
Refills Depleted Electrolytes
A lot of people are recommended to have a potassium-rich drink or snack after a workout. This is to ensure that they refill their body with the depleted electrolytes. Potassium is an essential mineral and it is found in muskmelon. Potassium helps keep the right water balance between cells and body fluids and also balances sodium levels. Potassium is important to nerve health and proper muscle contraction.
Loaded With Vitamins And Minerals
If you are hunting for a drink that is packed with the goodness of vitamins and minerals then this muskmelon juice should be your pick. Cantaloupe has many vitamins and minerals, including vitamin K, niacin, choline, calcium, magnesium, phosphorus, zinc, copper, manganese, selenium etc.
Helps In Weight Loss
Since cantaloupe is packed with water, it keeps you full for longer. The fiber present in the fruit is quite filling and prevents you from overeating.
Don't Miss: Know About The Basic Rules Of Eating Fruits By Rujuta Diwekar
Tips To Choose Muskmelon Or Cantaloupe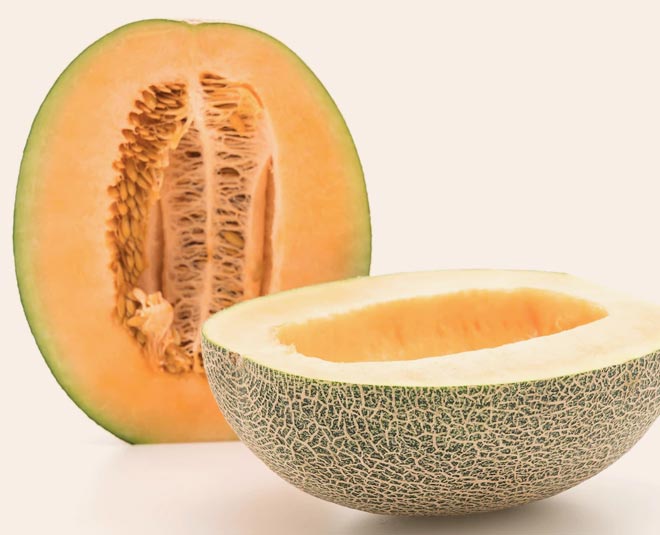 When choosing a ripe cantaloupe for juice, look for one that's symmetrical and feels slightly heavy. The colour should be somewhere between yellow and orange. If you smell it, it will be on the sweeter side. To enjoy the fresh taste of the fruit, consume it within 3 days of buying it.
We hope this guide helps you enjoy the most of cantaloupe or muskmelon this season. For more such health-related stories, stay tuned!