We have all grown up listening to the amazing health benefits of amla or Indian gooseberry. Amla is called a superfood for a reason. Packed with the goodness of vitamin C and other nutrients, amla can help treat a lot of your common health issues.
To enjoy all its health benefits, it is important to add it to your diet. There are different ways you can do it, in the form of chutneys, murabba, juices, or even pickles. An easy way to do it is by having amla water. Read on to know how you can make it at home when to drink it, and its health benefits.
How To Make Amla Water?
Ingredients Required
Amla Or Indian Gooseberry
Water
Directions
Cut amla into small pieces and place it under direct sunlight for a few days. After a few days, transfer these dry amla pieces in a mixer and blend. Homemade amla powder is ready!
How To Drink Homemade Amla Water?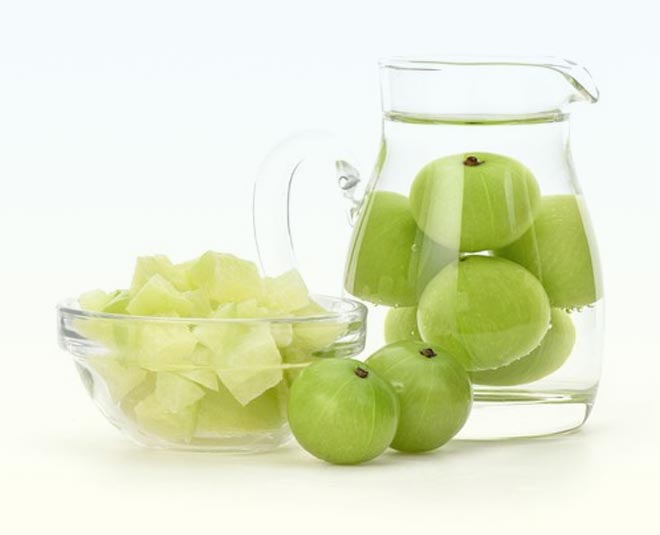 Once you have your amla powder ready, store it in an air-tight container. Whenever you feel like drinking it, take a teaspoon of amla powder and mix it with a glass of water. Stir well. You can strain the drink and have it or have it as is.
When Is The Best Time To Have It?
It is best to have this amla water in the morning on an empty stomach.
What Are The Benefits Of Drinking Amla Water?
There are numerous health benefits of having amla water. Read on to know.
Amla Water Helps In Weight Loss
Amla or Indian gooseberry has a good amount of amino acids present in it which are known to improve the metabolic rate of the body. Drinking amla water can help in reducing fat accumulation in the body. For weight loss, it is best to have amla water before your meal.
Don't Miss: Why You Should Drink Atleast 2 Tsp Of Amla Juice Everyday
Amla Water For Diabetic Patients
Do you know Indian gooseberry is a rich source of chromium? Chromium is known to reduce blood sugar levels in the body and control diabetes. Amla water is a healthy drink for anyone suffering from this health issue. However, it is best to consult your doctor before doing so.
Amla Water For Digestion
Amlas are rich in fiber which makes them a great fruit for digestion. Consuming amla water helps in improving bowel movement. Amla works as a natural laxative and helps flush out the harmful toxins from the body. Drinking amla water helps in providing relief from digestive issues like constipation and IBS.
Don't Miss: Make Amla A Part Of Your Daily Diet With These Recipes
Amla Water For Cold And Cough
Amla or Indian gooseberry has anti-viral properties which boost your immune system. Having amla water along with ginger and honey can help treat respiratory issues like a cold and sore throat.
Amla Water For Skin
Lastly, amla water can do wonders for your skin. This one ingredient can magically transform your skin. Drinking amla water everyday will help you treat skin issues like pimples, pigmentation, ageing, and dull skin. (Amla face packs)
Though amla water is completely healthy and should not have any side effects, it is best you consult your doctor/dietician before making it a part of your diet to avoid any health issues.
For more health-related stories, stay tuned!