Amla is a magical fruit or vegetable which is has a number of medicinal properties. Also called Indian Gooseberry, it is a great source of Vitamin C and antioxidants. It also contains polyphenols that are believed to combat and protect you against cancer-causing free radicals. A pool of iron, carotene, chromium and fibre along with antibacterial properties, Amla is excellent for maintaining healthy hair, boosting eyesight and ensuring smooth digestion.
Make this fruit or vegetables a part of your regular diet by infusing it in different recipes. Here is a list of some easy recipes that we hope will be helpful for you.
Amla Murabba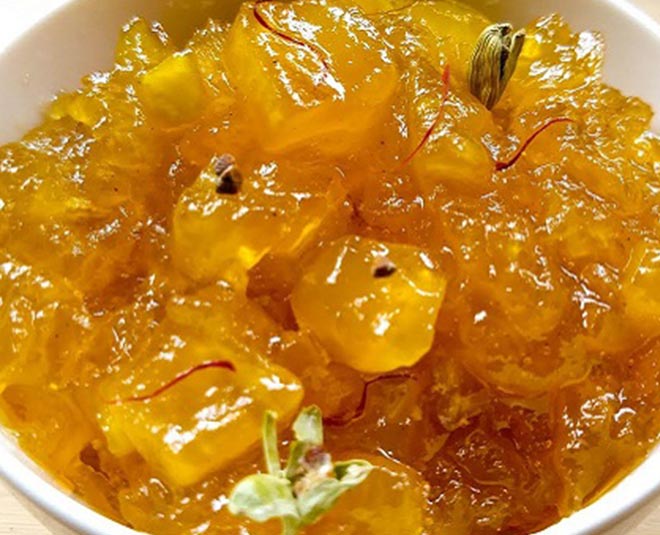 In this recipe, boiled amla pieces are doused in sugar syrup and flavoured with cardamom. Prepare it in the winter months and make the most of it.
Ingredients:
1 kg amla
2 tsp lime
1 1/2 kg sugar
6 cups water
1 tbsp lemon juice
How to Make Amla Murabba
Prick amla with a fork. Dissolve 1 tsp lime in water and soak amla overnight.
Wash it all and then repeat the above procedure. Wash it again.
Boil water then add amla.
Cook till tender and transparent.
Drain and keep aside.
Make a syrup with sugar, lemon juice and 6 cups of water.
Maintain one thread consistency.
Add amla, bring to a boil and simmer for 4-5 minutes.
Let it cool, then store in a clean airtight jar.
You can add some cardamom or elaichi or any other flavouring of your choice.
Read More: Amla: Your Go-To Ingredient For Healthy And Strong Hair
Aachaar Amle Ka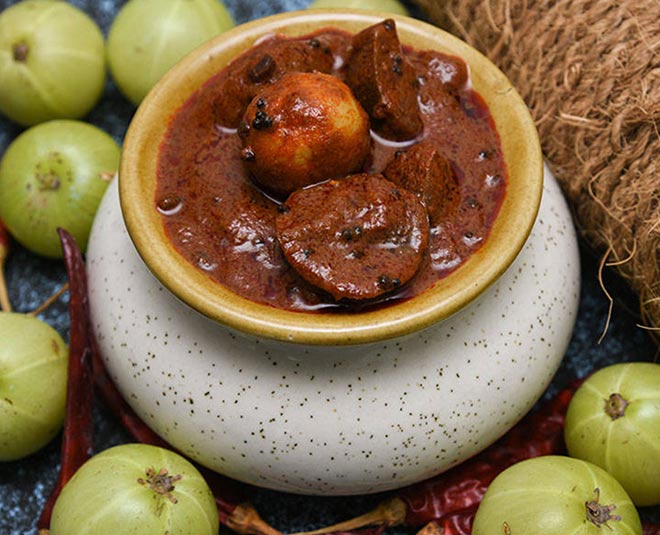 This has six basic ingredients, and all you need is forty minutes.
Ingredients:
1 Kg amla
350 gms salt
240 gms mustard oil
1 tbsp mustard seeds
1 tbsp chilli powder
2 tbsp hing (asafoetida)
Method:
Boil the amla till the skin looks tender for 15 minutes.
Leave to drain in a colander till all the water drains out.
Heat some oil and add the mustard seeds, hing and chilli powder.
Mix well and add the amla and salt.
Stir fry till it's mixed well and the amlas are completely coated with masala.
Cool and store in a clean jar.
Sweet Potato Fries with Amla Aioli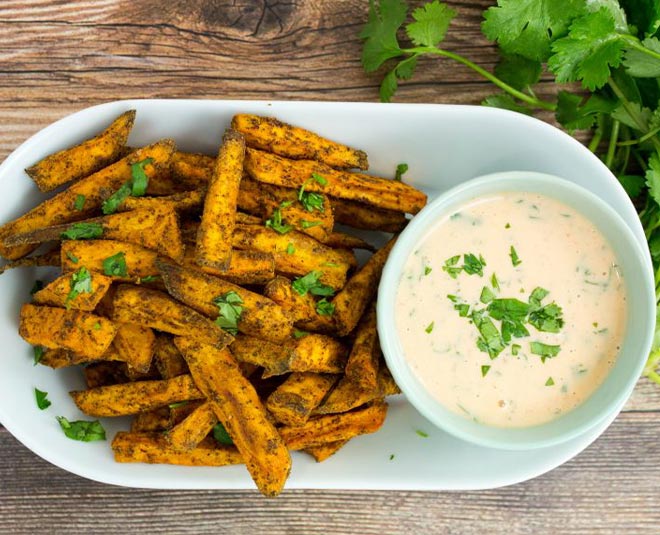 Ingredients:
1 medium sized sweet potato
For the batter:
2 tbsp Rice flour
2 tbsp cornflour
30-40 ml drinking soda
1 tsp Mexican chilli powder/ or any chilli powder
Few oregano leaves
1 tsp salt
For the dip:
2-3 tbsp eggless mayonnaise
1/2 garlic (squeezed), roasted
1 tbsp shallots, finely chopped
3-4 jalapenos (pickled)
2-3 fresh basil leaves
1 tbsp amla
To season salt and pepper
Few sprigs thyme
1 1/2 tsp jalapeno juice
Method:
Wash the sweet potato to get rid of any soil.
Slice fairly thin into a bowl of chilled water.
In a stainless steel or glass bowl, whisk all the ingredients for the batter.
Set aside some of the rice and corn flour mixed with salt, pepper, Mexican chilli powder and oregano to dredge the sweet potatoes.
Drain the sweet potato and pat dry.
Dredge them with the flour mix, dip in the batter and deep fry in hot oil.
Blend all the ingredients for the dip together in a bowl.
Chill and serve with the chips.