The sudden rise in the number of coronavirus cases in the country is worrisome. Coronavirus and its new, deadlier strain Omicron has sparked fear across the country. A lot of people who have got infected by the virus are suffering from some common symptoms including fever, cold, cough, headache among others.
Recently, we spoke to Dr. Ruchi Bhardwaj, Senior Ayurvedic Expert and she shared that some common symptoms of the Omicron variants are -
Mild Fever
Fatigue
Scratchy Throat
Loose Motion
Body Pain
Night Sweats
She further shared that the patient needs medical advice if they suffer from -
Diarrhea
Face difficulty in breathing
Notice discolouration in fingers and toes
Notice red or irritated eyes
Loss of speech or mobility
As advice, the expert shared,
1. Take steam inhalation before meal two times in a day.
2. Do oil pulling in each nostril regularly.
3. Take lukewarm water and plenty of fluids in a day.
4. Drink ginger water two times a day.
Further, we asked the expert how steam inhalation during the time of cold, cough can help. She said, "Steam inhalation helps to eliminate the mucous by melting it down. It helps the bronchial to work properly. It also helps to clean the lungs and work smoothly."
Steam Inhalation And Its Benefits
Steam inhalation is an easy home remedy to free your nasal passage. A lot of people are also suffering from cold and cough this season during the chilly winters, they too can try this remedy to treat their cold, cough or sinus infection.
Clears Nasal Passage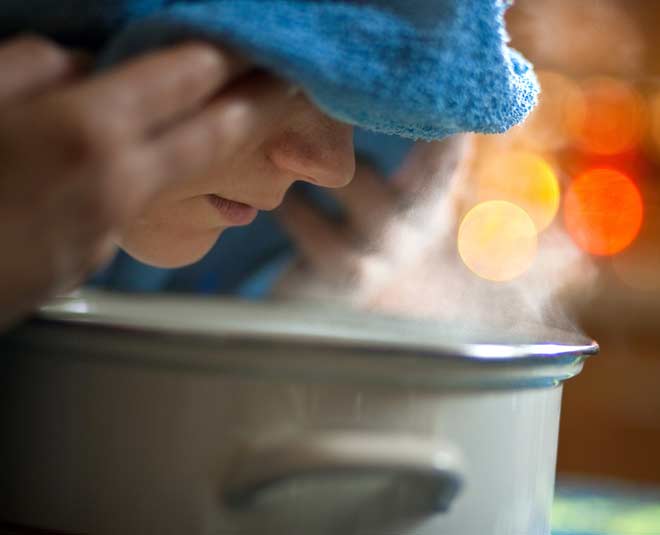 When there is inflammation in the blood vessels of the sinuses, one suffers from a stuffy nose. Cold can further irritate the blood vessels. Inhaling steam helps in clearing the cold. It soothes irritation in the nasal passage because the moisture in the steam thins the mucus in the sinus and helps one breathe normally.
Provides Relief From Cough
Many suffer from cough during the change of weather. Inhaling steam helps in providing relief from cough. Steam helps fight symptoms of cough such as stuffy nose, shortness of breath, hurtburn among others.
Reduces Stress
Not only does steam inhalation helps relief cold and cough but also your stress. Inhaling steam is an easy way to reduce your everyday stress. When you inhale the steam, your veins become large, the blood stream expands. It gives you a relaxing experience.
Don't Miss: Some Lesser Known Facts About The Health Benefits Of Steam
Improves Circulation
When you inhale steam, your body's temperature rises. Your blood vessels dilate and this increases the blood flow and circulation in the body. The increase in blood circulation helps in treating headaches and migraines. It also helps in improving your self defense mechanism.
Cleanses Pores
We often forget cleansing the pores of our skin. Over time, dust, dirt, oil and polluted air accumulate over our skin. They make our skin look dull. Inhaling steam will help you rejuvenate your skin. It helps in clearing the pores of your skin. This further prevents issues like blackheads, whiteheads.
How To Inhale Steam?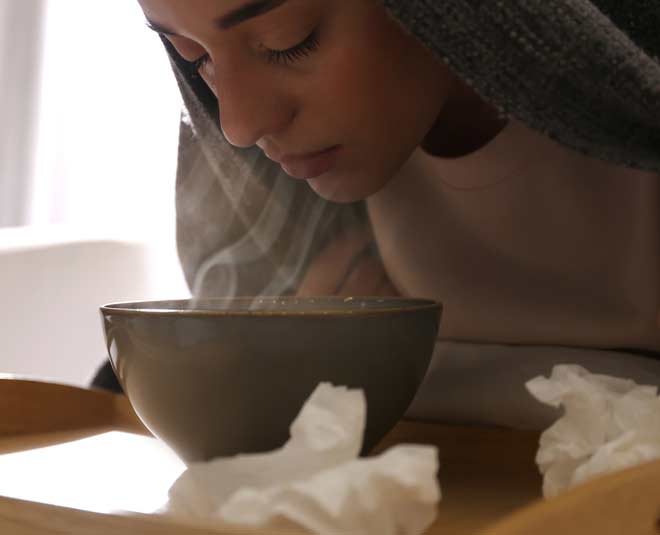 Inhaling steam is one of the easiest home remedies. All you need is some water, a towel and a bowl.
1. Heat water and bring to boil.
2. Once the water is steaming, pour it into a big bowl.
3. Cover your head with a towel and lower to inhale in the steam from the water.
Don't Miss: New Covid Guidelines Amid The Rise Of Omicron Strain
4. Make sure you keep a safe distance from the bowl to prevent yourself from burning.
5. Breathe in for about 5-10 minutes.
6. You can also add a healing oil or balm in the water for quick relief.
To enjoy the amazing benefits of steam inhalation, do try this easy home remedy. For more such stories, stay tuned!