Garam masala is one of the most commonly used spices in Indian kitchens. Garam masala literally translates to 'warm spice mix'. It is commonly a mixture of cloves, cinnamon, cumin seeds, cardamom, bay leaves, and black pepper.
The spice is used in different food preparations to enhance the flavour and taste of our dishes.
But do you know this one spice can do a lot more than just adding flavouring to your food? The spice is packed with the goodness of many minerals which can boost our health in many different ways.
Garam Masala Improves Digestion
One of the key benefits of adding garam masala to your food preparations is that it makes digestion easy. This is because the spice helps release the gastric juices in the stomach. Further, this smoothens the bowel movement and prevents digestion-related issues like acidity, bloating, indigestion among others.
Garam Masala Boosts Metabolic Rate
The spice is a combination of many different spices that have their own amazing benefits. The ingredients together are rich in phytonutrients that help boost the metabolic rate of the body.
This makes the spice a treat for anyone who is trying to lose weight. A higher metabolic rate means that the body burns more calories than required. So, if a person has a higher metabolic rate and ends up consuming more calories, they won't really gain weight.
Adding garam masala to your diet means that you will be able to burn more calories.
Don't Miss: Black Cardamom Can Help You Score Flawless Skin And More
Garam Masala Is Great For Heart Health
If you have been looking for ingredients that can improve your heart health, you must pay attention to this spice. Garam masala has the goodness of cardamom or green elaichi which is known to be great for your heart.
Adding this spice to your diet will help you regulate your blood pressure levels which will further improve your heart health.
Garam Masala Lowers The Risk Of Cancer
Your diet plays a key role when it comes to the prevention of certain health issues. To keep deadly diseases like cancer at bay, you must add garam masala to your diet. The spice has nutrients that can inhibit the growth of tumour in the body and prevent different types of cancers.
How To Make Garam Masala At Home?
Though garam masala is easily available in the market, not everyone enjoys having readymade ones. Many prepare it at home using a mix of spices. If you are a fan of homemade spices, you can make this easily at home.
You Will Need:
Cardamom Or Green Elaichi
Black Peppercorns
Cinnamon
Cumin Seeds
Bay Leaves
You can also add other spices like fennel seeds, nutmeg among others for flavour as per preference.
Directions
In a pan, transfer all the spices and dry roast till they turn aromatic. Let them cool.
Transfer the spice mix to a blender and make a powder. Store in an airtight container and the spice is ready for use!
Don't Miss: Here's Your Chance To Learn The Correct Way Of Storing And Organising Spices?
How To Add Garam Masala To Your Diet?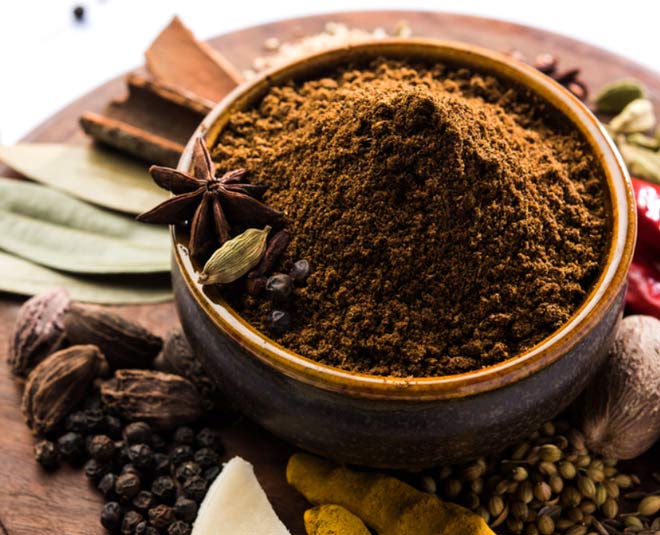 Garam masala is one spice that can be used in just any preparation, be it vegetarian and non-vegetarian. It adds a great, restaurant-like flavour to your dishes.
Though garam masala has many benefits, it shouldn't be consumed in excess as it can lead to health issues. Also, if you are undergoing a health treatment, make sure you consult your doctor before making it a part of your diet. For more such health-related stories, stay tuned!