Organise your spices, store them the right way and make your kitchen more sorted we say! Read on and let us know if you made use of any of the ideas with a picture of your storage. Also, if you live in humid or tropical regions, we have solutions for that as well.
Use Your Spices
Utilise your spices well, include them in some DIYs etc so that they do not expire. Nothing can save them if you let them expire. When it comes to toring the herbs, try storing them on a cool countertop pod so that they grow all winter long. If you purchase fresh herbs from the market, keep them in open bags with damp paper towels wrapped around them. This will make them last longer.
Stackable Tins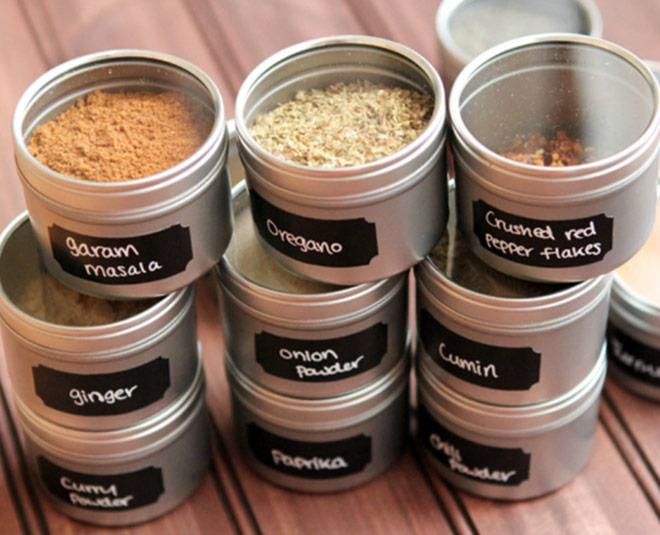 Image cortesy: atmedia.imgix.net
With the correct label on each tin, you can stack all your spices together. Many people who have an obsession with neatness, clarity and organising it all, do it this way. Well we cannot blame them as it does look neat and tidy. You can even let your guests enter your kitchen to impress them.
Drawer Inserts
If you have to store the spices in a drawer to save cabinet space and invest in a rounded drawer insert. It becomes more convenient to take out the bottles and looks pretty as well.
Use Magnets Inside Your Cabinet Doors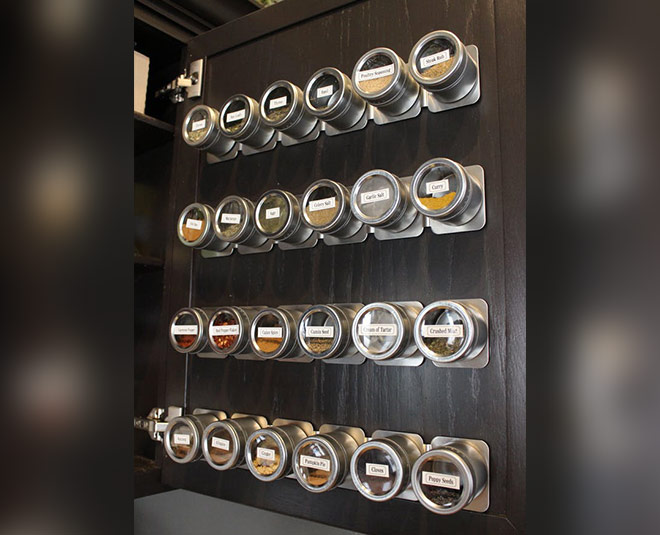 Image cortesy: atmedia.imgix.net
Utilise your cabin without taking up too much space. Glue on some magnets in a proper way and store your spices in small metal tins or canisters.
Under The Cabinet
We see so much space under the capinet which kind of goes waste. Worry not! we have a found a way of utilising that area as well. You can use the same magnet trick beneath as well. Plug in a magnetic strip below and place the metal cannisters on that. So they are hanging in the air and look rather cool and not to forget, saving you so muh space as well.
Spice Racks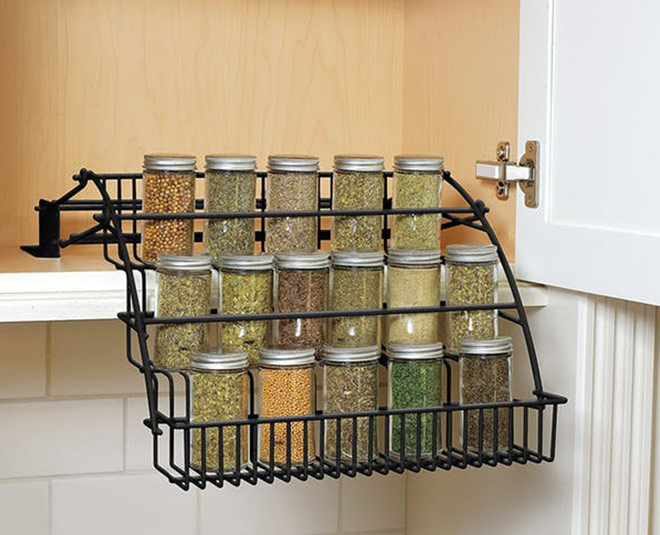 A spice rack that you can pull out is very convenient. If you are a shorty like me install one of these. It is very convenient, impressive and of course very neat. Here it is all about convenience rather than space utilisation for sure.
Read More: Here Is How You Should Use Cinnamon For Smooth And Glowing Skin
Just Hanging On A Hook
You can also put a nylon thread around the bottles which we prosume a jam bottles or bottles with screws. Leave a large loop with it and hang it on a hook that you can install on the wall in a line. Just small hooks would look nice. What it does is, make your kitchen look different, store the spices well and utilise the space as well.
Test Tube Spice Rack
Buy little test tubes which can be closed with a cork, make a small rack on the wall and store your spices in it. It looks cool, save you space and makes it convenient for sure.