It is finally that time of the year when we enjoy the rains with hot cup of tea and some delicious hot pakoras. As soon as monsoons are here, chai becomes our favourite beverage and we can have it anytime of the day! If you too are a chai lover and just can't do without it then you have landed on the right page.
Monsoons bring along a lot of health problems such as viral infections, allergies among others. Do you know your cup of hot masala tea can save you from all these health issues? Adding the goodness of some healthy ingredients to your masala chai can help you fight common health issues.
Fitness expert Rujuta Diwekar took to her Instagram handle and shared some interesting tips. She has shared some healthy ingredients that you can add to your masala chai to prevent any health problems during this season. She also answered some FAQs on tea. Have a look at what she shared on her Insta handle:
Chai In Monsoon- 3 Special Tips
The rains are here and so is the desire to sit by the window, sipping a hot cup of chai. It surely calms your mind, but here are 3 easy tips to make it works for your body too.
1. Add ginger and tulsi - for digestion and immunity
2. Add lemon grass - to prevent bloating and congestion
3. Add black pepper or cinnamon - to improve insulin sensitivity
FAQs on Chai -
1. When Not To Have Chai/Coffee?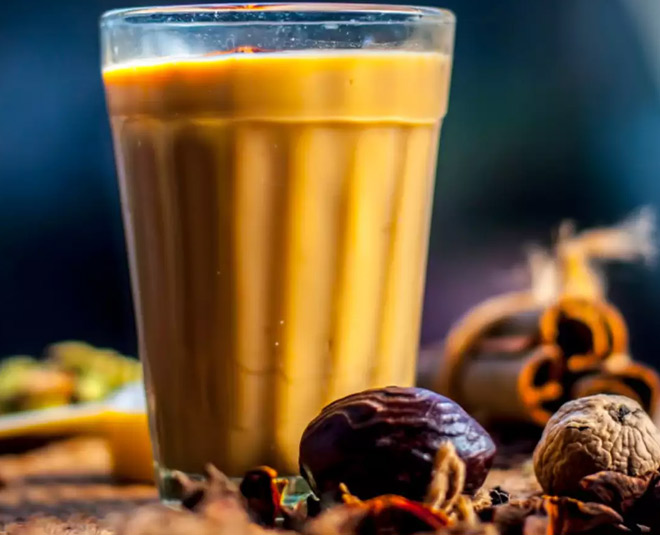 - first thing on waking up
- last thing before sleeping
- in place of a meal during the day
Don't Miss: Incredible Benefits Of Jamun Vinegar For Health
2. How Many Cups A Day?
2-3 cups are totally fine.
3. With Sugar Or Sugarfree?
Add sugar to your chai/coffee, avoid the invisible sugar from packaged food (breakfast cereals, fruit juice, biscuits, etc).
And have it in full fat milk please.
Here are some tips that you should keep in your mind while you make your masala tea:
Ginger and tulsi are great ingredients for you. They help in increasing your immunity, improving your digestive system and also help fighting cold and cough.
Don't Miss: Canola Oil And Its Benefits For A New Born And Its Mother
Diabetics can add cinnamon or black peppercorns to their tea.
Adding lemongrass to your tea can help you in fighting bloating.
Rujuta recommends having sugar in your cup of tea. However, she suggests avoiding sugar in the form of biscuits and packed juices.
Never have tea first thing in the morning or just before your sleep. Tea is good for health but it is important to have it at the right time.
Follow the above given tips to keep a check on your immunity and monsoon related health problems at bay.
For more such diet tips and health news, stay tuned to HerZindagi.com