We all want clean, white teeth but it seems like a dream especially during this pandemic. None of us have been able to go for our dentist appointments for a long time now.
Cleaning and whitening our teeth at home might sound difficult but it is possible if you have the right guide. We connected with Dr. Gunita Singh B.D.S. and M.D. of Dentem & Associate Consultant, Sri Ganga Ram Hospital, and asked her to share some quick tips, home remedies that can help us clean and whiten our teeth at home. Read on.
The expert shared, "I have always said healthy teeth are beautiful teeth and vice versa one can never say or vouch for healthy teeth if the teeth are not beautiful white clean, and shiny."
She shared that it is of utmost importance to follow a healthy dental regime for sparkling, healthy teeth. Read on.
Brush Your Teeth Twice A Day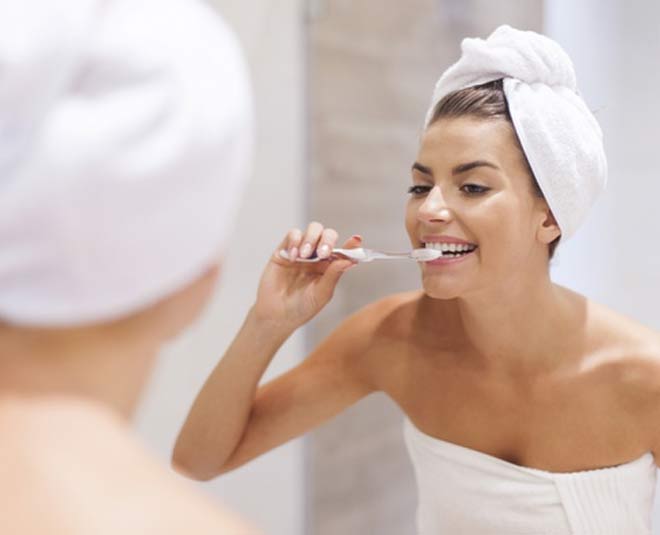 Whether it's morning or night, brushing your teeth is a must. Due to busy schedules, most people usually forget to brush at night or take it for granted, but this is the biggest mistake that they do. To maintain oral hygiene, brushing twice is the key essential thing to follow.
Massage Your Gums
We all are quarantined at our places and this is the best time to take care of ourselves. Pay some attention to your gums too! After all, they are the foundation of our teeth. Healthy gums are equal to healthy teeth. Massaging in a circular motion for 5 minutes in the morning and evening with the oil of your choice ( olive oil, vitamin E oil, almond oil) can do wonders for your gums.
Give Priority To Your Tongue
Once a day, tongue cleaning with glycerine and cotton pad can prove to be magical not only for the lovely pink tongue but also for a bacteria-free mouth.
Use A Mouth Wash
Rinse your mouth after every meal 2-3 times with a mouth wash of your choice swirl it for at least 30 secs each for best results.
Don't Miss: Benefits, Drawbacks Of Using Charcoal For Teeth Whitening
The expert shared that other ways of adding shine to the teeth is by following some home remedies. Read on.
Home Remedies For Whiter, Cleaner Teeth
Add Apples To Your Diet
Eating an apple everyday will help you keep away from dentists too shared the expert. Apple is also known as a natural tooth brush along with other fact crisp fruits and raw vegetables like carrots, celery. They help in cleaning plaque and tartar from the teeth. They also reduce cavity-causing bacteria and increase the salivary flow in return keeping the oral cavity clean and healthy.
Consume More Vitamin
Vitamin C-rich fruits and vegetables like oranges, lemon, mint and coriander tomato, and cucumber and pineapple and pear help protect our gums. Gums are the foundation of our teeth and help to keep our teeth strong. Vitamin c is one of the key factors in our periodontal health. It also helps build up the immunity of the body and helps fight any infections in the oral cavity.
Don't Miss: Have Yellow Teeth? Then These Home Remedies Will Take Care Of Them
Use Strawberries
Strawberries contain whitening enzyme malic acid and can do wonders for your teeth. To get a pair of pearly white teeth, you can rub strawberry directly onto the teeth or turn it into a puree and then rub it like a paste.
Have More Bananas
The expert shared that bananas are loaded with amazing minerals such as potassium, magnesium, and manganese. Consuming this fruit can do wonders for our overall health and give you healthier, cleaner teeth.
Eat Cranberries
According to a recent study suggested that fresh cranberries interrupt the bonding of oral bacteria much before they can form a layer of plaque on the teeth.
Rub Orange Peels On Your Teeth
Rubbing the peel of orange on your teeth can help you get whiter teeth.
We hope this guide helps you get whiter, cleaner teeth at home. For more such tips, stay tuned to HerZindagi.
Image Courtesy: Freepik