Every time I ask someone to give me tips on losing weight, they ask me to start drinking green tea. They call it one of the healthiest drinks one can have in a day. Just like me, a lot of you must have started drinking this tea lately.
Green tea is packed with antioxidants that are great for your body, your overall health. Green tea is considered beneficial in losing weight.
The green tea trend is getting crazier everyday and there is clearly no stopping. It has become a popular beverage today. People have started to realise their amazing health benefits. But do you know, drinking green tea can be dangerous too?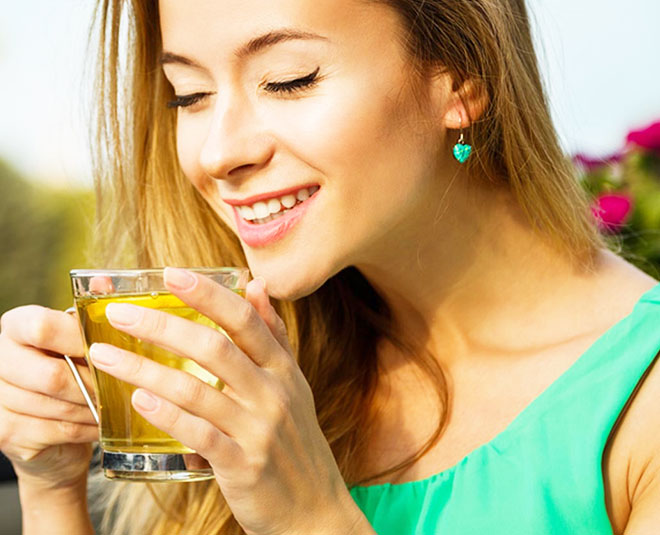 Green tea has caffeine and catechins that can be harmful for your body if consumed in excess. Drinking 2 to 3 cups of green tea is healthy. Anything more can be harmful to your body.
Side Effects Of Green Tea
1. It is believed that drinking too much green tea during pregnancy can harm the baby. Drinking green tea during pregnancy leads to hypertension. Mother-to-be must consult the doctor before having green tea during pregnancy period.
2. A lot of people thinking that drinking green tea in excess will help them lose weight quickly. However, that's not true. Green tea helps you lose weight but if you have too much of it, it can harm your liver. It can lead to liver damage.
3. Heartburn is another common problem that people suffer from when they drink too much green tea. You can face gastric issues, acidity after drinking too much green tea.
4. Consuming a high amount of caffeine in the form of green tea can lead to stomach ache and jaundice too.
Don't Miss: Alarming Side Effects Of Drinking Tea
5. According to a study, drinking green tea in excess can lead to increased fracture risk. It also reduces bone mineral density. Excess green tea can harm bone growth.
6. Caffeine in green tea can be a problem for diabetics. Drinking more than 3 cups of green tea can lead to a rise in blood sugar levels and create problems in your bowel movement.
7. Green tea has caffeine and it may cause headaches in some people, especially those who suffer from migraines. These people should avoid drinking green tea or have it occasionally.
8. People who are sensitive to caffeine can have a problem with sleeping because of a compound present in green tea.
Best Time To Drink Green Tea
You should never have green tea in the morning as it can have a negative effect on your liver.
Green tea is a great pre-workout drink. When you have your green tea before a workout, you are able to burn more calories.
You can have your green tea between the meals. This helps you increase the nutrient intake of your food. Make sure you never have green tea with your meal.
Drink green tea two hours before sleeping because when you sleep your metabolic rate is slow and drinking green tea helps you increase it as you sleep.
When consumed in the right quantities, green tea can be really beneficial for you. Consumption of green tea in excess can have serious side effects.