Summers means trying different types of cooling drinks. While most of us opt for a glass of fizzy cold drink, it only tends to fill up the body with calories and does not necessarily cool the body down. It's better to try something that's actually cooling and healthy. Herbal teas are famous as cooling herbs such as mint, hibiscus or rose, all these perfect for bringing down the temperature of your body. Not only do herbal teas keep the body temperature down but they also are nutritious.
Hibiscus Tea
Hibiscus provides relief from the scorching summer heat. It is known to lower blood pressure, has anti-inflammatory and diuretic properties too which means that it helps in keeping your body hydrated. Drinking a cup of cooling hibiscus tea is popular in many cultures. You can easily make it at home by blending dried hibiscus flower petals, dried chamomile flower petals, dried rosehips and a pinch of cinnamon. Add hot water and let the ingredients steep in it, cool it and drink the tangy hibiscus tea for good health.
Rose Tea
Rose has cooling properties, which is apparent as the Gulkand, the jelly made from the rose petals is considered to be the perfect cooler for the entire body. Rose petals, raspberry leaf, and black tea are astringent herbs that help in offsetting the effects of heat and humidity. You can make rose tea at home with rose petals but if you don't feel like preparing it, you can also buy it online. Try this pack of Organic India Tulsi Sweet Rose Tea with 25 Infusion Bags available for Rs 148 here.
Don't Miss This: Eat These 5 Superfoods To Become A Superwoman
Green Tea
The most popular herbal tea for weight loss and detoxification is the Green Tea. As compared to black teas that are fully oxidised, green tea leaves are minimally oxidised which makes them cooling for the body. There are many flavour combinations of green tea available in the market like mint green tea, lemon green tea, honey green tea etc. so even if you don't like the standard version of green tea, you can give these a try. For starters, you can try the Jarved Organic Whole Leaf Assam Green Tea. Available for Rs 599, you can get it here for Rs 299 only.
Tulsi Tea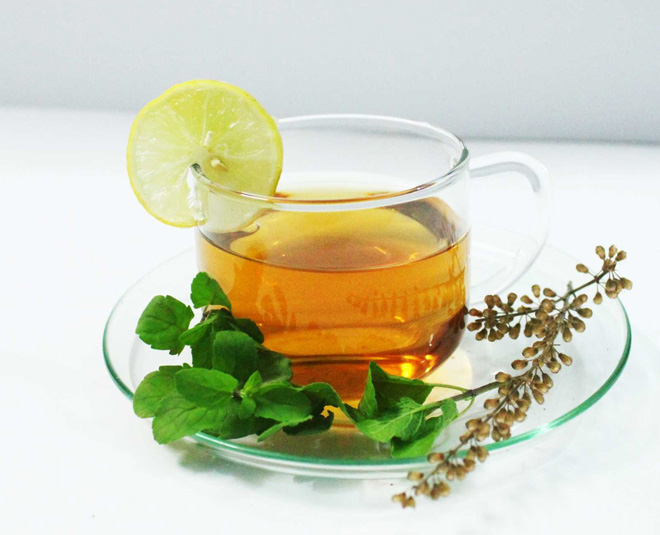 Image Courtesy: www.teaclubindia.com
Tulsi by itself is a warming herb but when combined with other herbs, it can be used for making the best herbal tea that can benefit your body in more ways than one. Spearmint, for example, makes for a great cooling agent with tulsi. A cup of herbal tulsi tea is perfect to take the stress away. It energises you, boosts your stamina and also improves digestion. You can either steep tulsi leaves in hot water or if they are not available, just buy a pack of Tulsi Tea online. A pack of tulsi tea bags is available for Rs 190 but you can buy it here for Rs 170.
So what are you waiting for? Ditch the unhealthy soft drinks and in between cups of your favourite milky tea, give these herbal teas a try. To know more about cooling superfoods, how to avoid hidden junk foods and other diet & nutrition tips, keep reading Her Zindagi.