Shilpa Shetty Kundra is undeniably one of the fittest stars of Bollywood. The secret? Not just her everyday Yoga sessions but her diet too. All those who follow Shilpa Shetty on social media know that she is very particular about her diet. You know, to maintain that toned body, one needs to follow the right diet.
Seeing Shilpa Shetty's fit body, we can say she has the healthiest ingredients for all her meals. Recently, Shilpa Shetty gave a glimpse of her healthy lunch thali on her Instagram. She shared it on her Instagram story and captioned it, "#lunchtime."
As we can see her thali all healthy stuff. Beetroot salad, gajar matar sabzi, cauliflower sabzi, brown rice with corns, moong dal and one more healthy veggie that looks like a pumpkin. Dal rice is a staple food in many Indian households but adding other healthy vegetables in your thali can add to its nutritional value.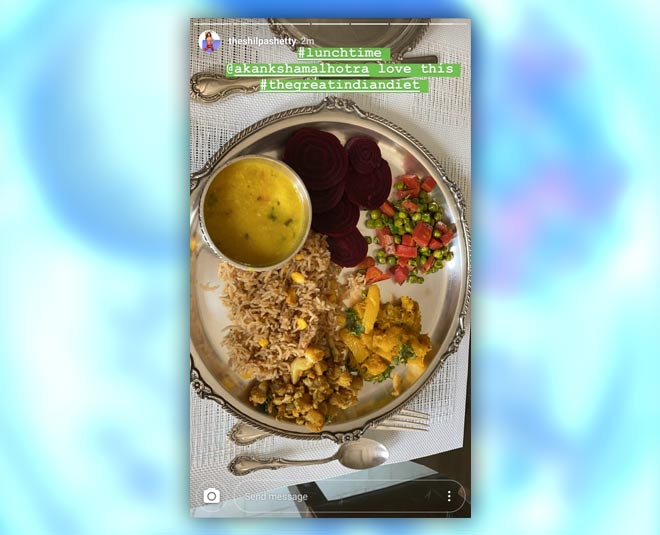 If you wish to have a healthy and toned body then you need to have lunch thali like this one. All the healthy stuff in this thali can fuel your body with the right vitamins and nutrients. If you are someone who follows a desi diet like this one take cues from Shilpa Shetty's plate.
Beetroot Salad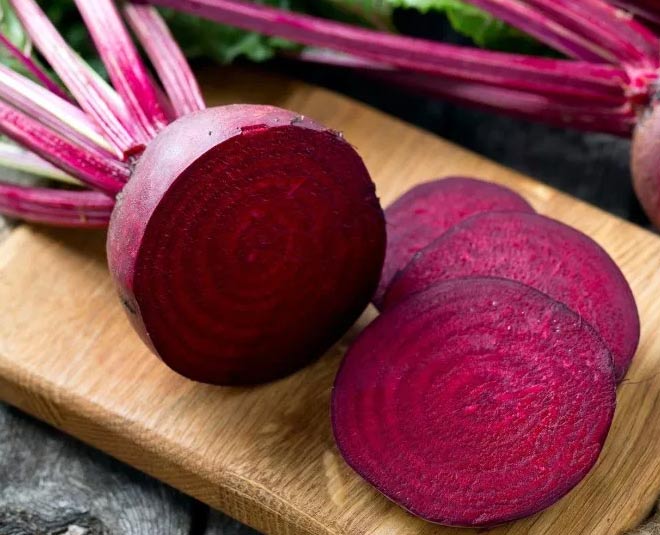 Beetroots are packed with fiber, potassium, iron and vitamin C. They have some amazing health benefits like they lower blood pressure, improve blood flow in the body among others. One way of adding beetroot to your diet is by having it as a salad with your lunch meal just like Shilpa Shetty.
Don't Miss: Shilpa Shetty And Raj Kundra Welcome Second Child After 8 Years, Here Are The Benefits Of Opting For Surrogacy
Gajar Matar Sabzi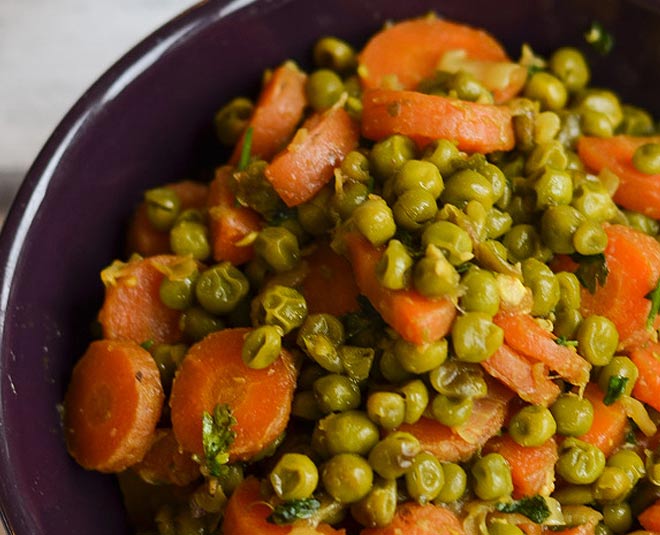 Winter veggies like gajar (carrot) and matar (peas) have some amazing health benefits. Packed with fiber, antioxidants, and vitamins that are good for your overall health. Fiber makes your body feel full for long and further helps in weight loss. Carrot and peas sabzi can be a delicious addition to your lunch.
Don't Miss: Shilpa Shetty Brings To You Healthy Breakfast Recipes With Oats For 2020!
Brown Rice And Corn
Brown rice is a healthier option. It helps in removing the waste from your digestive tract and keeps it healthy, it also helps in lowering cholesterol. Consumption of brown rice also prevents the formation of blood clots. Topping your rice with some sweet corn can add to its nutritional value. Corns help in boosting your energy and it also lowers your blood and cholesterol level.
Cauliflower Sabzi
Cauliflower or gobhi is a healthy veggie that you should consume to enjoy its benefits. Cauliflower has protein, vitamin E, vitamin C, potassium, zinc. Here are some health benefits of cauliflower:
Improves bone health
Improves skin health
Detoxifies the body
Boosts immunity
Helps in managing diabetes
Prevents heart problems
Pumpkin Sabzi
Kaddu or pumpkin is a popular vegetable prepared in India. It is used in different ways all over India. From curries to sabzis to soups to halwa, pumpkin can be used to prepare a lot of things. It has an array of health benefits too. Pumpkin is usually consumed for weight loss. It has fewer calories and a lot of fiber. It also helps in boosting immunity.
Moong Dal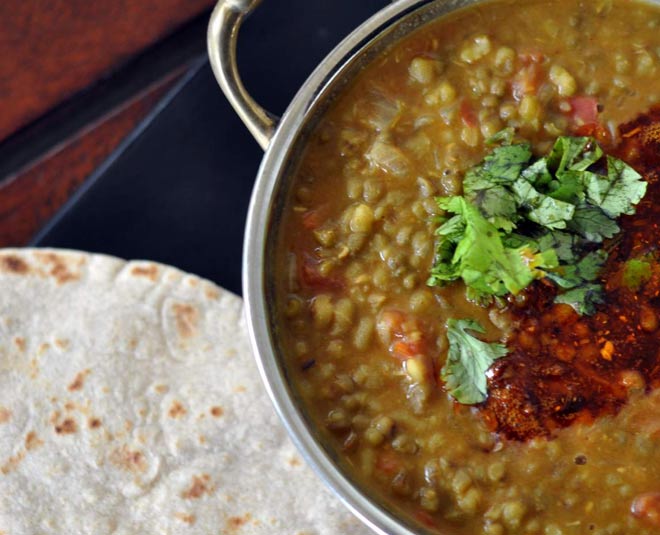 Even your dieticians will suggest you have dal for one meal during the day as it is packed with fiber, vitamins, calcium. Yellow dal or moong dal is a commonly prepared dal in India. It tastes delicious and fuels your body with a lot of protein.
If you want to stay healthy and fit, take some inspiration from Shilpa Shetty's thali.