Try This Delicious & Healthy Recipe Of Roasted Pumpkin Salad
Celebrity Nutritionist Pooja Makhija shares a nutritional recipe of roasted pumpkin salad and we just can't wait to try it.
Are you looking to switch to a healthy diet but don't want to compromise on the taste? Worry not because here is a recipe for delicious and healthy roasted pumpkin salad. This salad is full of healthy ingredients and it has nutritional value, thus, it is quite beneficial for you.
In her recent Instagram post, Celebrity nutritionist Pooja Makhija shares a delicious recipe of roasted pumpkin salad recipe. She shows us how to prepare the salad by adding tons of nutritious ingredients, thus making the salad healthy and tasteful at the same time.
View this post on Instagram
Roasted Pumpkin Salad Recipe
Have a look at the recipe for roasted pumpkin salad. Prepare this for yourself and relish it.
Ingredients
Pumpkin
Olive Oil
Green Vegetables Of Your Choice
Chopped Nuts
Dijon Mustard
Apple Cider Vinegar
Honey
Salt
Pepper
Dried Apricots & Dates
Method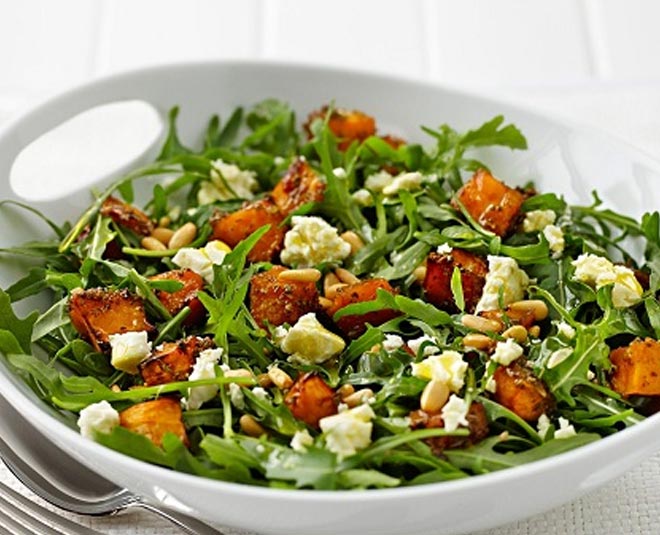 Start by chopping the pumpkin into cubes.
Spread the pumpkin cubes on a baking sheet and drizzle olive oil over it.
Roast at 200 degrees Celcius for about 25 minutes.
Chop green vegetables of your choice.
Chop some nuts of your choice.
Take a large bowl and add roasted pumpkin cubes, nuts and greens.
To prepare the dressing, take a small bowl and add dijon mustard, apple cider vinegar, honey, salt and pepper. Mix well.
Drizzle the dressing over the salad.
Add some dried apricots and dates.
Mix well and relish.
Benefits Of Pumpkin
The main ingredient of roasted pumpkin salad is the pumpkin and it is really really beneficial for you. Read on to know about some of the benefits of pumpkin.
Weight Loss
If you want to lose weight, then pumpkin can prove to be beneficial for you. This is because it is rich in fibre, thus keeping you feeling full for longer. Along with this, it has low amounts of calories. Thus, it will be an aid for you if you want to lose weight.
Don't Miss:Pista Pesto: Try This Delicious & Healthy Dip Recipe
Good For Eyes
Pumpkin is orange in colour and this colour comes from the amount of beta-carotene present in it which eventually converts into vitamin A which is essential for eye health. This is because vitamin A helps the retina to absorb and process light. Along with this, pumpkin contains lutein and zeaxanthin. These two antioxidants can prevent cataracts.
Strengthens Immunity
A strong immune system is extremely important, especially since we are fighting a pandemic for the last 2 years. One ingredient that can help strengthen your immunity is pumpkin. It can help you to fight infections, viruses and other diseases. It can keep all the fungal and bacterial viruses at bay. Also, it is packed with vitamin C which can help you to recover from cold.
Don't Miss:Looking For A Healthy, Omega 3 Rich Tasty Spread? Nutritionist Pooja Makhija Shares A Yummy Homemade Avocado Chocolate Spread Recipe
Lowers Cancer Risk
Aforementioned, pumpkin has beta-carotene which is good for the eyes and skin. Along with this, it can also lower the risk of a few types of cancer including prostate and lung cancer. Along with this, vitamin A and C present in pumpkins can help to fight cancer.
For more such stories, stay tunes to HerZindagi!