Also known as Indian blackberry, Jamun is one of the most loved summer fruits. I love jamuns and wait all year for this season to arrive so that I can relish my favourite jamuns. Jamuns are refreshing, sweet and sour, and a great fruit to enjoy during the hot summers. But do you know these delicious jamuns are great for our health too? Jamuns are packed with proteins, antioxidants and fibre which are great for our overall well being. An easy way to add jamuns to your diet is by drinking jamun juice.
We all love sipping on some cool and refreshing drinks and there is nothing better than quenching your thirst with some delicious and healthy jamun juice.
How To Make Jamun Juice At Home?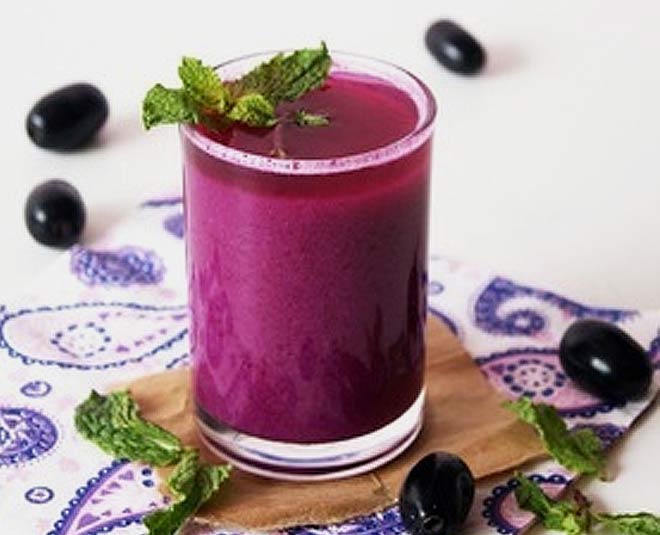 Image courtesy: imimg.com
Ingredients Required:
1/4 Cup Jamun Juice
2 Cups Chilled Water
A Pinch Of Black Salt
Jaggery Powder Or Sugar Powder To Taste
Directions:
Blend all the ingredients well. Strain and serve.
Don't Miss: Don't Throw Away Those Jamun Seeds! They Are Good For Weight Loss & Boosting Immunity
When To Drink Jamun Juice?
You can have freshly prepared jamun juice in the morning or after your lunch. You can add jamun juice to your curd if you have digestive issues. It can also be added to your regular smoothies for its great taste and health benefits.
Benefits Of Drinking Jamun Juice
Anti-Cancer Properties
Jamun has antioxidants that fight the free radicals in your body which can lead to chronic diseases like cancer. It also has anti-cancer properties which help in preventing the health problem.
Boosts Immunity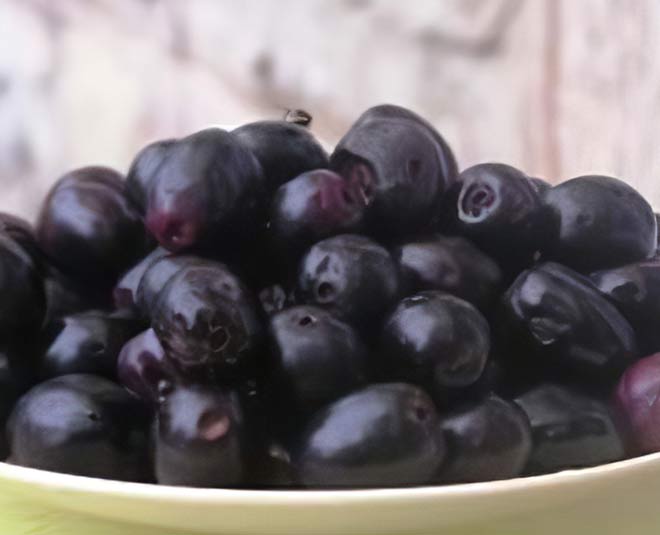 Image courtesy: medindia.net
This drink has vitamin C and antioxidants which increase the production of white blood cells in the body and improve the immune system. Jamuns also have anti-viral, anti-fungal properties that protect you from common illness.
Don't Miss: Here Is Why You Should Start Drinking Mosambi Or Sweet Lime Juice Everyday
Helps In Weight Loss
There is no better drink for you than jamun juice if you wish to lose weight. It has no cholesterol or calories. It is a low-fat drink with lots of fibre and protein, great for weight loss.
Keeps Blood Sugar In Check
Having jamuns or drinking jamun juice helps in keeping the blood sugar level of your body in check. Drinking jamun juice helps in converting the starch into energy, it also controls the blood sugar level of the body. Diabetics are thus, recommended to drink this juice.
Reduces Risk Of Heart Problems
Jamuns are packed with vitamins and minerals which are good for your heart. The antioxidant properties help in maintaining the cholesterol level and prevents the risk of heart attack and hypertension.
Improves Digestion
Image courtesy: indigenousbartender.files.wordpress.com
Vitamin A and C present in jamun juice helps in detoxifying the body and this drink flushes out all the harmful toxins from your body. Drinking jamun juice helps in keeping digestive problems at bay. It soothes your stomach and keeps it cool during summers.
Good For Skin
Jamun juice has antioxidants and anti-inflammatory properties which help in preventing acne and pimples.
Improve Eye Sight
Jamuns are a good source of vitamin C which is essential for your eyesight. Drinking jamun juice everyday helps in improving eyesight.
For all these amazing benefits, you should start drinking jamun juice everyday. For more wellness stories, stay tuned to HerZindagi.