Summers are here and so are the refreshing and juicy watermelons. One of the most loved summer fruits, watermelon has high water content and this is what makes it a must during the hot season.
Watermelons are a rich source of essential vitamins, protein, and fiber which are great for our overall well-being. To enjoy all its benefits for our health, it is important to make it a part of our daily diet. One great way of doing it is by drinking watermelon juice. Read on to know the benefits of drinking watermelon juice everyday.
Maintains Blood Pressure
Watermelon has potassium and magnesium which help in keeping the blood vessels healthy. They also help in maintaining smooth blood flow. This juicy fruit also has electrolytes that keep the blood pressure normal.
Helps In Digestion
Watermelons are packed with fiber and this helps in improving your digestive system. As the fruit has high water content, it helps to flush out the harmful toxins from the body.
Good Source Of Energy
We all get lazy during the summer season and don't really feel that energy to work. However, drinking a glass of watermelon juice can make a big difference. It has electrolytes, carbs, and minerals that hydrate your body and make you feel energetic.
Makes You Lose Weight
If you want to lose weight quickly then add watermelons to your diet. It has a lot of water content which keeps you full for longer and prevents you from bingeing on junk.
Reduces Risk Of Diabetes And Cancer
Watermelon has lycopene which is a powerful antioxidant. It helps in preventing you from the risk of health problems like cancer and diabetes.
Good For Your Heart
Rich in amino acids, watermelons are great for your heart health. They improve blood flow in the body and reduces the risk of a heart attack.
Prevents Development Of Asthma
Asthma is one of the most common problems women face today. The risk of developing the disease can be lowered by drinking watermelon juice everyday.
Don't Miss: Is Eating Watermelon Before Bed Safe Or Not? Find Out
Keeps Eyes Healthy
Drinking watermelon juice can help you fuel your body with vitamin A. This vitamin is essential for your eyes. It has beta-carotene which keeps eye problems at bay.
Good For Pregnant Women
A lot of pregnant women face issues like heartburn, morning sickness, and swelling. Watermelon has vitamins A, C, and B6 which are healthy for the mother-to-be and the baby. Drinking watermelon juice everyday helps in treating these issues.
Don't Miss: Can Check If The Watermelon Is Sweet And Ripe With These Easy Tips
Other than treating your health problems, watermelon is also known for its amazing benefits for the skin. It works as a natural skin toner and moisturiser for the skin. It keeps your skin hydrated from within and makes it glow.
How To Make Watermelon Juice?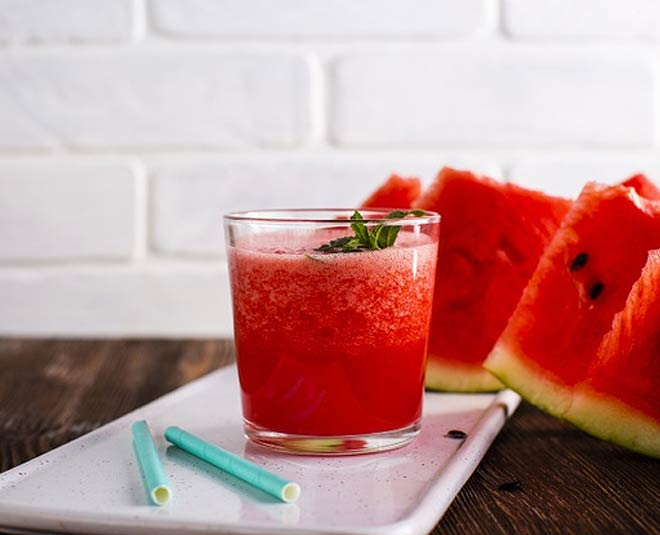 It is best to prepare watermelon juice at home and drink it fresh to reap all its benefits. To prepare watermelon juice at home, cut the watermelon into cubes, and add to a mixer. Sieve and drink. You can add lemon or mint leaves to your juice to enhance its taste.
Do add watermelon juice to your diet to enjoy all these health benefits. If you are undergoing any health issue, do consult your doctor before making it a part of your diet. For more health-related stories, stay tuned to HerZindagi.