Korean beauty products have taken the whole world by a storm, their products are more popular than all other countries combined. The major reason behind the extensive popularity of Korean products is in the ways they use to market their ingenious products and the other reason is that they use very unusual products for beauty. For example, they use snail mucus in a lot of their creams and moisturisers as this reduces hyper-pigmentation and moisturises the skin. Similarly, their pomegranate skin products are also very famous all over the world. So, here's taking a look at the benefits of pomegranate and how it's great for the skin as a face mask.
Skin Benefits Of Pomegranate Face Mask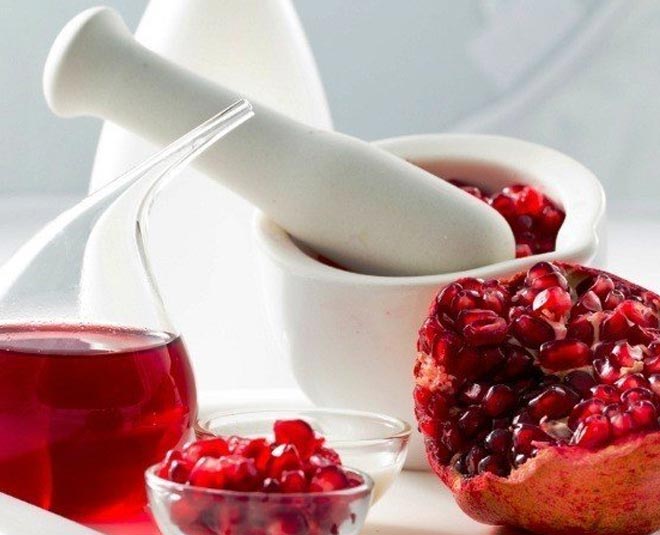 Image Courtesy: globalspaonline
Pomegranate is originally grown in Iran and it is known as the 'fruit of paradise' as it has to offer so many benefits for beautiful skin. For a fact, the seeds of pomegranate are considered to be symbols of prosperity and fertility in many cultures. So, let's check some benefits of this fruit of paradise.
Brings A Healthy Glow On The Skin
Image Courtesy: makeupandbeauty
Pomegranate is a powerhouse of antioxidants that fight the free radicals present in the body and keep the organs functioning perfectly, this, in turn, helps in bringing a natural – radiant glow to the skin, with time and regular consumption of this fruit.
Slows Down Aging
Aging is one major issue concerning ladies, sometimes women start looking very aged even when their real age is not as much such people should switch to pomegranate and allow it to work its magic on your wrinkles and dull skin.
Don't miss: DIY Korean Skincare Regime Products For Organic Lovers
Promotes Hydration And Exfoliation
Image Courtesy: thespruceeats
The molecular structure of this fruit allows deep penetration into the skin cells and provides moisturisation and hydration. Further, the Vitamin C that is present in this fruit makes the skin smooth and helps in the self-removal and exfoliation of dead and unwanted cells.
Make A simple DIY Pomegranate Face Mask
Image Courtesy: ytimg
This mask will prevent skin dryness and cleanse it thoroughly to reveal a beautiful glow. For this, you'll need 2-3 teaspoons of Bentonite clay and fresh pomegranate juice. So, take the bentonite clay and mix pomegranate juice in it. Mix well until a proper paste develops. Apply this paste over a clean face massage and then let it sit for 15-20 minutes. Afterward, wash it off with warm water and use a moisturiser. This mask is a very versatile mask that addresses all types of skin problems and that is why we suggest you try out this Korean pomegranate mask. The bentonite clay is known for absorbing all the impurities present in the skin and rendering a very beautiful and radiant afterglow. Pomegranate is a fount of collagen booster vitamin, Vitamin C, and that is why Korean products use the essence of this fruit. Collagen helps the skin to look beautiful, healthy, and nourished. Further, this mask helps in the deep cleansing and purification of the skin and works wonders for oily skin types and acne-prone skin and still keeps it hydrated and moisturised as the fatty acids and antioxidants present in the pomegranate help uplift the skin health over time. You are advised to use this mask once in a week for about two months and you will start noticing the flawless results soon.
Don't miss: DIY Masks For People With Combination Skin
Stay tuned to Her Zindagi For more articles like this.