Exfoliating our face and body is one major step that many skip for different reasons which could start with it being a little messy process or pure laziness. You have to do this bi-weekly as this process gets rid of the dead skin stuck to our face and neck and body for that matter. However, there is a major confusion as to which exfoliant is better, Physical scrubs or Chemical Exfoliators. So to break it down for you, both do the same thing but the issue with physical scrubs is that if they contain nut shells or fruit pits then that can cause micro skin tears.
If the exfoliating compounds are too large then you need to ditch them right now. As for chemical exfoliators, they remove dead skin cells with the use of chemicals that help in cell turnover. They are peels that are great for smoothing and also brightening your skin. They give a beautiful glow effect.
THE ORDINARY Aha and Bha Peeling Solution
THE ORDINARY has ingredients of aha 30% + bha 2% peeling solution. Has a slight slimy gel like texture- easy to spread on the face. Can apply evenly on the face due to the red shade it carries. The bottle lasts up to a year from opening. You can buy the 30 ml bottle for Rs 1550.
Natio Aromatherapy Renew Radiance Exfoliator
Pure aromatic and essential oils combine with modern skin science to gently cleanse, tone and moisturise. Gently eases away impurities, excess surface oils and outer layers of dead skin. It promotes a fresh, glowing complexion. Buy a 100 gm tube for Rs 1195.
RE' EQUIL Fruit AHA Face Wash for Skin Brightening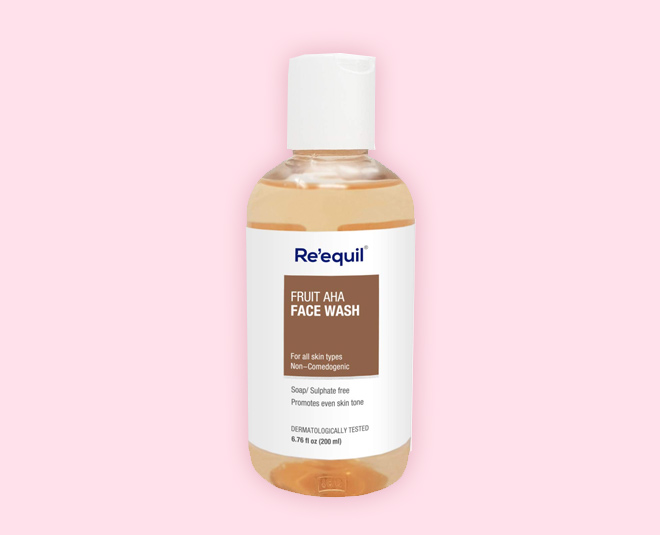 It has fruit AHAs that is Fruit Alpha Hydroxy Acids or AHAs act as gentle exfoliants and act on the upper surface of skin and help to moisturise, nourish and lighten the skin tone. It gives a Skin Brightening Effect. Mild Exfoliation leads to removing dead skin cells, excess oil build-up and thus provides a bright and glowing effect to the skin. Improved pH Balance: Fruit AHAs help to improve the skin surface and maintain the skin pH balance. Mild astringent properties help to reduce wrinkles and fine lines. Buy a 200 ml bottle for Rs 450.
Don't Miss: Best 5 Facial Kits That You Can Buy Here Cheap, Save Parlour Money!
Recast Glycolic Acid Exfoliating Face Wash For Men & Women
Glycolic Acid Face Wash uses robust ingredients to not only clean your skin but give your complexion. It has lasting benefits. It is a wrinkle eraser and good for spot reduction. It is non-irritating & For All Skin Types - Our safe and irritation-free formula is good for normal, dry, combination, and sensitive skins. It is cruelty-free and does not contain any harmful chemicals. Buy the 200 ml bottle for Rs 346.
Stay tuned to HerZindagi for more on skincare and beauty recommendations.