Travelling with kids isn't really easy. Even before the pandemic, travelling with kids wasn't an easy task. Now that the coronavirus pandemic has swept the entire world, it has all got a lot more difficult. A lot of people got stuck due to the pandemic and were unable to move. However, now with travel restrictions getting lifted, many are planning to travel back to their homes. Travel all across the globe is slowly getting back to normalcy but with all the precautionary measures. If you too are planning to travel with kids during this time then here are a few things you should keep in mind.
Make Your Kids Know What The Situation Is
Your kids may be too young to understand what a pandemic is but they need to know just everything. Start by making them know that there is a situation that can harm our health and make us weak. Also, they must understand that the disease may be serious but it can be fought if all the safety measures are followed.
Give Them A COVID Prevention Kit
Before you plan to travel, prepare a kit for your kids. Pack a hand sanitiser, disinfectant, face mask, and some tissues in their mini bag or kit. Make them understand the importance of a mask. Prepare them mentally to wear a mask all the time, this is very important if you have a long haul flight. You can make them practice it at home. Ask them to clean their hands every time they touch a surface. Make them use a sanitiser couple of times a day so that they make it a practice. When using soap, make them wash their hands for at least 20 seconds. You can also keep a soap or handwash bottle in their kit bag.
Don't Miss: Craving For A Quick Picnic? These Places Around Delhi Can Be Good Options For A Weekend Getaway
Teach Them How To Use A Washroom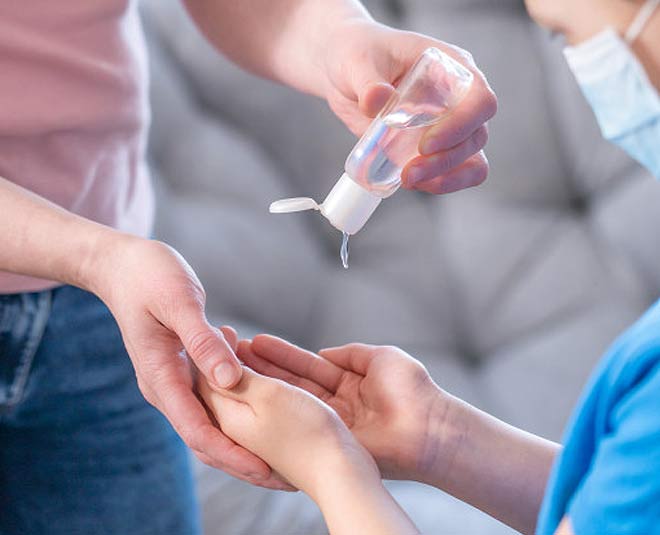 Using the washroom is no longer the same. Your child needs to have a disinfectant and sanitiser handy before entering a public washroom. Make them learn how to use a toilet seat disinfectant at home. It is better to use your own sanitiser than using a washbasin at the public washroom.
Pack A Thermometer
When travelling with kids, keep a thermometer handy all the time. Also, don't forget to pack medicines if your child is under some medication as they may not be available everywhere.
Don't Miss: Who All Can Travel Abroad And To Which Countries? All You Need To Know About The Requirements
Get Food From Home
Cafes and restaurants may promise you clean and healthy food at airports or bus stations but it is always best to get your own food. Pack some food for your kids as you travel. Also, don't forget to pack some quick snacks for your children as they may feel hungry between the meals.
Make Your Kid Sit At The Right Seat
If travelling by airplane, make sure you don't let your kid sit at the window seat. Most kids want to sit on the window seat when travelling by plane but let them know that this seat is at high risk of infection. Make your kid sit in the middle to prevent the spread of the virus.
Many travel restrictions have now been lifted but make sure that you and your entire family follow all the required measures to ensure everyone's safety. Also, if it isn't necessary, you should hold your travel plans for a while. Well, the pandemic is still here and we can't really take it lightly. For more such travel tips, stay tuned!