A staple in Indian households, potatoes are so versatile. We all love aloo or potato, for they can be turned into anything, be it crispy fries or delicious curries. If you don't know, let us tell you that potatoes are the world's favourite root vegetable. The best part about potatoes is that they are so easy to cook and taste delicious in every form. Especially, kids have a special thing for potatoes and it is so easy to feed them anything with a hint of the humble potatoes.
Steamed Potato Samosa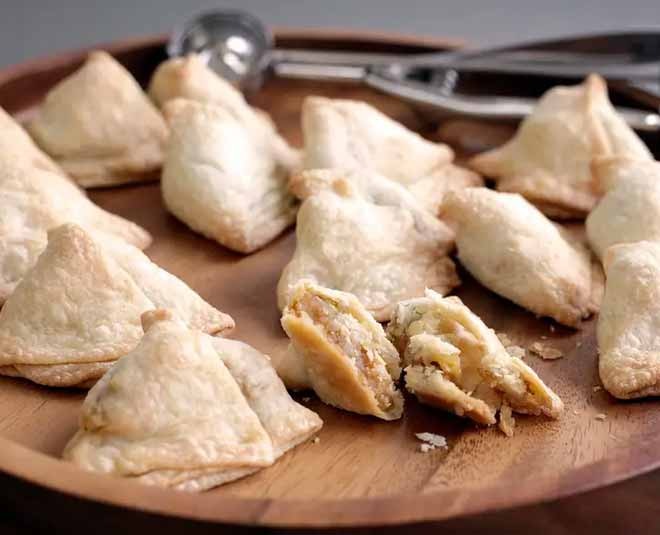 Prepared this healthy and delicious snack using potatoes and serve with tomato ketchup or homemade mint chutney.
You Will Need:
1 cup - All-purpose flour or maida
1/4 tsp - Baking powder
Salt as per taste
2 - Potatoes (boiled and mashed)
1 - Green chilli
1/2 tsp - Garam masala powder
1/4 tsp - Chaat masala
Chopped coriander leaves
Directions:
In a bowl, sieve flour and baking powder. Using the required water, knead a smooth dough. Cover with a damp cloth and keep aside for 30 minutes.
In another bowl, add mashed potatoes, garam masala powder, green chilli, salt, chaat masala, and coriander leaves. Mix well.
Make equal portions of the maida dough and roll into small circles.
Cut the circle into half and fill in the potato mixture.
Press the sides and paste using water or ghee. Keep the samosas aside.
Place the samosas in an idly cooker and steam for 10 to 15 minutes. Oil-free potato samosas are ready!
Kadi Patta Potato Sabzi
If you are looking for an oil-free and easy to make potato sabzi then try this one.
You Will Need:
7-8 Boiled potatoes
Handful of chopped curry leaves
2 tsp mustard seeds
3-4 chopped green chillies
1/2 tsp turmeric
Lemon juice as per taste
1 tsp chaat masala
3 tsp oil
Salt as per taste
Directions:
In a pan, add oil and mustard seeds. Let the seeds splutter. Next add potato cubes, curry leaves, and salt to the pan and mix. Saute for a few minutes. Add chaat masala and lemon juice. Combine all the ingredients well. Kadi patta aloo sabzi is ready. Enjoy with roti or pooris.
Smashed Crispy Potatoes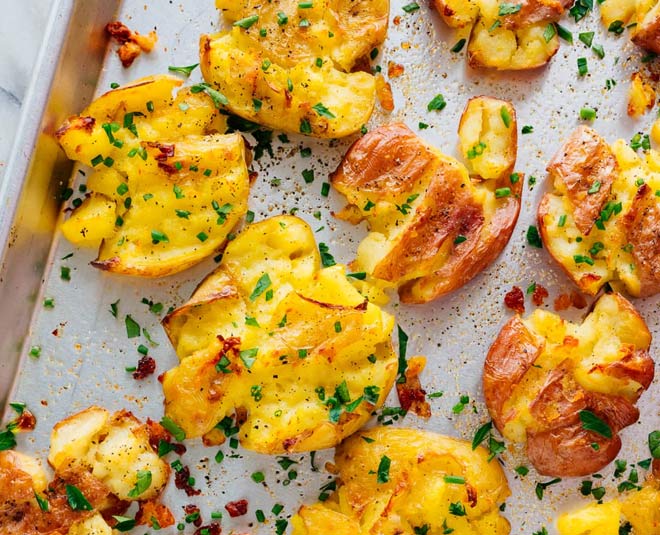 Don't know what snack to prepare for your kids? Try this healthy and tasty snack that can be prepared using a few ingredients at home.
You Will Need:
6-7 Potatoes
3 tbsp olive oil
1/2 tsp garlic powder
1/4 tsp onion powder
Salt and pepper to taste
Coriander leaves
Directions:
Peel the potatoes and wash them well. In a pan, add potatoes with water and salt. Bring them to boil.
Preheat the oven to 425 degrees. Layer the baking sheet with olive oil.
Now place the potatoes in a tray and smash them gently using a serving spoon.
Place the smashed potatoes on the baking tray. Sprinkle garlic powder, salt, onion powder, and salt over the potatoes and bake until the edges are crispy and golden. Top with fresh coriander leaves and serve with ketchup.
Potato Crisps In Microwave
We all love potato chips and there is no better snack! Agree? You can prepare these crispies at home using very little oil. Here is an easy recipe:
You Will Need:
1 Potato
Salt as per taste
Olive Oil
Herbs for seasoning (optional)
Directions:
Peel the potato and make thin slices. Put these slices into cold water.
Rinse the potato slices and then let them dry naturally.
Season the slices with little oil, salt, and herbs of your choice.
Microwave for 3 minutes or till the slices get crispy. Enjoy!
Try making these interesting potato recipes at home. For more such low-oil recipes, stay tuned!