Tibetan Laphing is spelt out in a variety of ways, some call it Laping, some call it Laffi and many other dialects. The Laphing recipe constitutes very few ingredients, this dish has a classic flavour of chilli oil and garlic.
Learn how to make the non-veg laphing at home with these simple steps sling with us!
Things You'll Need-
Maida (All Purpose Flour)
Salt, Water and Garlic
Turmeric Powder or Yellow Food Color
Yeast or Baking Powder
Cooking Oil
Red Chilli Powder and Sichuan Pepper
AjinoMoto (Optional)
Soy Sauce
Shredded Chicken
How To Make The Dough-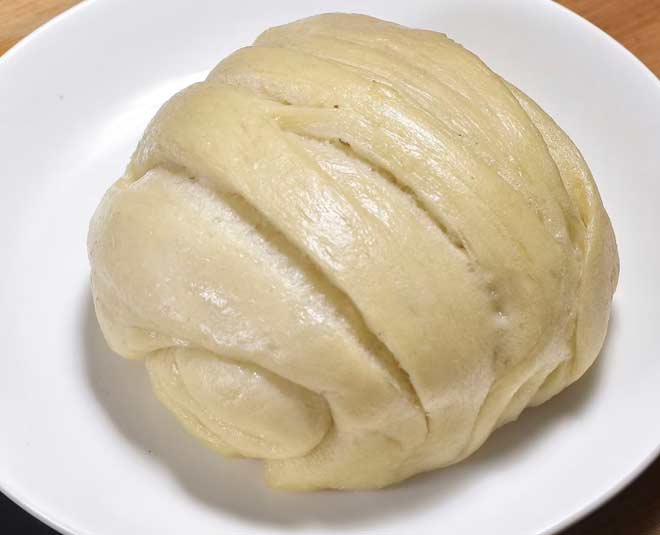 Make a maida dough and cover & let it rest for a minimum of 20-30 minutes.
Once the dough is ready, add enough water in a container to cover the dough to separate starch and gluten from it.
After rigorously squeezing the dough in the water, you'll see starch and gluten has started separating.
Now cover the starch water for 2-3 hrs and the gluten part we will be using for the fillings.
Now wash the gluten in the running water
Now, place the gluten on the steamer tray greased with oil and let it cook for 15-20 mins.
A soft and fluffy gluten bread will be ready which we will use as a filling.
For the chilli paste, use 4-5 cloves of chopped garlic, 3 tsp of red chilli powder, salt, Sichuan pepper, ajino moto and water.
Mix it well and add 100ml of heated oil to it.
Chilli paste is ready.
Water and Starch have separated now from the solution, as we kept it in step 1.
Remove the water carefully. (Make sure to keep a little bit of water with starch)
Strain the starch to make sure no gluten is left.
Add 1/2 tsp of turmeric or yellow food colour to the starch solution.
Mix it well and add some oil and mix it again.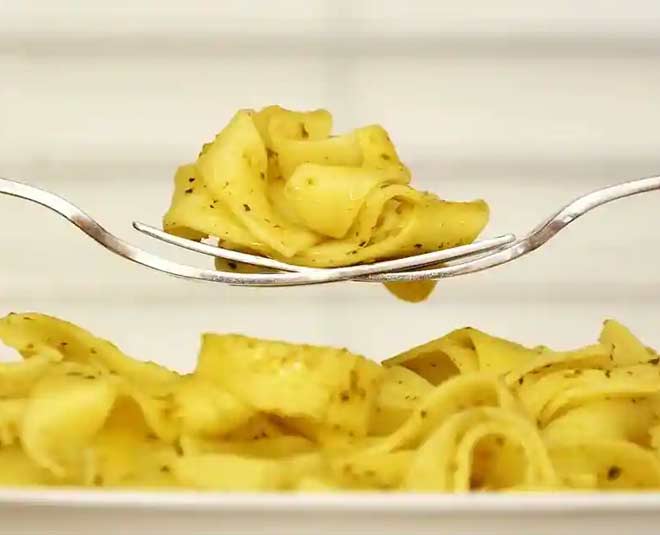 Our batter is ready.
Now take a plate, grease it with some oil and add a decent amount of batter to it.
Place it carefully on the steamer and let it cook for 4-5 minutes.
After 4-5 mins, take out the plate, let it cool in the cold water and with the help of a spoon or knife pass it under the edges to take out the wrapper.
Our wrapper is ready.
Now, put the wrapper on the chopping board.
Spread 1 tsp of chilli paste on it.
Add Gluten bread, salt, soy sauce, shredded chicken and vinegar.
Mix it all well and make a roll.
Cut it down into equal even pieces and voila you're ready to go.
Tibetan Laphing or Laffi is ready.
Thing To Keep In Mind-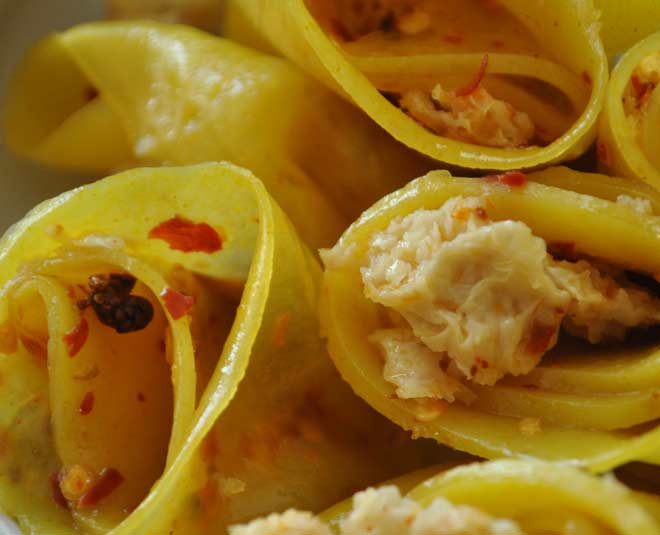 You can use raw Wai-Wai noodles, diced onions and tomatoes as stuffing with gluten bread as well.
If your laphing wrappers crack, make sure to let the starch rest for longer next time. keeping overnight is the best solution to it.
For more tricks and tips, connect with us over Instagram and let us know. Stay tuned to HerZindagi for more!