If you have a thing for all things spicy and garlicky, this detailed recipe for you. This time, we will be taking you through a step by step guide to make chilli garlic momos at home.
Spicy and delicious, chilli garlic momos can be your perfect evening snack during the cold winters. You can prepare both vegetarian and non-vegetarian variants at home. Apart from the stuffing, both vegetarian and non-vegetarian variants will have the same recipe.
How To Make Dough For Chilli Garlic Momos?
Ingredients Required -
2 Cup All Purpose Flour Or Maida
1 Tsp Oil
Salt As Requierd
Warm Water As Required
Directions -
In a bowl, add all purpose flour.
Add some oil and some salt. Mix well.
Add warm water as required and begin to knead the dough.
Add more oil and water to ensure the dough gets a soft texture.
Cover the dough with a lid and let it rest for 15 minutes.
Quick Tips To Keep In Mind
While preparing the dough for chilli garlic momos, make sure the dough isn't too sticky or dry or it can get very difficult for you to fold the momos. If you feel the dough is sticky or dry, add oil or water to get the accurate consistency.
The stuffing prepared for chilli garlic momos should not be overcooked. If the vegetables are cooked in excess, they will soak in a lot of oil.
To retain the freshness and colour of the vegetables, add a pinch of sugar to them while stir frying.
Do not overfill the momos with the stuffing or they can spill out.
Make sure you seal the momos properly from all ends to ensure the stuffing remains intact.
Chilli Garlic Momos Recipe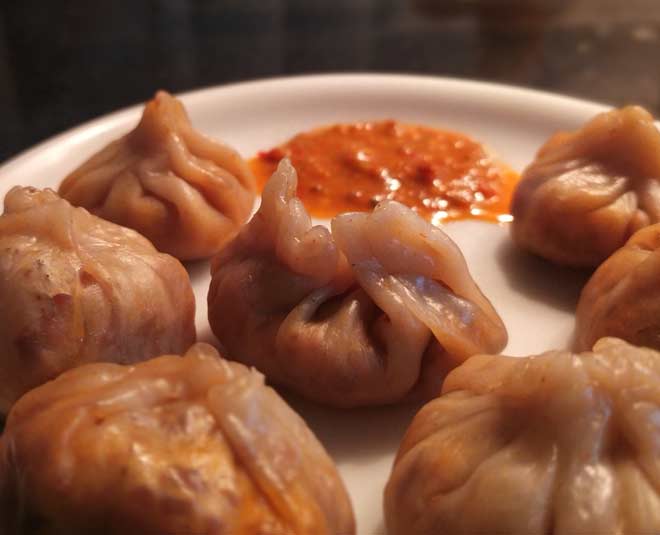 Ingredients Required -
200 Grams Refined Flour Or Maida
Salt To Taste
3-4 Spring Onions
Oil As Required
2 Tbsp Soy Sauce
Fresh Coriander Leaves
Black Pepper To Taste
2-3 Tbsp Black Pepper Powder
1 Tbsp Garlic
Vegetarian Stuffing
1 Cup Chopped Vegetables - Onions, Cabbage, Capsicum, Carrot
1/2 Cup Chopped Paneer
Non-Vegetarian Stuffing
For Chilli Garlic Sauce
1/2 Tsp Schezwan Sauce Or Chilli Sauce
2 Tbsp Tomato Sauce
1 Tsp Soy Sauce
1 Tsp Garlic
1 Tsp Ginger
Oi
Directions -
In a bowl, add maida or refined flour, water, salt and oil. Knead to make a soft dough. Let the dough rest.
Prepare the chicken stuffing by mixing chicken mince, coriander leaves, soy sauce, ginger and garlic.
Sprinkle black pepper powder and salt.
If preparing a vegetarian stuffing, stir fry all the vegetables with some oil. Add soy sauce, ginger, garlic and pepper powder.
Take a portion of the dough and flatten using a rolling pin.
Using a spoon fill in the stuffing of choice and seal from all the ends.
Steam the momos and keep aside.
In a pan, add some oil, spring onions, ginger garlic paste and saute.
Add tomato ketchup, schezwan sauce and mix.
Next add soy sauce.
Add some water and bring to boil.
Add in the momos to the chilli garlic gravy.
Garnish with spring onions or coriander leaves. Enjoy!
How To Make Your Own Chilli Garlic Dip With Momos?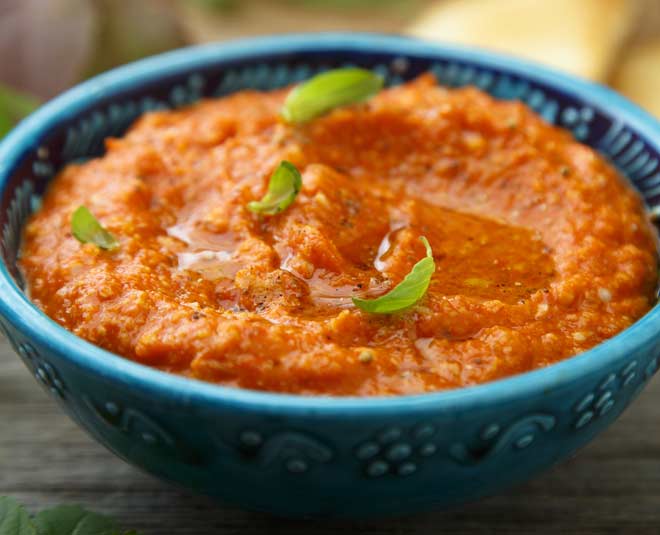 If you wish to relish these homemade chilli garlic momos with a homemade dip then here is an easy one. This will add a lot more flavour to your hot and delicious momos.
Ingredients Required -
2 Tbsp Chopped Garlic
5 Tbsp Vinegar
1 Tbsp Sugar
Salt To Taste
Oil As Required
10 Whole Dry Red Chillies
Directions -
Remove stems of red chillies, put them in hot water and keep covered for 30 minutes.
In a blender, soaked red chillies, garlic, sugar, vinegar, salt. Blend smooth.
Add oil to the mix.
Store chilli garlic sauce in a container and refrigerate.
Serve along with momos.
Do try making these chilli garlic momos at home and share your experience with us on our Facebook page. For more such stories, stay tuned!