If you are trying to lose weight then you must know that you need to fuel your body with a lot of protein. Protein plays a key role in weight loss. Protein reduces the hunger hormone and makes you feel fuller. This further prevents you from consuming more calories. An easy way of adding more protein to your diet is by having eggs. Packed with protein, eggs are great for your health. Having omelettes and egg sandwiches full of calories won't really help. You need to switch to healthier egg recipes that have less amount of oil. There are a lot of egg dishes that you can be prepared using less oil. They are equally delicious and would make ideal options for breakfast.
Scrambled Eggs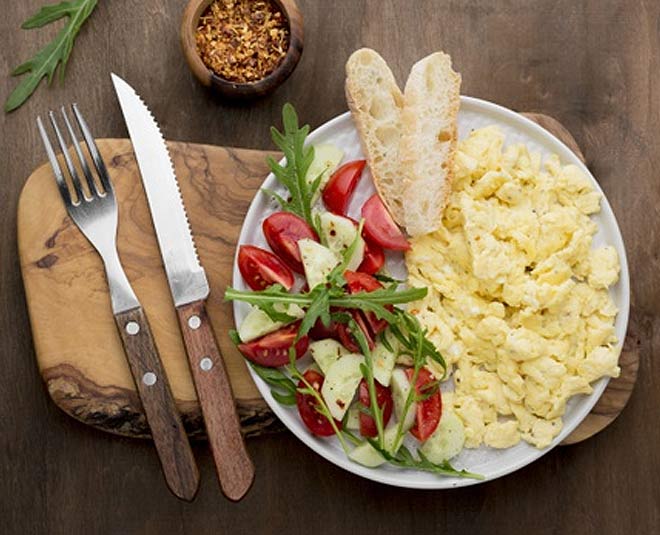 Who doesn't love scrambled eggs? They are my personal favourite! However, preparing it with butter and cheese won't really help in weight loss. Here is a super easy recipe to prepare scrambled eggs without any oil.
How To Make Scrambled Eggs Without Oil?
In a pan, add water, 2 eggs and, 3 tsp of milk. Using a whisk, mix all the ingredients well. Keep mixing till the eggs start to look creamy. Transfer it to a serving dish and top with salt and pepper as per taste. This delicious and creamy scrambled egg recipe in just 5 minutes. You can have a bowl of salad or tossed vegetables with these fluffy eggs.
Don't Miss: Make Eggs A Part Of Your Diet For Better Eyesight, Healthy Heart & More
Devilled/ Boiled Eggs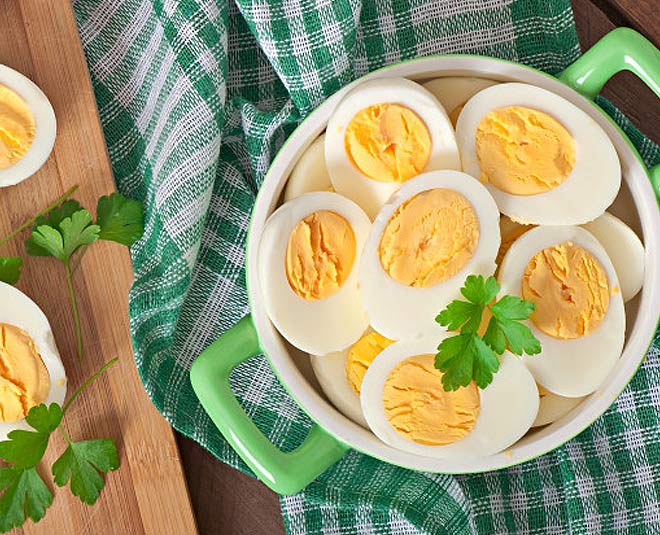 There is nothing better than having boiled or devilled eggs for breakfast. They can be prepared using no oil. If you don't want to have these boring boiled eggs then top them with some herbs, coriander leaves, and spring onions. You can also make a salad using devilled eggs. Cut boiled eggs into cubes and mix with vegetables like cucumber, tomatoes, and carrot. Sprinkle with some salt and pepper and enjoy!
Poached Eggs
Poached eggs are a low-calorie breakfast option. It is super easy to make.
How To Prepare Poached Eggs?
In a bowl, crack open eggs without breaking the yolk. In boiling water, add a tablespoon of salt and vinegar. Toss eggs in this water for 5-7 minutes. You will see the eggs poach and float. Poached eggs are ready!
Don't Miss: Seize The Morning: 3 Delicious Egg Recipes For Breakfast
Baked Eggs
How about baking your favourite eggs with some delicious veggies? This turns out to be a really healthy and tasty variation.
In an oven-safe bowl, whisk eggs as required and add all your favourite vegetables. Also, sprinkle spices of your choice. Place in the oven and bake for 5-10 minutes.
Egg Bhurji
Egg bhurji is another easy egg preparation that can be prepared using a few ingredients.
Pre-heat a nonstick pan. Add chopped onions, tomatoes and capsicum to it and saute. Next, sprinkle the spices, red chilli powder, turmeric powder, coriander powder, black pepper, and salt. Add whisked eggs to the pan and cook on low flame. Top with coriander leaves. You can have this delicious bhurji with multigrain toast or as-is for breakfast.
Do add these protein-rich egg recipes to your everyday diet if you wish to lose weight quickly. Other than consuming the right diet, you need to indulge in some physical activity like cycling, running, or swimming. This will help you shed those extra kilos quickly. For more easy and healthy recipes, stay tuned!