Looking for super healthy breakfast recipes which taste good and are wholesome as well? Your hunt is over as here are some recipes which are a mix of Indian vegetarian and western vegan breakfast dishes. They turn out to be really yummy and take very less time to prepare as well. These weight loss breakfast recipes are a delight, you will want to have every morning.
Chana Dal Pancakes
Ingredients:
50 gms soaked and drained chana dal
50 gms chopped fenugreek
50 gms chopped spinach
1 chopped green chilli
2 twigs curry leaves
1 tbsp cooking oil
25 gms grated carrots
½ tbsp grated ginger
1 tsp curd
Salt as per taste
Method:
First, grind the chana dal into a paste.
Now, add the grated ginger, carrots, green chilli, spinach and fenugreek leaves and a pinch of salt to the paste and mix.
Divide the batter into portions as per the no. of pancakes you want to make.
In a non-stick pan, pour little oil and then add one portion of the paste. Cook it on a low flame on one side and then flip it to cook the other.
Serve hot with pickle or curd.
Don't Miss: Protein-Rich Pulses For A Balanced Diet
Oats Mutter (Peas) Dosa
Ingredients:
2 tbsp oil
¼ tbsp mustard seeds
1 slit green chilli
15 gms finely chopped onions
Salt as per taste
100 gms rolled oats
20 gms urad dal
15 gms grated carrots
10 gms boiled green peas
¼ tbsp chat masala
½ tbsp chilli powder
½ tbsp lemon juice
Method:
First make the dosa batter by combining together the urad dal, oats and salt. Blend them into a fine powder.
Next, add water and stir thoroughly to make the batter of pouring consistency. Then set it aside for 15 minutes and do not forget to cover it with a lid.
Now make the stuffing by heating some oil in big non-stick pan on medium flame.
Add the green chilli and mustard seeds, let them crackle and then fold in the chopped onions and sauté until they turn brown.
Mix in the green peas and carrots and cook for two minutes.
Add the chilli powder and chaat masala and cook for a minute.
Finally, sprinkle the lemon juice and mix well and then turn off the stove. Your stuffing is ready.
To make the dosa, grease a non-stick pan with some cooking oil.
Pour in a little amount of batter and spread it to make a dosa.
Let it cook on medium flame and once it turns light brown in colour, spread the stuffing in the center of the dosa.
Roll the edges and serve with sambhar or chutney.
Strawberry No Sugar Breakfast Cake (Vegan)
Ingredients:
1 cup almond flour
2 cups oat flour
1 tbsp chia seeds
2 tsp baking powder
1/2 cup almond milk
1/2 tsp salt
1/2 cup maple syrup
1 tsp vanilla
1/2 tsp almond extract
1 tsp grated lemon zest
1 cup hulled and roughly chopped strawberries
Method:
Preheat oven 350 degrees F. Meanwhile line an 8x8 baking pan with parchment paper and grease it a little.
In a large bowl, mix almond and oat flour, chia seeds, baking powder and salt.
Fold in the maple syrup, vanilla, almond extract, almond milk, and lemon zest.
Add the strawberries and bake for 40 minutes.
Once done, serve with regular coffee or milk, whatever rocks your boat in the morning.
Don't Miss: Make Chocolate Barfi And Strawberry Sandesh Using These Easy Recipes
Vegan 3 Ingredient Chocolate Cereal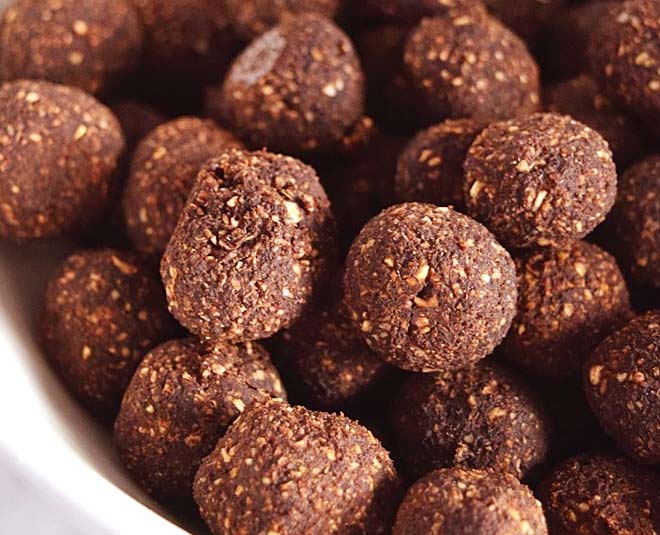 Ingredients
2 cups whole grain grounded rolled oats
1/4 cup cocoa powder
1 cup date paste
Method
Preheat the oven to 350 degrees. Meanwhile mix together the cocoa powder, date paste, and healthy oat flour to make a thick dough.
Take a small amount of it and roll into a small ball.
Place it on a baking sheet and repeat the process until you have finished the dough or the baking sheet has no space left.
Bake for 30 minutes.
Let the cereal cool down on the counter for at least 2 hours.
Store some of it and keep some for your bowl half filled with milk and chomp away!
Peanut Butter Chia Overnight Oats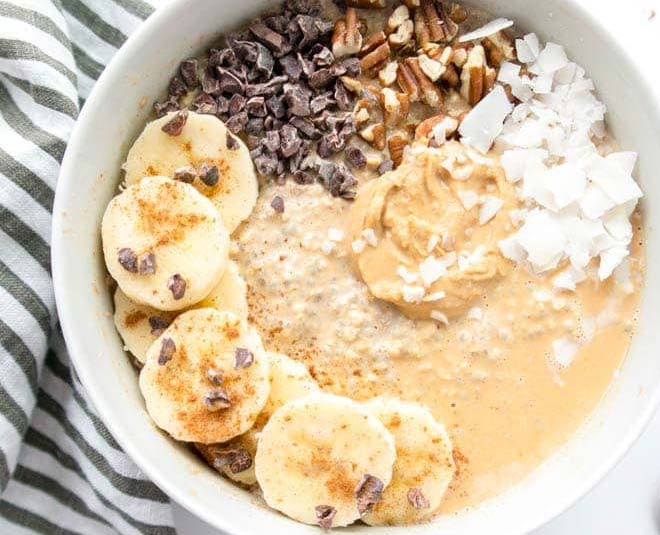 Ingredients
3/4 cup rolled oats
2 tbsp chia seeds
1/2 tsp cinnamon
Sea salt
1 cup unsweetened vanilla almond milk or even coconut milk would do (if you are not into vegan, you can opt for low-fat milk)
1/2 cup water
1 mashed ripe banana
2 tbsp peanut butter powder mixed with some water to make a paste
1 tbsp maple syrup for extra sweetness
Method
Take a mason jar or mug that you love and mix in the chia seeds, oats, sea salt and cinnamon.
Add water, almond milk, banana and vanilla to combine.
Take a small bowl and mix in the peanut butter paste.
Sprinkle some cinnamon and crushed almonds and refrigerate overnight.
Enjoy it chilled in the morning.
For more such healthy recipes, stay tuned to HerZindagi.