As we are all shifting from the use of normal oils and cream to essential oils, there have been several oils that we have been trying and testing. While some claim to be useful and turn out to be completely useless, others are totally unknown by most but turn out to work miraculously. One such essential oil is Pine essential Oil. Read ahead to find out the benefits that this oil has and how it can be used.
What Is Pine Essential Oil
Pine essential oil is derived from pine trees, also known as the Christmas tree. It is a colourless oil that is known to have several benefits for the body. If you happen to make pine essential oil at home, make sure you throw it within a year and not use it after that.
Fights Inflammation
Image Credit: organicfacts
Pine essential oil is known to evidently reduce swelling and even redness. This is the reason it is known to help with acne, itching, athletes' foot etc. Apart from this, it is even known to work wonders to relieve muscle pain. All you have to do is add a few drops of the oil in a bucket of warm water and either place your legs in it if the legs are a problem or take a bath with the water.
Aromatherapy
Pine essential oil is perfect for aromatherapy! The fresh and soothing aroma that the oil contains is known to stimulate the body and the mind. Moreover, it is also added in several room fresheners to spread the freshness throughout the room.
Read More On Essential Oils- Is Tamanu Oil Beneficial For Your Skin And Hair?
Benefits For Hair
Pine essential oil contains several anti-microbial properties that make it ideal for preventing the formation of bacteria. Apart from this, it works effectively to remove oil from the scalp and also the accumulated dirt that declines hair health. All these factors combine to make it great for preventing dandruff formation in the hair!
Boosts Metabolism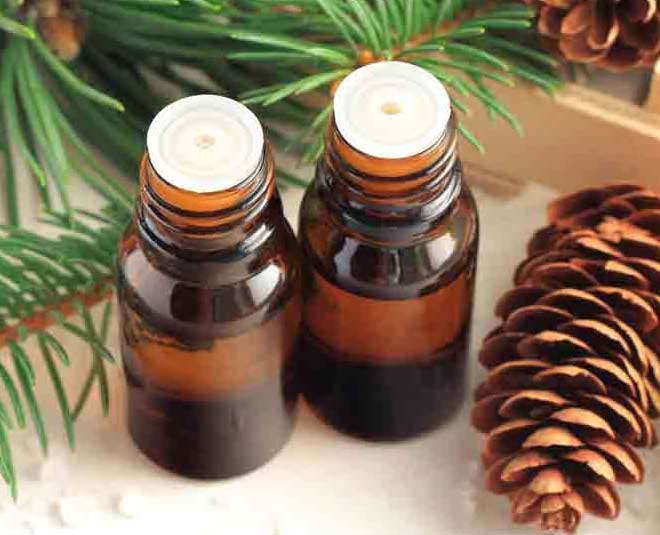 Image Credit: happyhomeinc
Pine essential oil is also known to work on the metabolism of the body and has been proven to boost it. It also helps in removing the extra water from the body during urination which consequentially eliminates excess uric acid, fats, salt and water from the body. This way the oil keeps the kidney healthy as well.
Don't Miss- Need A Quick Trick For Hair Growth? These Essential Oils Will Be Your Go-To Solution
Helps Treat Injuries
Due to its anti-inflammatory and anti-microbial properties, this oil can also be applied to injuries to treat them.
When it comes to essential oils, there are a lot of Dos and Don'ts while using them. Before you get all worked up about how to make use of Pine Essential Oil, we will explain to you exactly how to use it!
For making a freshener or a diffuser, you can mix 4-5 drops of the oil in a diffuser that has water. Turn the diffuser on and let the freshness take over your room!
In case you are applying the oil on your skin, make sure to dilute it with any other carrier oil first. You can add a few drops of pine essential oil to your coconut oil that you are going to apply on your skin and then use it.
In case you are using it for bathing, add 10-12 drops of essential oil to your bathtub or even in your bucket. Use warm water for the best effects and this will make you feel relaxed instantly!
If you found this article helpful and would like to read more such articles, stay tuned to Her Zindagi!