Stay Fit Like Soha Ali Khan With This Stairs Exercise
Finding excuses to skip your workout? Well, not anymore with this stairs workout regime inspired by Soha Ali Khan.
Bollywood actresses do a lot of things to keep themselves fit including exercise and yoga. Soha Ali Khan is one of them. This 43 year old actress is a fitness freak and her Instagram profile is a testimony to that. Whether it is yoga or high intensity workout, Soha easily manages to keep herself fit. Recently, she shared a video with her fans where she is working out on the stairs.
Staircases can be easily found in and around our house. Next time when you make an excuse to skip your workout routine, remember this video of Soha Ali Khan turning her staircase into a workout area. If you also want to keep yourself fit but avoid going to the gym, then you can also workout on the stairs at home just like Soha.
Workout In Stairs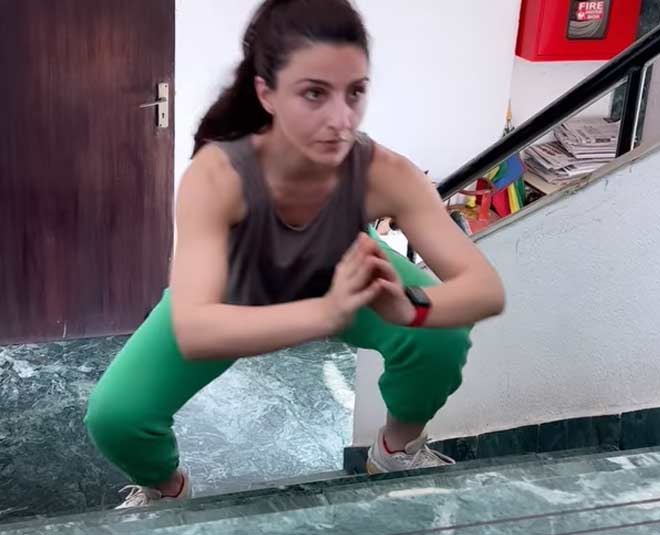 Soha never compromises on her fitness and can turn any place into her gym at any time, even if it is the stairs of her house. Soha Ali Khan decided to exercise on the stairs to keep herself fit, "but not in the usual way." Instead, she chose her time on the stairs to work on her core and leg muscles.
While doing the first exercise in the video, Soha can be seen going up the stairs sitting in a squat position. In the next part of the video, Soha can be seen coming down the stairs in the same position while doing other exercises. For the third exercise, Soha is seen setting each of the squat climbs and crawls, before descending the stairs to the plank position.
"Use the stairs, but not the usual way," she quite aptly captioned his video. Soha Ali Khan also shared her fitness status in the form of hashtags on her post - #workout, #stairs, #onestepatatime and #fitness. This is definitely a great way to work on the core and muscles using the stairs.
Don't Miss:5 Easy Chair Yoga Poses You Can Do Anywhere
Benefits Of Exercising In The Stairs
Climbing the stairs is one of the best workouts when it comes to burning fat properly.
By doing this, the lower part of your body strengthens.
The fat around the stomach is reduced.
It helps in strengthening and toning the leg muscles.
The fat of the hips and thighs is reduced.
By keeping the leg arteries flexible, the blood flow in the feet increases.
Don't Miss:Sarvangasana: Benefits That You Should Know
It is great for your lungs and cardiovascular system
Plank, on the other hand, increases core strength and improves body flexibility and coordination.
Squats help in strengthening the muscles of the body and reducing extra calories.
For more such stories, stay tuned to HerZindagi!