Bollywood diva Jacqueline Fernandez is one of the fittest actresses in the entertainment industry. The Drive actor is quite active on social media and keeps sharing about her workout routine, on her Instagram handle. Over the years, the actress has been spotted acing complex exercises with ease, including yoga asanas, Pilates, pole dancing, functional training, and various other forms of exercises. Let's have a look at the times the actor has raised the fitness standards.
Performing Yoga
Jacqueline took to her Instagram handle and spoke about dealing with anxiety in the current pandemic times. However, according to her being consistent with performing yoga has taught her to be present at the moment. "I have been dealing with some major anxiety these past few weeks. However, being consistent with yoga has taught me the valuable lesson of being in the moment and what's even more important is gratitude for life and being alive. Have a great day everyone! Namaste" she wrote.
View this post on Instagram
Breathwork And Meditation
Amid the pandemic when everyone is dealing with stress and anxiety, Jacqueline through her Instagram post shared about how she is keeping herself calm during the hard times. "Breathwork (pranayams) is important especially now for our physical and mental wellbeing. Praying for everyone during these difficult times," She wrote.
View this post on Instagram
Don't miss: Do Pada Sanchalanasana Everyday Like Shilpa Shetty For These Health Benefits
Pole Workout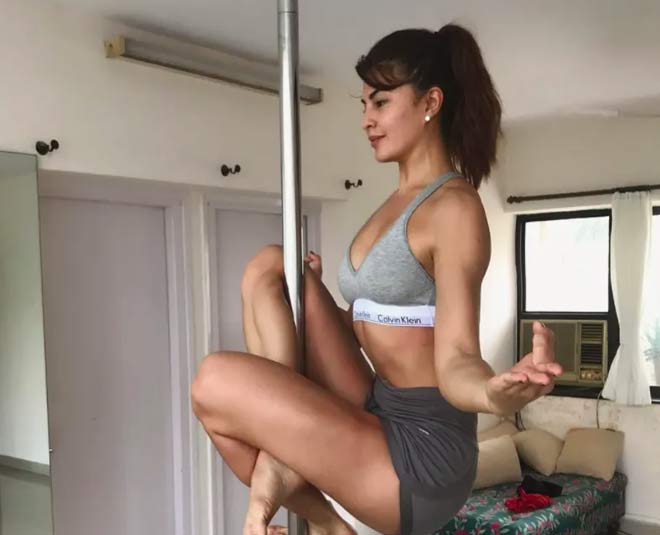 There's a lot of hard work and patience that goes behind the well-chiseled bodies of Bollywood divas. Apart from looking fit, the actresses also have to deal with constant work pressure and stress. Jacqueline has often shared posts showcasing her pole dancing skills which not only allow her to calm herself but also achieve a good and healthy body.
Pole dancing works on your entire body and is great for calming your mind and soul. It tones your muscles and also aids in losing weight.
Acing Headstands
The diva loves doing a headstand and indulges in a boot camp workout thrice a day. In an interview with a leading magazine, Jacqueline said, "I do a boot camp workout thrice a week; it's complete with strength training using body weight. On the other three days, I mix it up with yoga or a 45-minute walk, or something as simple as practicing headstands. I am free to do any form of physical activity I like on those days." She said.
Don't miss: Kriti Sanon Nailed Superman Pose, Here's How To Do It And Benefits Of This Exercise
Trying Different Things
View this post on Instagram
Apart from performing various exercises to strengthen and boost flexibility in the body, Jacquline loves to indulge in different dance forms. The actress on her Instagram handles also shared about performing barre workout which is great for strengthening and building up the muscles and improving the body posture. A Barre workout is also great for boosting your cardiovascular endurance and metabolism, resulting in quick calorie burnout.
We hope you found this article useful. Stay tuned to herzindagi for more such stories.