The ruby red fruit, pomegranate, also known as anaar, has a long list of health benefits and is considered as one of the healthiest fruits. There are many ways in which pomegranate can be consumed and one of the healthiest ways is to make a tasty cup of pomegranate tea. Here are a few health benefits of pomegranate tea, along with some tea recipes for you to try at home.
Great For The Skin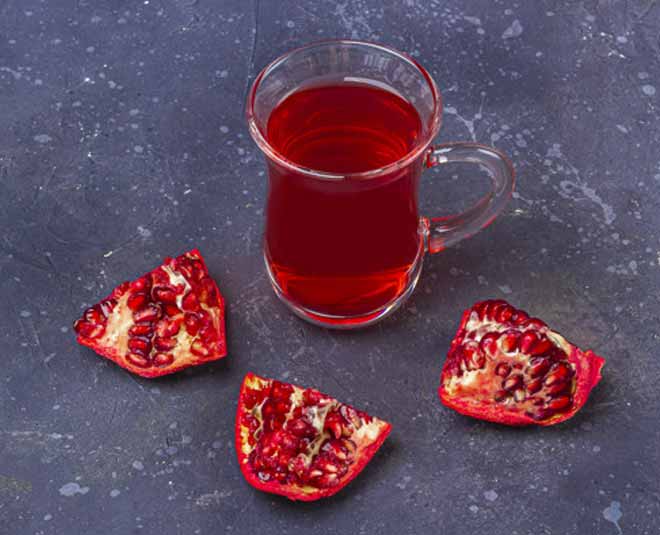 The antioxidants present in pomegranate seeds help fight off inflammation, pimple causing germs and bacteria. Pomegranate is loaded with many vital compounds and nutrients that improves skin health and keeps it clear and glowing.
Pomegranate Iced tea recipe:
Ingredients required: 1 cup of Pomegranate Juice, 1 cups cup of cranberry juice, 1 tbsp ice tea powder, 1 tbsp lemon juice, some crushed ice and 4-5 leaves of fresh mint.
Steps to make the tea-
Step 1- Slice fresh mint and put it in a bowl.
Step 2- Add lemon juice, pomegranate juice and cranberry juice.
Step 3- Add the ice tea powder and stir.
Step 4- Pour the tea in cups and add the crushed ice.
Enjoy your ice tea and pomegranate tea fusion on a hot summer day.
Don't Miss: Different Types Of Jaggery And Their Amazing Health Benefits
May Lower Blood Pressure & Protect The Heart
Pomegranate juice can help reduce cholesterol levels, blood pressure, and cleanses plaque from the arteries. All these benefits help your heart stay healthy. Anaar improves overall health and keeps your body energetic throughout the day.
Hibiscus Pomegranate Tea recipe:
Ingredients required: Loose hibiscus tea leaves or tea bags of herbal hibiscus tea, 1 cup pomegranate juice, 1 cup of cold water, lemon pieces.
Steps to make the tea-
Step 1- Dip loose the hibiscus tea in boiling water, until it brews.
Step 2- Strain the tea, cool it down and pour it into a container.
Step 3- Then add pomegranate juice and refrigerate until its chilled.
Step 4- Serve with a garnish of lemon pieces, or just squeeze a few drops in the tea.
Contains Vital Compounds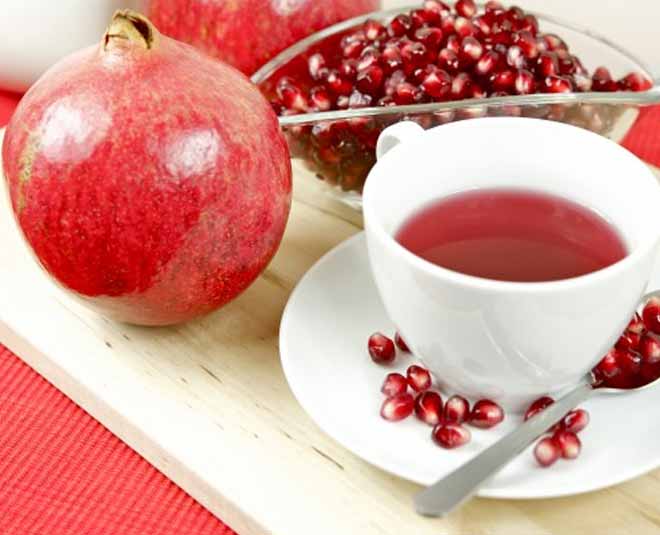 Pomegranate juice contains several plant compounds and vitamins & minerals. It is a storehouse of nutrients like fiber, protein, vitamin C, vitamin K, folate, potassium and plant compounds like punicalagins, which help keep the body healthy and fit.
Pomegranate Turkish Tea recipe:
Ingredients required: ½ cup pomegranate juice, a pinch of saffron, ¼ cup fresh cream, ½ tsp normal tea, 1 tsp lemon juice.
Steps to make the tea-
Step 1- Put all the ingredients, except fresh cream in a pan and bring it to boil.
Step 2- Stir the mixture and let it cool down.
Step 3- Add fresh cream and blend the mix in a blender, till it becomes a coarse mixture.
Step 4- Strain the tea and pour it in cups.
Step 5- Add a pinch of saffron and garnish your Turkish tea.
Don't Miss: Have A2 Cow Ghee For Better Digestion, Immunity & Other Health Benefits
Helps In Weight Loss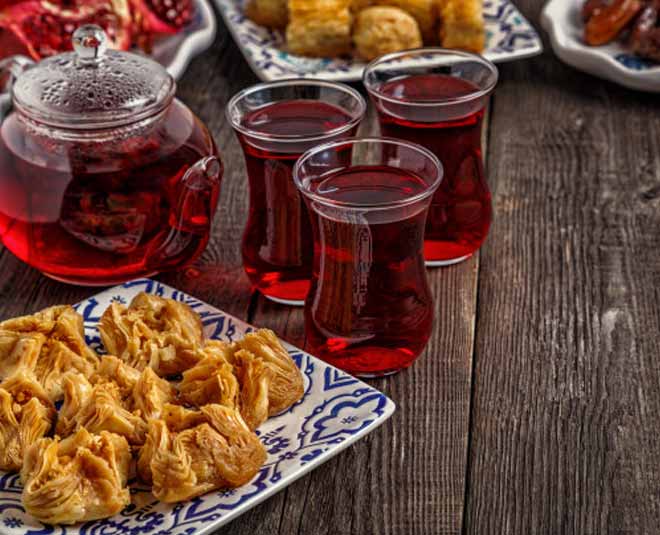 Since pomegranate is rich in slow digesting fibres, pomegranate keeps you feeling full for a long time. There is about 4g of fiber in ¾ cups of pomegranate. Pomegranate tea also boosts metabolism therefore increases the passive fat burning ability of the body, thus, it efficiently helps in weight loss.
Green Pomegranate Tea recipe:
Ingredients required: ½ cup of green tea, ½ cup of pomegranate juice, 1 tbsp honey and a few drops of lemon.
Steps to make the tea-
Step 1- Boil and brew green tea in a pan.
Step 2- Strain it and let it cool down.
Step 3- Add the pomegranate juice to it.
Step 4- Mix 1 tbsp honey and a few drops of lemon in your tea.
Pour it in cups and enjoy!
Try the above given recipes at home and reap tons of health benefits from pomegranate tea.
For more such health tips and recipes, stay tuned to HerZindagi.com