If I have to choose among the wide variety of soups available, I will go with hot and sour. Why? I love the sour and spicy flavour of this hot, Chinese soup.
I am a vegetarian so my version is usually loaded with vegetables like carrot, capsicum, chilli pepper, spring onions, cabbage, cauliflower, garlic, ginger, and onion. The non-vegetarian one usually is prepared using chicken broth, eggs.
If you haven't tried this soup yet or just don't know if it will benefit your health for real then read some health benefits of eating this soup below.
Hot And Sour Soup Is Low On Calories
If you are on a weight loss journey just like me then you know our key reason behind eating it. Weight loss! Well, soups are filling and they make us consume fewer calories. Hot and sour soup is just 91 calories which makes it a great appetizer option for days you are craving some delicious Chinese food but can't have it because of all that fat!
Hot And Sour Soup Is Packed With Micronutrients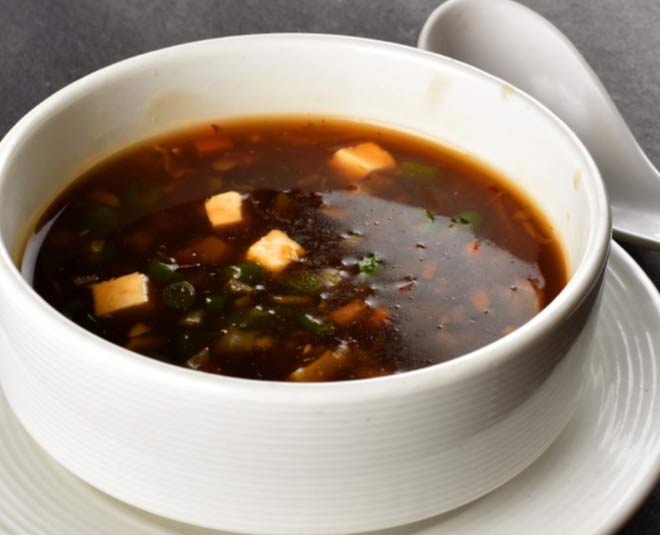 Hot and sour soup is rich in manganese which is great for our overall health. This nutrient helps in bone development. Also, it helps in boosting the metabolic rate of the body. The soup also has many other essential nutrients like vitamin B-6, phosphorus, iron, and magnesium.
Hot And Sour Soup Helps Clear Sinus
A lot of people suffer from respiratory issues like sinus. It usually involves congestion with a headache, stuffy nose among others. It is recommended to consume hot and sour soup to get relief from this congestion. Consuming hot and sour soup helps in reducing sinus stiffness.
Hot And Sour Soup Helps In Decreasing Inflammation In The Body
Consuming hot and sour soup helps in preventing the movement of the white blood cells which are responsible for inflammation. This further helps in providing relief from common health issues like cold, cough, mucus among others.
Don't Miss: Try These Easy-To-Make And Delicious Soups At Home With Family
What Does The Expert Say?
Jaya Johri, Dietician, LNJP Hospital shared, "Soups are warming and any soup having veggies in it is a good source of micronutrients. Those who want to lose weight can have soups as a meal alternative."
Hot And Sour Soup Boosts Immunity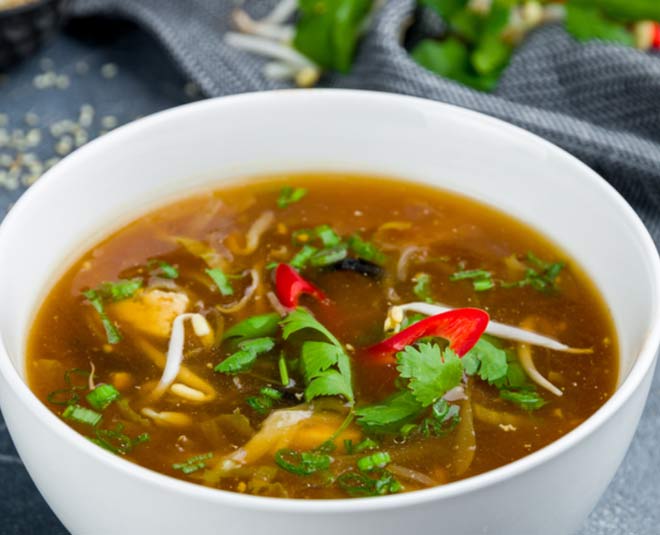 The vitamins and minerals present in hot and sour soup help in boosting immunity. Eating the soup helps in increasing the strength of your body and helps you keep health issues at bay. Eating this soup can help avoid common diseases and treat common symptoms.
Don't Miss: Here Is Rashami Desai's Secret Soup Recipe That Helped Her Lose Weight
Hot and sour soup is usually very high in sodium and might be helpful for those suffering from sodium deficiency. However, consuming excess sodium can be harmful to those who suffer from high blood pressure. If you are preparing the soup at home, make sure you check the quantity of salt added to the soup. In this case, you can limit the number of sauces you are using for the preparation.
Overall, consuming hot and sour soup is quite healthy for your overall well-being. However, if you are undergoing a health treatment or under medications then make sure you consult your doctor before making this soup a part of your daily diet.
For more such health-related stories, stay tuned!