Who doesn't want to look younger, more beautiful and have that flawless skin in just about 30 days? Especially when you are a bride or the family of the bride or the groom, we want to transform ourselves into looking younger and find the best version of ourselves. Before I pen down this article, I made sure I followed this advice personally before recommending you. And it is 12 days, following this transformation plan and I feel beautiful inside out already.
So, below is my personal transformation hack which will definitely help you too.
2 Meal And 1 Snack Rule
You do not need to eat continuously to increase your metabolism. That is an outdated diet fad. I am not sure about you losing weight or increasing metabolism, but one thing will happen for sure is you will gain weight if you continue to eat like this. The logic behind this is, you are constantly feeding or giving insulin what it wants and the purpose of this hormone is to store fat.
You are also constantly fueling up your body when you are actually not burning it off, especially if you are working from indoors. Ideally, to transform it's important to have a super nutritious breakfast like oatmeal, stuffed paratha, sprouts with buttermilk, eggs or besan cheela for breakfast and have an ideal dinner or last meal at 5:00 pm in the evening. Lunch or mid-day can be a bowl of fruit platter or salad with some nuts like walnuts, almonds and cashews or you can also make a bowl of smoothie.
No Meal After 7 pm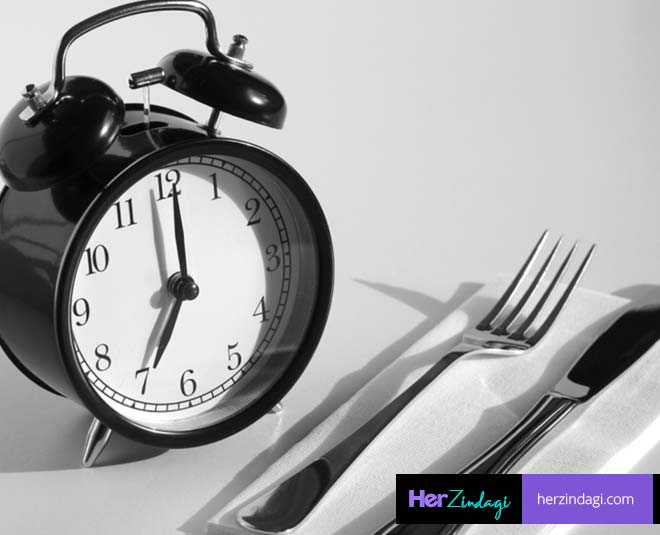 Yes, irrespective of your lifestyle choices, try no meal after 7 pm for a month. Now, this isn't something coming out randomly, it is a scientific and evident based fact. A meal which you consume late at night will not be utilized much by the body but the same meal if eaten in the morning hours will help you burn that fat. This is based on the circadian rhythm of the body.
Our body is unable to utilize the meals later in the day, so what's the point of consuming that meal late at night which you can enjoy in the morning. Another reason for this is, insulin sensitivity in our body is better in the early hours of the morning hence, the glucose from the meals gets used up better. So, no meal after 7:00 PM. If you are hungry, have some water and herbal tea or green tea.
6 Hour Exercise
If you want your exercise to show some results, exercise either early in the morning or 6 hours before lunch and dinner. When you exercise in a fasted state, that empty stomach, burns body fat. If you cannot wake up early in the morning or if you cannot exercise in a fasted state, you can do it anytime 6 hours before any meal.
Ideally, any aerobic exercise like running, dancing, Zumba, cycling should be performed 4 days in a week for 30 minutes followed by 30 minutes of weight training which includes lunges, crunches, sit-ups, pull-ups and so on. I suggest watching some videos online or hiring a trainer who can train you virtually. Any exercise 4-5 days a week will help you transform. What about doing some power yoga or tabatha for fitness at home? Try that!
Don't Miss:
Before Bed Skin Ritual
Of course, it is important to look after your skin in peak summer, but it is also important to look after the skin before going to bed. To prevent dehydration, acne and help add glow to your skin, apply a thin layer of sandalwood paste on your face before you go to bed, this will close the open pores. So, wash your face with a mild face wash, apply face toner like rose water which will close the pores of your skin and apply thin sandalwood paste on your face and leave it overnight.
If you have an oily skin this bedtime ritual works wonders. If you have dry skin, apply a thin layer of malai mix with 1-2 strand saffron and wash off your face after 15-20 minutes. If you are worried about suntan, apply aloe vera gel once a day and de-tan using turmeric and besan scrub.
Don't Miss: How To Reduce Cellulite And Get In Shape Explains Dietitian Swati Bathwal
Hydration
Temperatures across the nation are rising high as we are about to reach the peak of summers. High temperatures along with humidity in some parts of the country can
cause dehydrated skin. Drinking fluids and water will hydrate your body. Remember, Dehydration for even 1% that is less than 1 kg of weight can be harmful to us. Hydration will improve the texture of skin making it look supple and most importantly prevent snacking in between meals.
When our body is dehydrated, we tend to snack more. Depending on your activity levels and body weight, one must consume a minimum of 3 liters –3.5 liters fluid in the day. Drink fluids like beal sherbet, aam sherbet, lemon shikanji, beal sherbet, green tea, herbal teas and cups of water throughout the day.
Stay tuned to HerZindagi for more from Swati Bathwal who is a registered yoga teacher besides being a successful dietician and nutritionist.