To fit into your wedding dress whether it is a gown or your lehenga or wear a saree is a dream for all the brides but the appearance of cellulite (that little dimple or cottage cheese like appearance) on your butt or thighs on your arms or thighs can make you feel uncomfortable. Brides, I hear you and that is why I have a solution for you in this article. When fatty issues push into your connective tissues on your legs or thighs, it brings dimple like appearance on the skin.
Depending on the level of fat deposits you have, you may have smaller or large dimples. Cellulite is not stretch marks. Stretch mark is different to cellulite because it happens when your skin stretches rapidly because of sudden weight gain or weight loss. Most of the creams and treatments which you find in the market can be expensive or can also give you a false promise.
So, follow some of these tips below to reduce the appearance of cellulite naturally. Age, increased estrogen, lack of exercise, increase fat and reduce collagen in the body, along with a family history can lead to the development of cellulite in the body.
Anti-Cellulite Drinks
Cellulite appears in the dehydrated skin, so consumption of fresh fruits and vegetables definitely prevents cellulite as they contain water. Fruits like watermelon, muskmelon, guava, oranges, grapes and vegetables like ash gourd, bottle gourd, cucumber contain water.
You can make this drink in many ways – make a cup of orange tea, oranges have methoxylated bioflavonoids which improve the blood circulation and correct cell imbalance which cause cellulite.
To make this tea, add 2-3 orange slices, 1 lemon slice, 1⁄2 tsp turmeric powder, 2-3 mint leaves to a cup of hot water and let it steep for 2 minutes, now add a pinch of Ceylon cinnamon and drink this tea. You can also make green juice using 1⁄2 ash gourd, 1⁄4 bottle gourd, 1⁄4 cup mint leaves, 1 green apple, 1 cucumber, 3-4 curry leaves, 1 inch ginger. These foods also have vitamin C that helps in building collagen.
Dry Body Brush
Using dry body brush on the naked skin, just before shower for 5-10 minutes, helps in the reduction of cellulite. You will not see the difference immediately but regular use shows remarkable difference. Use the brush on dry skin in an upward movement from the toe towards the heart. It increases the blood supply and works on the lymphatic system and it removes fluid retention and cellulite. It also helps in toning of the body, adds glow to the skin and reduces collagen. Do this 3-4 times in a week, just before shower.
Do Not Consume Coffee But Apply Coffee
If you drink coffee make sure its without sugar and cream and it is black coffee. And each cup of black coffee needs, 2 glasses of water to prevent dehydration. Regular application of coffee scrub before shower, will help to reduce the appearance of cellulite. Caffeine causes dilation of the blood vessels which makes the appearance of dimples less. It also increases the production of collagen (new tissues in the skin).
When we scrub our body with coffee it increases blood circulation, plumps up the skin and makes the appearance less obvious. To make own coffee scrub, mix 1 part coffee, 2 part extra virgin coconut oil and store this in an air tight jar. You can also soak scrub your body using salt and then immerse in the bath tub for 20 minutes. This helps in reducing cellulite.
Exercise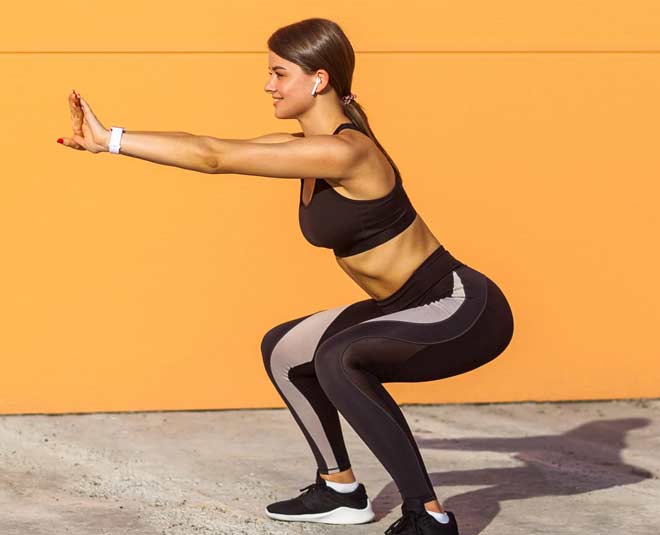 Stronger muscles and tighter skin reduce the appearance of cellulite on thighs and hips. Exercise also helps in weight loss, which is also one of the reasons for cellulite. Perform squats, side lunges, kick ups, jump squats which uses own body weight, this helps to reduce cellulite and cycling, jogging, walking to reduce body fat.
Fennel Water/Dandelion Tea/ Turmeric Tea
To reduce fluid retention and at the same time adding some collagen boosters is a key to reducing cellulite. Make saunf water at home, boil 1 tbsp fennel powder in 1 cup hot water to make fennel tea. You can also use dandelion tea leaves (1 tsp) and boil it in 1 cup hot water and sip it. Another easy alternative is turmeric tea, boil 1⁄2 inch turmeric root, add a pinch of Ceylon cinnamon and a pinch black pepper and sip it through.
Don't Miss: Brides-To-Be, These Edible Flowers Will Help You Get That D-Day Glow
What Not To Do
If you consume alcohol, soft drinks, caffeinated drinks and sodas it will make your cellulite worse.
Do NOT eat take away foods like pizza, pasta, burgers, fries, processed meats and cheese because vegetable fat and preservatives in these foods will make the appearance of cellulite worse.
These foods also contain salt which makes fluid retention worse and the appearance of cellulite. Consuming sugary foods will reduce collagen which is an important for the elasticity of the skin.
Remember brides, these tips if you practice in everyday life from the time of you decide to get married, it will reduce your cellulite appearance.
Stay tuned to HerZindagi for more such tips from Dietitian and Nutrionist Swati Bathwal, who also happens to be a registered yoga teacher.