Kasol is a beautiful town located in the Parvati valley and it was also one of the most beautiful places that I had ever seen. The snow-capped mountains surrounded by conical trees and through the mountains, a blue river, Parvati gushing down to drown Kasol in its serenity and charm. Kasol is a very crucial part of Himachal tourism and it is the perfect place to hang out with your friends or family.
It was around New Year's Eve that I went to Kasol and it was also my first trip to the mountains without my parents. I was accompanied by my group of friends. This trip was my breakthrough trip, I started travelling more, especially after coming here. It was here that I decide to travel and explore the world as much as possible. So, here's more about Kasol and everything that you can find here, take a look.
Travelling By Himachal Roadways
The best part of the whole trip was that it wasn't planned at all. We instantly came up with a plan to go to Kasol, Himachal, and then, the next day we were actually ready to leave. And at the rescue of your instant plans, are the government bus services. So, we took the Himachal roadways bus till Bhuntar, as there is no direct bus to Kasol. Then after reaching Bhuntar, it is better that you take a halt and have lunch. Moving on, to reach Kasol, you need to take a local bus from Bhuntar and within 1.5 - 2 hours, you will arrive at your destination. Kasol is just so amazing, the fresh air, the glimmering green rivers, and the shining sun. It is all phenomenal, unlike anything you would have witnessed. And seeing all this, I bet you will feel alive instantly and the experience would definitely take you to cloud 9. Summing it up, it takes almost 18 hours of travel from Delhi to reach Kasol.
All About Kasol
When we finally arrived in Kasol, we actually got to know the real meaning of beauty. You just cannot stop yourself from being tempted by the enormous beauty of the place. The bridge over the Parvati river, the outmoded cafes serving scrumptious delicacies, everything so still and silent, that you are bound to be taken aback by the splendour of the beautiful hill town. After the 18 hours of travel, you definitely will be super exhausted so head to one of the cafes and enjoy a good and filling meal. Afterwards, find accommodation for yourself in the small home stays and cottages that line the market of Kasol. But remember to do it all quickly as it is very cold in Kasol, even during the day. We found a small home-stay, run by a woman and her family and they had small but cosy rooms with the best part being that it was quite affordable. You will find a lot of such places and if you bargain a little they might as well, come in at affordable rates. After resting for a while you can also ask them for a warm cup of tea to relax and keep yourself warm. Further, you can take the day to rest and rejuvenate your energy and prepare yourself for the next day.
Don't miss: Are The Mountains Calling You? Take A Road Trip To Dehradun Mussoorie
Rasol Trek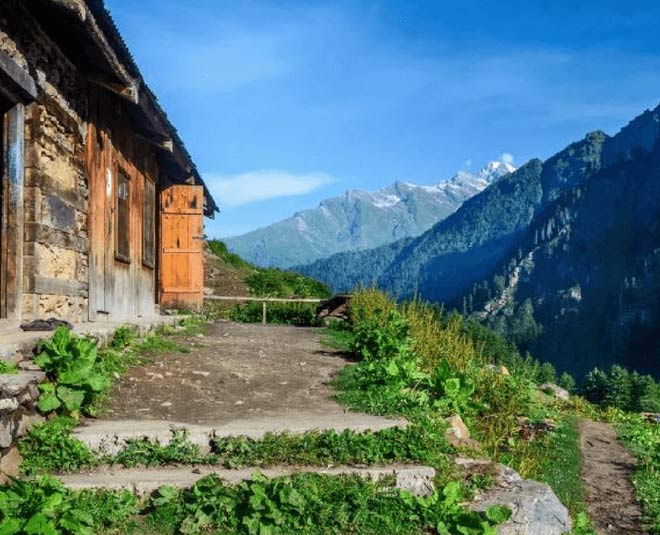 The next morning will embrace you like a warm blanket, you will be totally relieved and all the exhaustion will have parted by now. So, you can have breakfast and then get ready to trek to Rasol. It is a small settlement above Kasol, at an elevation of about 10,000ft. The place is very less populated or commercialised, as compared to Kheerganga and Tungnath treks so, go ahead and trek in peace while becoming one with nature. In general, it takes around 5-7 hours to reach Rasol. You can also stop several times at different stalls and relax, have tea or maggi etc. You will find around 5 -6 small stalls on the way, these stalls are run by the locals and they work really hard for accumulating the supplies so it will be great if you halt and have something to eat to help them and also yourself. Talking about the views, they were extremely picturesque. The scenery is magically enthralling around Kasol- Rasol trek and it is all just breath-taking, in one word. Rasol trek offers an untouched experience, so much so that the trek doesn't even have proper trails but I would suggest you take this trek for sure. After reaching the top, you can stay in one of the cottages where you can rest, jam with friends, and enjoy in the bonfire.
Coming Back To Kasol
The next day wake up early to see an extremely pleasant view of the sun rising from between the two snow-capped mountains and turning the white snow pink, slowly and gradually. Then head for the morning tea, wash up and start your trek down to Kasol as early as possible as it is not very safe to walk through the mountains during evening or night time. Again, it takes around 5 hours to trek down to Kasol. So, once you come back, you can have a healthy and filling meal, and then take a walk around the markets of Kasol. In the market, you can buy some small souvenirs like wallets, woolen items, etc. and then head back to your stay for the night.
You can take a trip to Kasol with your friends or family between October - January as winters accentuate the charm of hill stations like Kasol.
Don't miss: Post-COVID Trip Ideas: Leh To Get World Class Airport By 2022
If you liked this article, stay tuned to Her Zindagi for more such pieces.