Kim Kardashian is a well known American media personality and entrepreneur who has a huge makeup and clothing line as well. She is popular for her figure and her on-point, flawless makeup. So luckily, the "Keeping Up with the Kardashians" star shared her "work from home" makeup tutorial going step by step, sharing tips and tricks on using all the makeup products on her social media account. So here is a further breakdown of what she did and how.
Foundation
Taking a cream-based foundation, Kim took a Kabuki brush and dabbed it all over her face. She made sure than the area behind her neck as well was covered. Kardashian also shared that the key to a good base is using the right serum.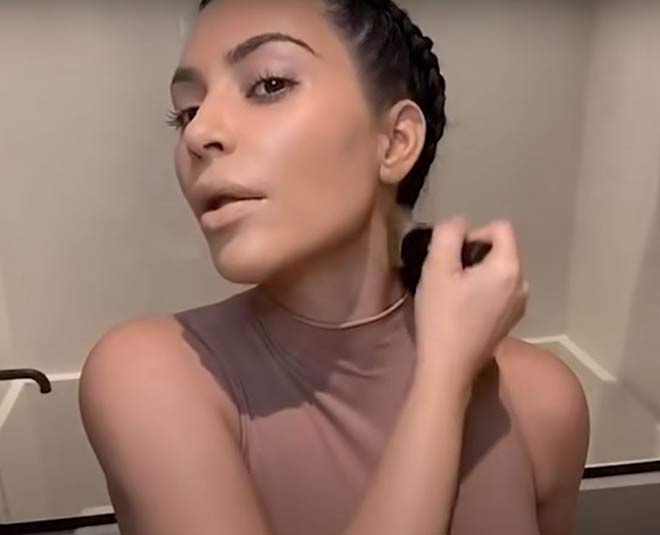 While blending the foundation with a sponge, she mentioned that she does not spread it or apply it all over her skin as the steps of contouring and concealer are yet to come and we do not want you to look cakey.
Don't Miss: Sonam Kapoor Gives Makeup, Skincare Tutorial You Can Easily Do At Home
Concealer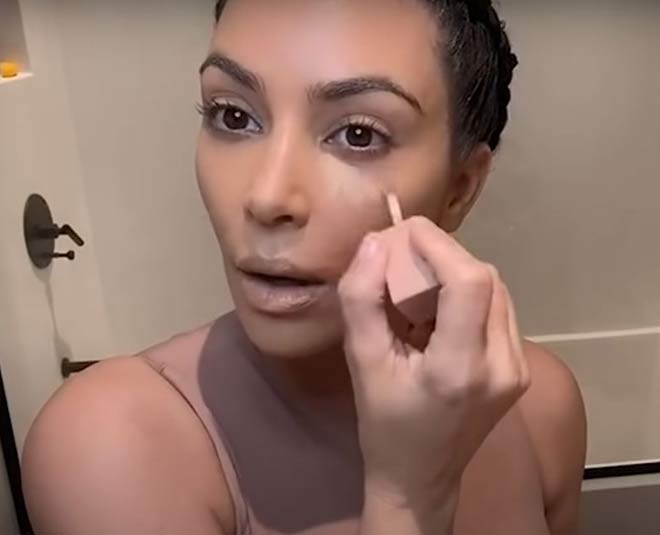 Next was the usage of a concealer with a wand, Kim Kardashian used a concealer a shade lighter than her actual skin tone and covered the area under her eyes, near the nose, middle of her forehead, laugh lines and blended it all out. Do not forget the laugh lines as according to Kim, the lines soften with this step so that the overall makeup evens out your skin.
After blending it all properly, comes the baking step. It is okay if your blender is a little wet, dab on the powder for baking below your eyes and leave on the extra product as the step is all about that. Leave it on for a few minutes meanwhile take your spoolie and brush your eyebrows in the outward direction.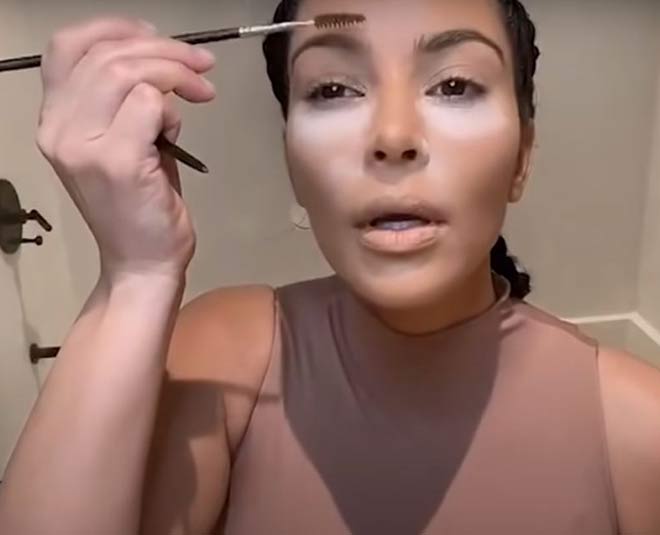 Contouring & Baking
With the powder still on, it is time for contouring, an important step that gives your jawline a structure and makes the forehead look not so big, defining the face. Kim drew lines with the contour stick on either side of the bridge of her nose, below the peak of the nose, her forehead, sides of the eyes, mid-cheek and jawlines on both sides. Wet your sponge and blend well as that it the key to a smooth look.
Don't Miss: Here's Everything You Need To Know About Different Types Of Face Powders
Eyelashes
Now it is finally the time to wipe your powder off with a big brush. Do so with a light hand. Then comes the eye makeup. Kim Kardashian swears by eyelash curlers if not using fake eyelashes.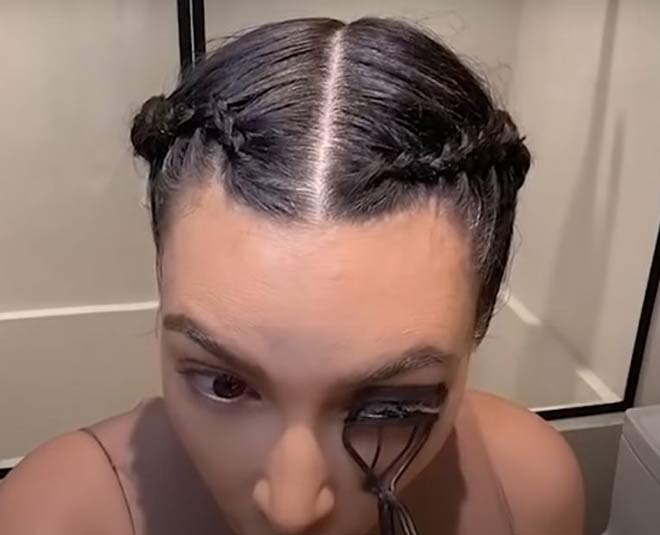 Post-eyelash, Kim shared on her YouTube channel that since she used a cream foundation, she likes to dab some contour from a palette in powder form, in a lighter shade, and goes over the entire contouring line that she made and blended. This step, according to her, sets the contour in a more effective way. Do not forget to blend the contour on your neck as well.
Highlighter
Next, take the highlighter you like and brush a little with a light hand on the bridge of your nose, on the cupid's bow, the high points of your cheeks and a little on the chin. Then take a shimmer blush and swipe lightly on your cheek bones.
Now, this is a cool trick or tip that Kim shared. She dabbed the eye shadow brush in her contour palette and swiped it on her eyelids along the crease, blending it back into the nose lines. This step gives a little definition to your eyes. Then taking a thinner brush, she dipped it in the contour palette again and brushed a little below the lower waterline of her eyes. Once you are done with all these above steps, comes a mascara.
Don't Miss: Enhance Your Eyes With Deepika Padukone's Secret Makeup Trick!
Then comes the setting spray. Get a quality one so that it does justice to your makeup routine and products you invested so much into.
Lipliner & Lipstick
Last came the lip liner in nude shade with which she shaped her lips on the outside to give them a lift. Kim filled them in with a matching matt lipstick and then pressed a tissue paper between her lips to make the shade last longer. One more step Kim added but is optional, is adding a brightening powder in small dabs, under the eyes. This according to Kim makes you look more "youthful".
This is a very basic and nude look Kim showed in detailed steps which can be pulled off by all. One key point to remember is to wear a foundation and concealer that is closer to your skin tone and blend like your life depends on it!
For more such makeup tutorials, stay tuned to HerZindagi.