I love nude lipsticks and love trying new shades that come in the market. I tried Masaba Gupta's lipstick collection that she launched in collaboration with Nykaa and here is my detailed review.
Claims
Celebrate the basic things life has to offer with this tranquil nude tone and curl back to the comfort to reminisce the far forgotten memories that makes you smile!
Shade/Texture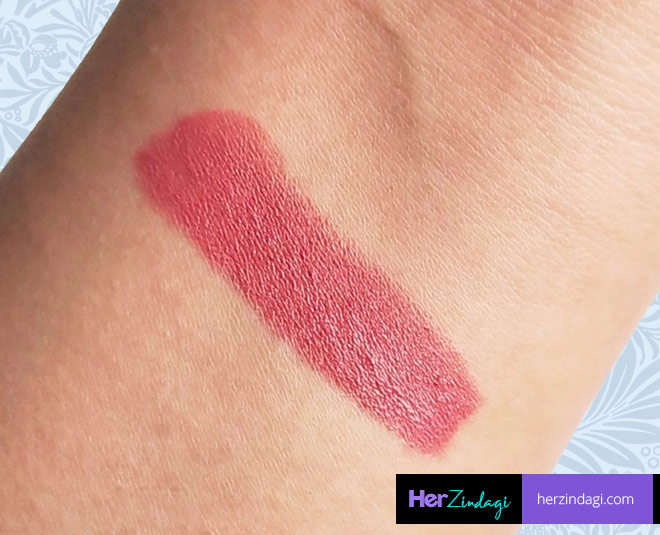 It is a very creamy lipstick with a good colour pay off. Some people who have a light hand might have to go for two swipes but it was perfect for me in one swipe as I have a habit of applying a lot of pressure... one reason I break my lipsticks a lot as well I guess.
Packaging
Super packing is the word! It is a cardboard packaging which makes it super travel-friendly as I drop the caps often. The print is the best! Frankly, it was the packaging that attracted me!
Don't Miss: HZ Tried & Tested: Nuskay Sandalwood & Hibiscus Face Scrub Detailed Review
My Experience
I am in love with this lipstick as the shade is just perfect for me! I like pinkish brownish undertones and this lipstick is perfect. The only drawback is that it does not have a very long-lasting stay.
Pros
Cute packaging.
Available in 12 shades.
Travel-friendly.
Perfect for dark skin tones as well as fair complexioned individuals.
Creamy texture.
Glides on easily.
Good colour pay off
Cons
Not very long-lasting.
Transfers a lot.
My Verdict
I would like to try the other shades as well as the formulae, is quite smooth but it isn't something I would head for in terms of staying power.
Price
It is priced at 599 on Nykka for a 4.2 gm lipstick.
Rating
3.5/5