Kala chana or black chickpea is one of the most consumed legumes in the country. These are known for their amazing health benefits. Black chickpeas are packed with high fiber content and nutritional value which makes them a must-have in Indian households.
Kala chana is prepared in different ways all across the country. They are extremely healthy and delicious. But did you know these little chickpeas can be great for your hair too?
We all wish for long and healthy hair, however, there are a lot of factors that prevent the growth of our hair and damage them. Unhealthy lifestyle habits, exposure to pollution, chemical-packed hair products among other things negatively affect our beautiful tresses and lead to a lot of hair problems.
An easy way to treat these hair problems is by adding healthy foods to our diet. Black chickpeas is one food that deserves to be an addition to your everyday diet for these benefits:
Helps In Hair Growth
Image courtesy: stylecraze.com
Kala chana is packed with vitamin B6 and zinc and these minerals are known to be beneficial for hair growth. They help in building up the protein in the hair which further helps in strengthening the hair follicles and promotes hair growth.
Great For Dry Hair
Kala chana is packed with nutrients that nourish your hair from within and make them smooth and healthy. You can prepare a hair mask using kala chana for dry and rough hair. In a bowl, add 2 tbsp of black chana powder, 1 egg, 1 tsp lemon juice, and 1 tbsp curd. Mix all the ingredients well and apply the paste on your hair. Keep for 20 minutes and then wash with cold water. Using this hair pack makes your hair feel soft and shiny.
Treats Dandruff
Dandruff is one of the most common hair problems we suffer from. It makes your scalp itchy and flaky and leads to hair loss. An easy way to prevent dandruff is by using black chickpea on your hair. Take 4 tbsp of black chickpea flour in a bowl and add some water to it. Mix to make a paste and then apply it on your scalp. Keep for a few minutes and then wash.
Prevents Hair Loss
Image courtesy: archanaskitchen.com
Those suffering from hair loss should add black chickpeas to their diet. Kala chana is a good source of zinc and vitamin A which are great for hair health. Hair loss can be caused due to the deficiency of zinc or vitamin A so adding it to your diet can benefit your hair and prevent hair loss.
Treats Greying Hair
Premature hair greying is another common hair woe women face. If you are suffering from it too then you should add black chickpeas to your diet. Kala chana has protein and manganese which prevent your hair from turning grey. Manganese present in black chickpeas helps in changing the pigmentation of your hair.
Don't Miss: Here Is Why You Should Apply Henna Or Mehendi On Your Hair
Ways To Add Black Chickpeas To Your Diet
There are different ways you can add black chana to your diet to enjoy its amazing benefits for your hair.
1. Prepare the traditional Indian curry recipe using black chickpeas.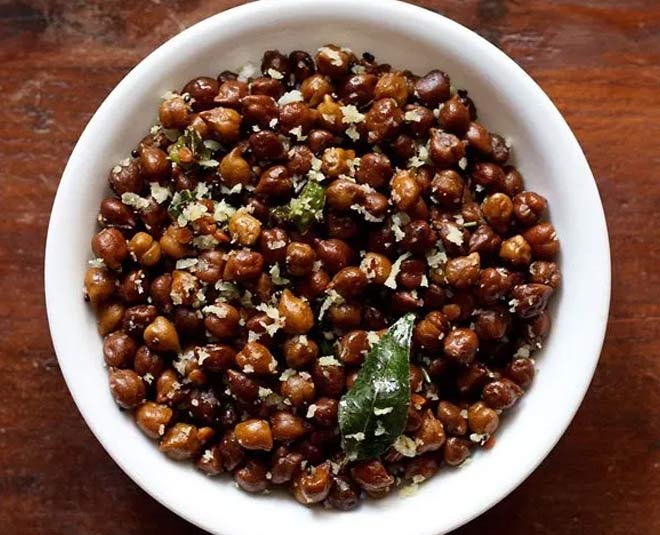 Image courtesy: vegrecipesofindia.com
2. If you don't like it with curry then you can prepare dry black chickpea with some spices to make it taste delicious.
3. Black chickpea kebabs are a popular snack and these taste great.
Don't Miss: Sukha Kala Chana Can Be An Exciting New Addition To Your Lunch, Try It Today
4. Having soaked black chana in the morning can be highly beneficial. Read here.
Do add black chickpeas to your daily diet and beauty routine for its amazing benefits. For more stories around beauty, stay tuned!