Many of us have been using henna or mehendi for years now to dye our hair. However, it is not just a hair dye. Henna is one beauty ingredient that is great for our hair health. From treating dandruff to improving hair growth, henna is extremely beneficial for your hair. Scroll down to know why you should make it a part of your beauty regime.
Improves Hair Growth
Who doesn't want long hair? We all do! However, if you are unable to grow long hair then you must start using henna. Henna has natural properties that help in hair growth. Using it regularly nourishes your hair and encourages hair growth.
Reduces Hair Fall
Hair fall is one of the most common hair issues women face, especially during this monsoon season. If you are suffering from this issue then you must start using henna. While preparing your henna paste, you can add mustard oil to it. This one is a great remedy for hair fall.
Prevents Dandruff
Henna is a good remedy for dandruff. It clears the greasiness, dandruff, and dirt from your scalp. Using mehendi regularly will help you treat your dandruff problem and it won't let it come back.
Controls Scalp Itchiness
Henna has antifungal and antimicrobial properties that soothe and cools the scalp and prevent itchiness.
Don't Miss: How To Make Henna Oil At Home And What Are Its Benefits For Your Hair
Repairs Split-ends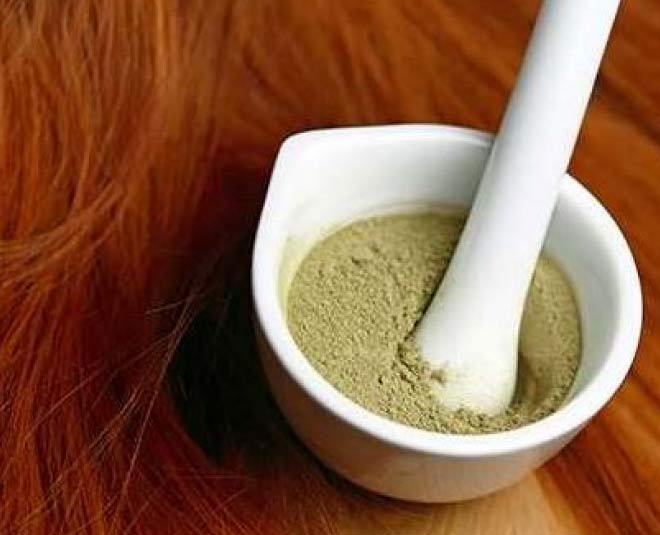 Split ends happen when your hair starts to get dry and damaged. Henna works as a conditioner for our hair and takes away all the dryness. This eventually treats the split ends issue.
Great For Dry Hair
Dry hair tends to break more and henna is a good way to get rid of this dryness. Henna is a natural conditioner that deeply nourishes your hair and makes them feel soft and beautiful. Using henna prepared using tea, lemon juice and curd works like magic on dry hair.
Don't Miss: Try These Simple Home Remedies To Get Voluminous Hair
Makes Your Hair Thick
Henna has tannin present in it which binds all your tresses and makes your hair strong and healthy. Using henna everyday helps you get thick hair.
Prevents Oily Scalp
A lot of us have an oily scalp and it gets really difficult to manage such hair. Henna helps in controlling excess oil production on the scalp and restores the pH of the scalp.
Healthy Scalp And Hair
The nourishing properties of henna make it a great ingredient for dull and weak hair. Henna naturally nourishes your hair and makes them look healthy and beautiful.
Makes Your Hair Manageable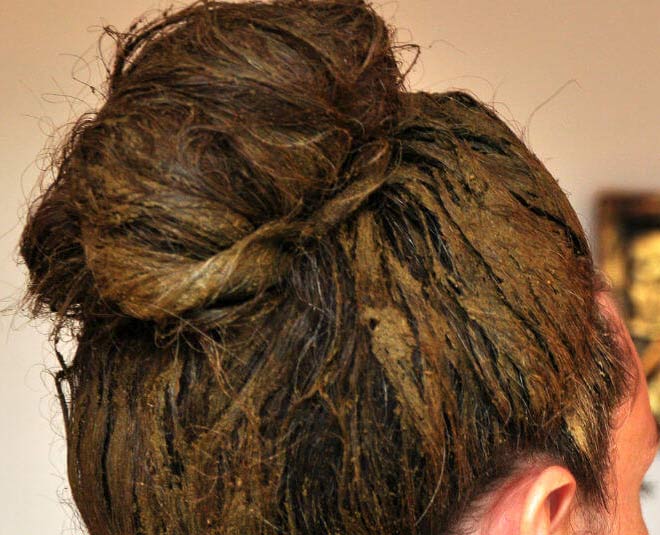 Tangled and fine hair tend to break more. Using henna on your hair regularly prevents your hair from tangling and makes your hair thick, which further makes your hair more manageable.
Keeps Your Scalp Clean
We all keep trying different hair products for our hair problems and all these are packed with chemicals that further accumulate on our scalp and negatively affect our scalp and tresses. Henna helps in removing all this dirt and keeps your scalp clean and healthy.
Also, henna is one of the best options to colour your hair. It is a chemical-free and cost-effective option to colour your hair.
Many know it just as a hair colouring agent but there is so much more to it. Now that you know the amazing benefits of using henna on your hair, do make it a part of your beauty routine. For more such beauty tips, stay tuned!