In many Asian homes, the birth of a baby is welcomed with unique traditions and rituals that have been in practice for many years. While today's parents are taking on a more scientific approach to parenting, massages have remained integral to infant-care, with a focus on mother-child bonding. Another curative therapy for infants that is gaining popularity across the globe is Hydrotherapy.
Hajera Lahir Kudroli, Founder BabySutra told HerZindagi that "water is considered the elixir of life and true to its description, water has healing effects that nourish our bodies. It can be equally magical for the tender muscles and bones of babies. Hydrotherapy is a scientific technique that helps in enhancing the holistic development of infants. The first six months of a new-born's life are very important especially for its psychological development. It is imperative for parents to dedicate their time, energy, love and care at this stage of their life."
Kudroli explained the following benefits of this therapy for babies.
Physical & Psychological Development Of Babies
Hydrotherapy is among the best ways if you want to boost the psychological and physical development of babies. It also helps in creating a healthy relationship between the child and parent. It is an exceptional developmental technique when it comes to babies as it helps in rendering many emotional and physical benefits.
Bone & Muscle Strengthening
There are many benefits of Hydrotherapy for the overall development of infants. The key ones include Strengthening their bones and muscles. The baby will be able to explore their movements against the force of gravity, enhancing their physical endurance.
Coordination In Babies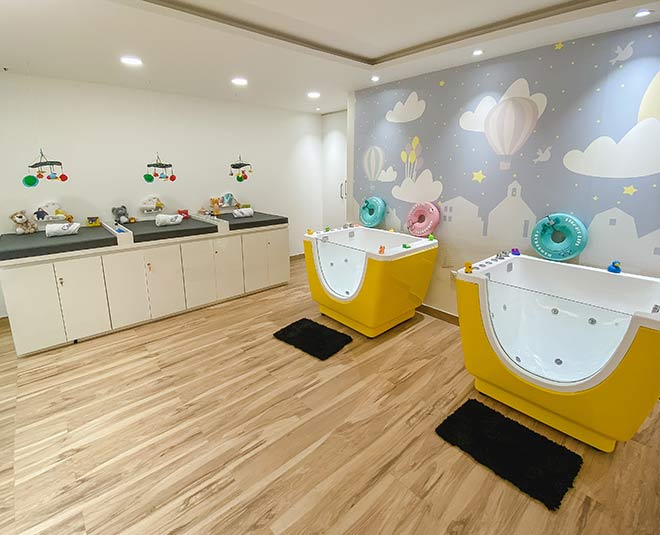 Hydrotherapy is great for helping infants with their coordination and balance. How water works is that it helps in decreasing the effect of gravity on the circulatory system. It ensures ample vascular return to the heart. The pressure of water on the chest of the baby expands lung capacity and enhances the breathing ability of the baby.
This therapy also helps in improving digestion and appropriate absorption of nutrients, so therefore it is great for regulating the baby's digestive system. Water passing over the skin creates tactile stimulation, thus boosting the capability of the central nervous system of the baby.
Don't Miss: Expert Explain Way To Lower The Risk Of Down Syndrome In A New Born Baby
Motor Skills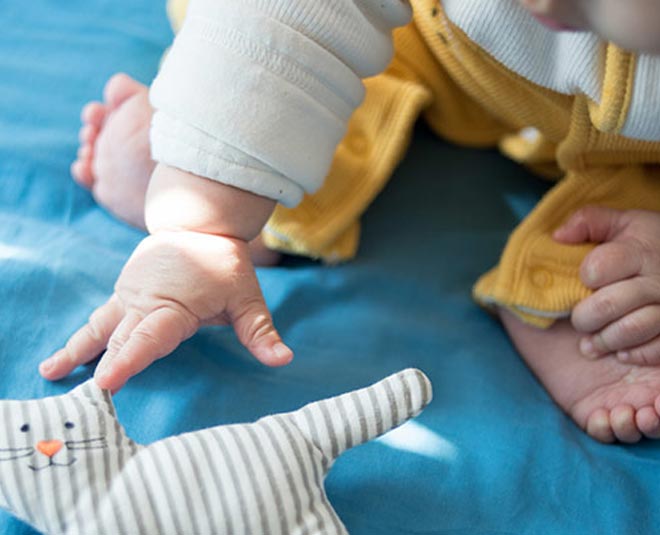 Hydrotherapy also helps in enhancing the baby's motor skills. They can move tiny toys and grab objects. When babies are introduced to hydrotherapy at an early stage, they tend to use both arms effectively. Hydrotherapy helps them to improve their balance, coordination, and improve the functioning of the digestive and circulatory systems. It is conducted by a registered massage therapist.
The sessions may last from 10 minutes up to 30 minutes depending on the baby. They are supported by a specially designed flotation device as their heads float above the water. Babies usually love floating. It gives them the feeling of being in the womb.
Don't Miss: Canola Oil And Its Benefits For A New Born And Its Mother
Hydrotherapy like infant massage has become increasingly popular - as the testimonials from parents claim the experience helps improve the overall health of their babies. It is also highly recommended by Ppaediatricians as it is a form of physiotherapy which used the baby's natural buoyancy to bring about several therapeutic effects.
It is especially a boon for parents of babies who suffer from colic or sleeplessness. For anxious parents, Hydrotherapy is a safe, fun and engaging activity that not just eases things for babies but is a boon for tired parents.
Stay tuned to HerZindagi for more on baby care.
Did you like this article ?