All those newly married brides who are gearing up for their first karvachauth on November 4, maybe going through mixed emotions. A bit worried about how will they manage, to feeling excited about the new journey. This is one festival where married women and now even men keep a fast for their spouse's well being and long life. According to Ayurveda, this particular fast has many benefits as well. But then there are also some tips that you must keep in mind pre-and post-fast since your body is not used to it. Scroll down to find out everything about it.
Fasting is said to have a positive effect on our brains. Due to the fast, the process cleanses our bodies of all toxins and promotes better health.
It is said that the new white blood cells replace the older ones and help in giving a better immune system.
Tips For A Healthy Fasting
Pre-Fast
Do not have very sugary food items when you are eating before sunrise. Take a tablespoon perhaps but do not gorge as sweet foods give you hunger pangs later. Have paneer instead.
Dry fruits are important and a very good idea. Have some nuts, dates, figs and walnuts as they help in storing the energy you will need the whole day as they have all those essential proteins and fats. They also help in lowering cholesterol.
While consuming sargi in the morning, have fruits like bananas, apples, berries and pomegranate which have essential fiber that would give you energy.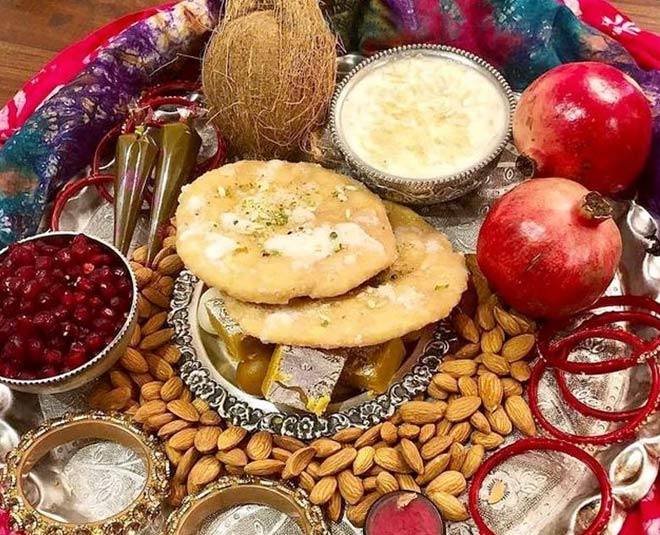 Drink 2-3 glasses of warm water as it will help the body in reserving the sargi.
Stay away from oily and fried food like pakoras and chips as they are very heavy and can make you feel dizzy as well. Have multigrain rotis, paneer and vegetables instead.
It is understandable if you are a tea person and all you crave is that but then the repercussions won't be in your favour while fasting. These beverages will make you feel more dehydrated. Therefore have buttermilk or a juice or plain milk. If you can have amla juice or green tea then that would be great as the presence of antioxidants in them will keep your fresh.
Post-Fast
When that much awaited moment comes, the moon is out and you can break your fast, do not reach for very spicy. Have light food that has a lot of carbs and proteins. This will help in regaining the lost energy.
Don't Miss: Be Karwa Chauth Ready At Home With This Quick Beauty Guide
Before sleeping, have 4 glasses of water or lemonade. This takes care of hydration in your body.
Have a happy Karvachauth and do not take stress. Enjoy the attention and love, keep your mind diverted with different activities.
Stay tuned to HerZindagi for more on Karvachauth.