The festive season is just around the corner but this year the celebrations would be a little different because of the pandemic. The coronavirus is still here but we are all trying hard to adapt to the new normal and go with the flow.
Now, one of the much-awaited festivals, Karwa Chauth is just around the corner and we are sure all you ladies must be planning for the big festival ahead. We know, this year, going to the salon for your hair and skin sessions won't be as smooth as it used to be earlier so we got you a quick beauty guide which can help you prep up for the big day at home. Read on.
Skincare Routine Ahead Of Karwa Chauth
Permanent Makeup expert Shagun Gupta shared a few tips for women to keep in mind as they prep their skin for the festivities. She shared that along with the festive season, winter is also on the verge of arrival so one needs to change their skincare routine.
The expert shared that women must add a good moisturizer in their skincare routine, especially if they have dry skin to retain the moisture of the skin. She further shared that if the skin isn't healthy, even the makeup won't be able to bring out that glow on the face.
Hair Smoothening At Home
Were you planning to get hair smoothening done from the salon? Worry not, you can do hair smoothening at home with this quick tip from beauty expert, Shagun Gupta. She has shared an easy homemade recipe to do hair smoothening at home.
You Will Need:
Directions:
In a bowl, add aloe vera and olive oil. Mix well and apply this on your scalp and roots after washing your hair. This combination of aloe vera and olive oil smoothens your hair and makes them silky and shiny.
Face Lifting
We all want our face to shine and look lifted. You don't really need to go for a face lifting session if you try this home remedy by the expert. Makeup expert Shagun Gupta shared that a face mask prepared using almond flour and milk can do the magic.
In a bowl, add 1-2 tsp almond flour and add 1 tbsp milk to it. Mix well and apply on face. Keep on your face for 20 minutes and then wash with cold water. This face pack instantly lifts your face and makes it glow naturally. You can also add a strand of saffron to the pack.
Don't Miss: Karva Chauth 2020: Slay In These 8 Indo-Western Sarees This Festive Season
Pedicure And Manicure At Home
Don't forget to pamper your beautiful hands and feet at home. It is really easy to do pedicure and manicure at home using the stuff available at home.
Heat some water and fill the tub with warm water. You can add a few drops of essential oil to the water. Soak your feet in water for 15-20 minutes and relax. Dry and with a towel and then massage with some scrub. Massage gently to remove all the dead skill cells. Using a filer or cuticle pusher, cleanse your nails.
Don't Miss: Get Glossy Sleek Nails For This Wedding Season
Dip your feet in water again and then clean. Next, moisturise using a cream. Apply a nail paint coat first and then apply the nail colour of your choice.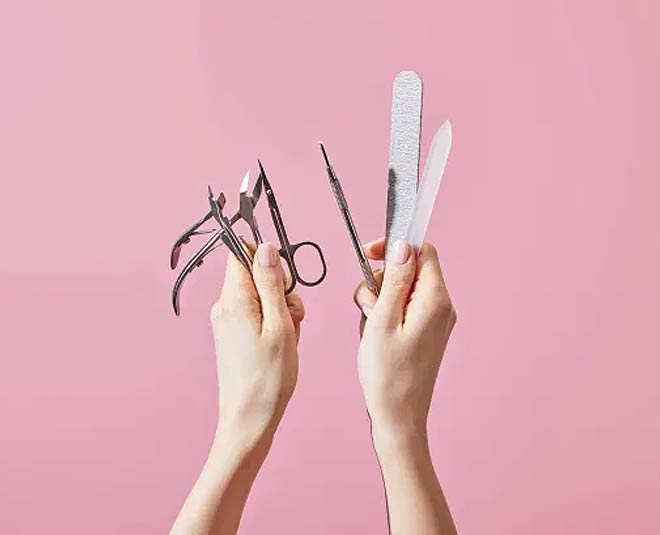 Manicure is as easy as doing a pedicure at home. Begin with removing any nail paint on your fingers. Next, give your nails the desired shape. In a big bowl, add water. Pour a few drops of face cleanser into it. Soak your hands in water for 5-10 minutes. Using some scrub, exfoliate your hands. Using a cuticle pusher, remove excess cuticle.
Next, using some moisturising cream, massage your hands. Apply a base coat on your nails and then apply a nail paint of your choice.
We hope this guide helps you prepare for Karwa Chauth this year at home. For more such beauty tips, stay tuned!