The existence of a lot of items and services in the market is almost like a boon to us since our lives are somehow dependent on those things and we need them in for our day to day routine so, we do appreciate their presence. However, the markets are also flooded with a lot of weird things that are not essentially needed by anyone. Wanna take a look at those weird general use items? Read on for more information.
Lickable Wallpapers
The sound of this phrase seems super odd and gross, well, it sure is not a very great idea to have a wallpaper to lick. You can have candy instead of that. But yes talking more about this weird product, a lickable wallpaper is a party favour that you can render upon your guests. All you have to do is apply this wallpaper on your walls and ask your friends to enjoy the fruit candy(how to make lemon candies) inks on it. Even though the wallpaper is FDA approved, we still cannot really find a good reason to have it installed over your walls.
Finger Covers
Food junkies know for sure how it feels to lick your fingertips after a delightful and mouth-watering meal. But there are certainly people out there who want to maintain the perfect hygiene levels even while eating. And so, we believe one of those people invented finger covers. These are simple silicon covers made to fit your fingertips so that you don't get the food on your fingers.
Harness For Chicken
All of us, especially pet owners, have heard or came around about dozens of pet-related products such as collars, leash or harness which comfortably wraps around your pet's legs or arms and is widely used to guide them while taking them out for a stroll. But have you ever heard about a chicken harness? No? Well, it turns out that it's actually a thing. The purpose of this product is very similar to a general dog or cat harness but instead, it is built for guiding your chicken, if in case you happen to be a chicken owner for some reason.
Pet Sweepers
Does your pet keep running around the house all day long? Well, now you have a way to kill two birds with a single arrow. How? We'll tell you about a product that will help you with this.
Pet sweepers are like shoes for your pets that have microfibers(microfiber wraps) at their bottom. So, whenever your pooch walks around the house, he cleans the floors too. Although it is almost like animal labour to get your pet to clean the house without him knowing. But since it is not harmful and protects the paws of your fido's we think it is ok. However, thinking that its product is reliable would be a bad idea.
Don't miss: Tips To Become A Pet Sitter/ Pet Walker In India
Nose Shaped Soap Dispenser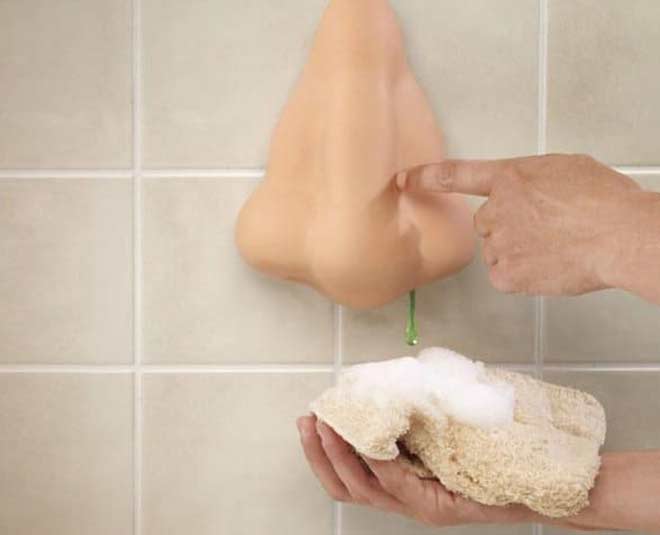 As the name suggests, you might have already imagined what this weird looking product actually is. It's a soap dispenser that looks like a big nose hanging around your bathroom for real. Even though it looks super gross and might not be a very pleasant experience for your guests using it for washing their hands. But still, if you are like being a collector of such unusual, creative and rather gross items, this is the product you're looking for. It's built-in such a way that you need to press a side of the nose to dispense soap, then, the soap actually pours right out of the nostrils. Make sure that you use green coloured soap liquid if you know what we mean. You can easily find a nose-shaped soap dispenser on any online shopping site. Currently, It's listed on Amazon with a price tag of Rs. 1400.
Don't miss: Bizzare Fashion Trends Making To The Top Of The Charts This Season
So, which of these products would you like to try? Tell us in the comment section below and stay tuned to Her Zindagi for more such pieces.