We are not fashion experts for sure, but we definitely can tell the difference between a great fashion trend and a weird one. Big fashion brands use the advantage of their credibility and fan base to sell anything and everything, or so it seems. From Gucci selling ripped stockings, to baguette bag by Moschino, to crocs with stiletto heels. Wait for what? Yes, you read that right fashion trends as weird as these do exist. We know it is strange that people find ways to sell such bizarre stuff in the market without a speck of logic. But just so you are aware of what is happening to the fashion industry in 2021 we thought of talking about these weird trends.
Wet Spot Jeans
Would you believe it if we told you that jeans that has a spot near the crouch? A brand is known as 'Wet Pants Denim' has designed jeans(how to find the perfect jeans for yourself) that has a darker pigmentation of colour to make it look like the person has wet themselves. "Wet Pants Denim delivers the appearance of authentic urinary incontinence without the commonly experienced discomfort. Wet Look, Dry Feel." says the brand website about the product.
Crocs With Stilettoes
We all love crocs for the great amount of comfort they provide. Crocs come with a secure heel design and that is they are scientifically proven to prevent issues in the feet. But how would you react if we told you that crocs are launching a new design that will come with stiletto heels? How weird is that? But it is true and these crocs may be priced at a jaw-dropping cost of $1k or Rs.72,933.
MYL Berlin Jewellery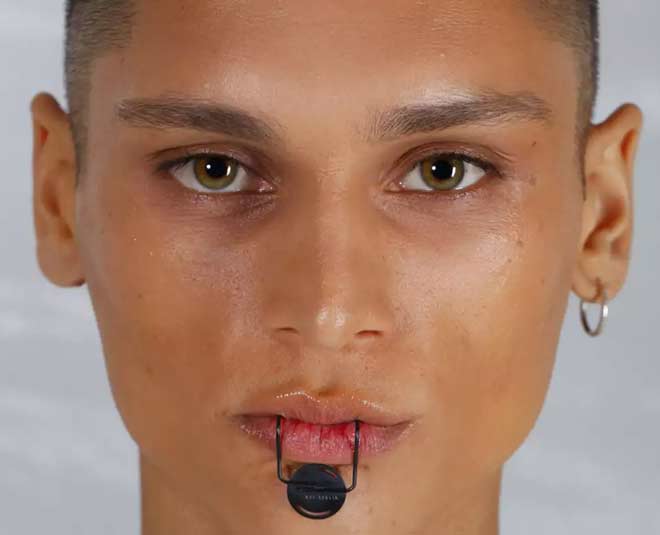 Designed especially "to compliment your chin and lower lip" this piece of facial jewellery is another level bizarre. But it has recently been making quite a few rounds on the Internet and has been compared to a bulldog clip. The jewellery features two hooks with rounded ends that will fit perfectly over your lower lip. Talking about the price this innovative jewellery piece is available for Rs. 9,700.42.
Latex Inflatable Pants
Created by fashion designer Harikrishna for his graduate show latex inflatable pants are also no less weird. These pants also went viral from the time they were showcased at the London College Of Fashion and people help but question the vision and logic behind these.
Inverted Eyeglasses
If you have lately been wondering that why is the world working so logically these days then we have something for you, my friend. If you can't see the world through the conventional frames then here is an inverted cat-eye frame by Gucci(Rs.2.5 L Gucci Kurta) for you. These inverted eyeglasses are priced at $755 which makes around Rs.55,096.
Don't miss: 5 Actresses Who Rocked The Red Pantsuit & Some Tips For You To Rock It Too
Givenchy SS21 Three-Toed Sandals And Socks
Even Scooby Doo would get flu if he spotted you in these shoes. We are not trying poetry but putting forth the facts. These shoes by Givenchy are three toes with socks that look like bear feet. So, unless you are attempting a look like that for a Halloween party we don't think you would want to buy these.
Don't miss: See How Oversized Clothes Are Changing The Face Of Fashion And How You Can Style Them Like A Pro
If you liked reading this article then stay tuned to Her Zindagi for more such pieces.