Acrylic fluid art is one of the most mesmerizing and captivating modern art forms. It is very simple and doesn't require you to be a pro at painting. You will be needing a canvas, a pouring medium such as a plastic glass or so and of course acrylic colours. This art form has gained enormous popularity lately and is continuing to grow with time. Since it is super easy and beautiful, almost everyone can get really great results.
Check out a step by step guide to making fluid acrylic art.
Understanding The Surface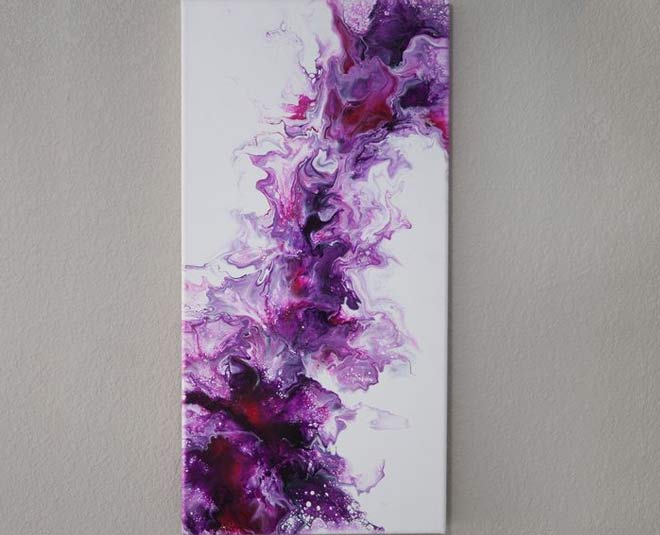 Image Courtesy: Pinterest
It is obviously very important to understand the surface that you're going to paint. Some surfaces are made for acrylic paints, while others are not and so they don't retain the paints for long. The best and simplest surface is a canvas sheet or a board, which absorbs and retains the acrylic paints, bringing out the most vibrant and textured colours. So, select the ideal size of the canvas and paint it white. After 24 hours, when it's totally dry, move on to the next step.
A Perfect Pouring Medium
Image Courtesy: Pinterest
So, there is a variety of pouring mediums available in the market. If you are willing to take this art seriously, then go for more sturdy options. And, if you're doing this for fun, then just stick to a disposable cup or a plastic washable glass. You pour equal amounts of colours, one by one, into the pouring medium. Try with fewer colours at first and increase once you're a pro at this.
Which Colours To Choose
To make an attractive painting you definitely need beautiful shades. And, more so, when you're dealing with a type of painting that is totally based on the abstract flow of colours on the canvas(family handprints on the canvas). That is the highlight and the reason that enhances the appeal of such paintings. Once you have selected your colour scheme, comprising of complimenting colours or different shades of one colour, then, go ahead and pour the colours in the medium and pour it on the canvas, all at once.
Spreading The Colours
Image Courtesy: Pinterest
It is essentially the most important step and must be done carefully. Spread a newspaper on the table before pouring the colours on the canvas and then pour them and move the canvas in different directions, making sure the whole of it is covered with paint. Your painting is almost ready. Let it dry for 24 hours and then cover it with epoxy resin spray. This will protect your painting and make it last longer.
Don't miss: Here's How To Achieve That Dual Tone Lip Look
Here's A Simple Way To Make DIY Tea Coasters With Fluid Art
For making DIY Tea coasters, all you need, are six round cut cardboards with about 5cm radius. And you need canvas sheets, glue, paints, epoxy resin spray and disposable glass. Start by cutting the canvas sheets in the shape of the cardboard circles. Then, stick them onto the cardboard firmly. Let it dry. Afterwards, Take the paints of your choice and pour inside 6 different paper cups. Now, pour it on to the canvas sheet, one by one and spread. Once this is done, place all the coasters separately to dry for 24 hours. Finally, spray epoxy resin over the coasters and your DIY tea coasters are ready.
Don't miss: Here's A Simple Way To Make Melt And Pour Soaps At Home
Stay tuned to Her Zindagi for more articles like this.