The festival of lights is arriving soon and we must be prepared with joy in our hearts and colours in our homes. It is the time of the year when we all renovate our homes and decorate each corner of it to celebrate the festivities surrounding us. The auspicious festival of Diwali is the most widely celebrated festival and it does involve a lot of spending too. From the sofa covers to the old bed sheet we have to replace everything.
And, that is why we often miss out on the small home decor furnishings that are evergreen and make our homes look full of life and character. So, here we are with some cool Diwali DIY projects that are easy to make and less time taking. You can start making these projects now so that you have your home decorated way before Diwali. So, take a look here.
DIY Diya Holders
To make these DIY diya holders you need bangles, thick ones would be better, gota or wool. And pieces of cardboard. Marking the size of the bangle, cut a circle in the card board. Stick two cardboard circles on either side of the bangle. Then wrap a gota or wool around the bangle covering the complete circumference of the bangle. Stick all open ends with fevicol. And your DIY diya holder is ready!
DIY Flower Canopy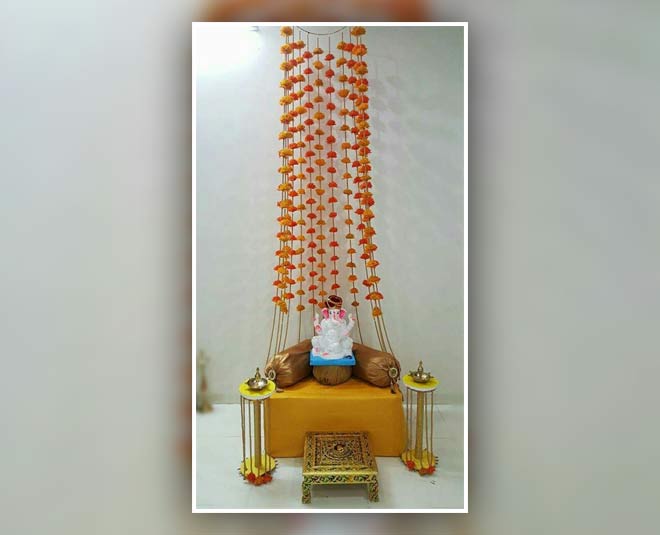 A very beautiful DIY project to try out this Diwali (festive looks for Diwali), flower canopy is very easy to make. For making this, you will be needing a lot of flowers that could be artificial or real both, strong threads and needles and a half meter gota. Using the needle and thread, start sewing through the flowers making a chain out of it. Now the length of the chain has to be decided by you depending on the space you're going to you it in. Make 5-7 such chains and attach them to the gota at equal distance. Using the gota, hang the canopy and you're done.
DIY Hanging Decorations
Another cool and easy DIY is this one, and for this, you will need, half-cut plastic bottles, wool, and decorative materials. Now cut the plastic bottles into half. Apply glue on it and start wrapping it with wool, up to the cap. Once it's dried, make a hole in the cap and pass a gota inside and tie a knot, connect 3-4 such pieces together and it's done
DIY Goddess Laxmi Holy Feet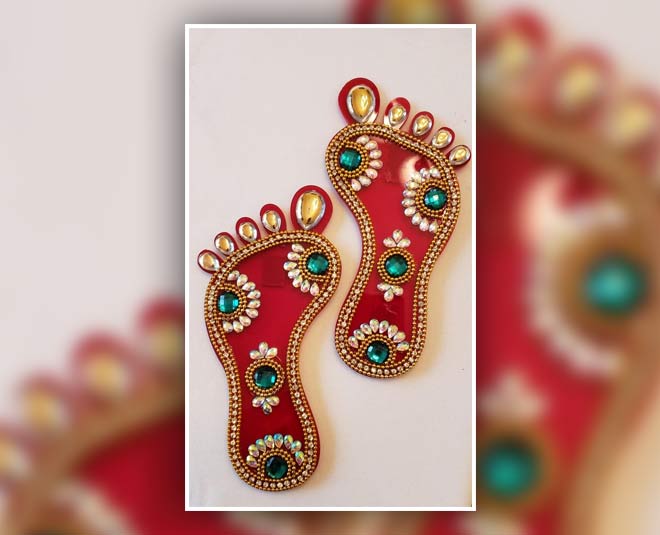 The feet of the goddess Laxmi are said to be very holy for everyone. And it is generally believed that if you place the Laxmi feet inside your homes, they bring in positivity, prosperity, and good vibes. So to make these on your own, you need to draw a rough sketch of the feet the trace it out on a red rubber sheet. Cut the shape very carefully and then add beads and decorate like shown in the picture. Make several pairs and place them in a line at a small distance.
Don't miss: Some Unique Ways To Celebrate Dussehra In The Different States Of India
DIY Bandhanwaar
One of the most popular and beautiful decoration pieces that we use for our homes is bandhanwaar. Bandhanwaar is hanged at the entrance of your home and is also of great religious significance. To make bandhanwaar, you need a rubber sheet, thick gota, decorative beads and stick-on jewels. Cut the rubber sheet according to the borders of your main entry door. Then stick gota over the entire piece. Let it dry. Then, add jewels and beads to decorate in style and there you go.
Don't miss: Some Cool Rangoli Tricks And Hacks To Try This Festive Season
Stay tuned to Her Zindagi for more articles.