Women had been applying lip colours, lipsticks etc. in the same traditional way for ages and now they needed something new and trendy, something that could accentuate their look instantly without taking much effort or time. So, the innovative dual-tone lip look was introduced, this is basically either a gradient effect created over the lips using lighter and darker shades or you may use two different shades for it too. So, if you really want to take your makeup looks a notch higher then read this guide to creating a dual-toned lip colour technique.
Moisturize Your Lips Before Starting
Well, this is one very important step that we tend to miss out, just because we are in a hurry or too lazy to do it. But applying chemical products on your lips, without nourishing them will result in dark and dull lips. So, do remember to apply petroleum jelly, ghee or coconut milk on your lips at least half an hour before you're going to do your lip art. This will enhance the appearance of your look and will also make it look smooth and perfectly finished. Otherwise, your lips will not look lustrous and will look chapped and flaky too.
Create A Centre Dual Shade
Image Courtesy: Pinterest
To create this look, you need to apply a dark shade lipstick. Let it dry. Then in the centre of your lips start smudging a lighter shade. Make sure not to take the colour to the corner of your lips. Use an earbud for a better smudge. Now let it dry and walk the streets in style. Use a concealer to cancel out the extra smudges.
Dual shade On the corner of your lips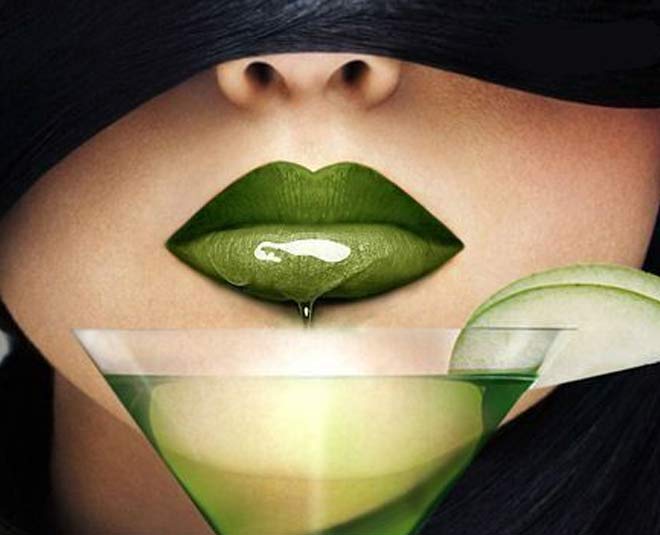 Image Courtesy: Pinterest
This look is very different from the other one. Both, in terms of appearance and how you make it. To do this look, line your lips with the liner of your favourite colour. Then, apply a dark shade of your favourite colour lipstick and let it dry. Afterwards, apply a lighter shade lipstick of the same colour on the corners of your lips and use concealer to create a sharp look.
Dual Colour Look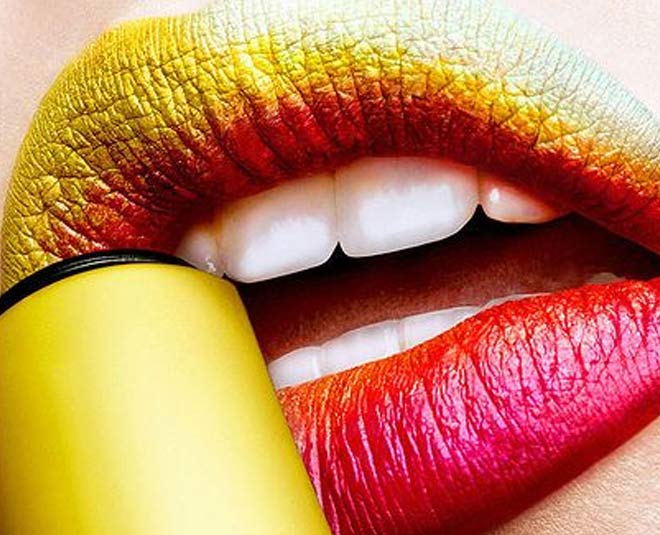 Image Courtesy: Pinterest
Creating a dual colour look is super easy. For this look, you need two different colours of lipstick. Next, just line your lips with a neutral shade liner. Then, apply the first colour on the lower lip, let it dry out completely. After this, apply the second colour on the upper lip and let it dry. Keep your mouth open until it dries out completely otherwise your look can be ruined. Use concealer to sharpen the corners of your lips and there you go!
Don't miss: Here Are Five Easy Lip Art Designs To Try Out At Home
After You Take Off Your Look
Pre and post makeup lip care is very essential. Your lips can suffer big time if you're not taking proper care of them. Try this easy DIY lip mask to apply on your lips and make them healthier. Grind some almonds and add little milk to them. Mix it well together and add a little Gulab Jal, to form a thick paste-like mixture. Finally, add honey and apply on your lips. Then wash it off with warm water after 20 minutes. And your lips will be healthy and pink now.
Don't miss: Skincare: Homemade Sabudana Face Pack To Get Radiant Glow On Your Face
Try these ways to get hands-on the trendy lip look and If you liked reading this article, stay tuned to Her Zindagi for more such pieces.