All those who are religiously following Bigg Boss this season know that for a few weeks now, the Weekend Ka Vaar episode has been all about contestant Rubina Dilaik. Rubina Dilaik who was missing from the limelight during the initial two weeks has now become one of the most talked-about contestants inside the Bigg Boss house and not really for good reasons.
On different occasions, Rubina Dilaik has been lashed out by the host Salman Khan during the Weekend Ka Vaar episode. However, many of her fans aren't happy seeing her being targeted every weekend and feel that the show makers and the host is biased towards her. Let's take you through the times Rubina Dilaik was targeted inside the Bigg Boss house.
When Salman Khan Slammed Rubina Dilaik Over Her Violence Remarks
During the last Weekend Ka Vaar, Salman Khan was seen asking the contestants who does 'hinsa hinsa' (violence) all the time and some of the contestants called out Rubina's name. When asked about the same, Rubina said, "Task baatcheet ka tha sir, strength ka nhi tha."
Further, the host Salman Khan asked her why she held onto Jasmin Bhasin when Rahul was pulling the bag from her during the last task. Salman Khan said, "Kya yeh passion nahi tha? Apna passion, apna passion, doosron ka passion, violence?" Rubina Dilaik was further accused of calling everyone's passion as violence and not realising her own behaviour inside the Bigg Boss house. The host concluded by saying "Rubina you make your life miserable and you make everyone else's life also miserable."
Recently, ex-contestant of Bigg Boss 14, Sara Gurpal came in support of Rubina Dilaik. She tweeted, " #RubinaDilaik is right by saying hinsa hoti hai ! #BigBoss ne saaf saaf bola hota hai ki bal (strength) ka upyog na kre.lekin task k waqt yes hinsa hoti hai.log insaniyat bhul jate hai. My eyes ! #AbhinavShukla's face #ShehzadDeol s right eye! Kuch examples hai. Thank you ."
Don't Miss: BB 14: Rubina Dilaik, Jasmin Bhasin Highest Paid Contestants, List Of Celebs Who Made The Most Money
When Rubina Dilaik Was Called The Puppet Master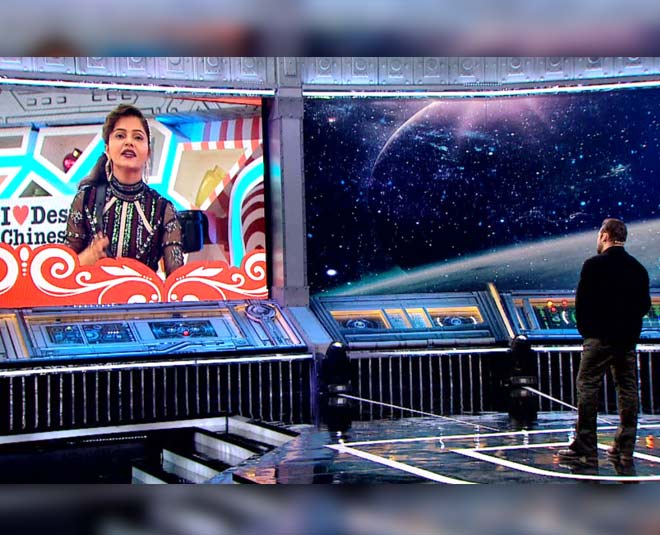 In the last Weekend Ka Vaar episode, the contestants were given a task where they had to tell who were the two contestants Rubina Dilaik was being puppet master to. The contestants couldn't come to the final names. Later, Salman Khan was seen telling the contestants that according to the makers it is Jasmin Bhasin and Nishant Singh Malkani who are looking like Rubina Dilaik's puppets.
Don't Miss: BB 14: Rubina Dilaik's Entry Into Showbiz, Relationship, Marriage: All You Need To Know
The host Salman Khan then also slammed Rubina Dilaik for encouraging a fight between Jasmin Bhasin and Rahul Vaidya for no reason. He said that Rubina Dilaik makes conflicts more intense by provoking her co-contestants. He was also seen telling Jasmin that she threw water on Rahul Vaidya and abused him but her puppet master Rubina didn't stop him.
When Salman Khan Told Rubina Dilaik To Not Use His Name To Get Famous
In one of the Weekend Ka Vaar episodes, Salman Khan was seen telling Rubina Dilaik of not using his name to get famous. During that week, Rubina Dilaik had complained to Bigg Boss about him. Salman Khan had earlier called Abhinav Shukla 'samaan' because he wasn't very active in the show initially but it didn't go well with Rubina Dilaik and she complained to Bigg Boss about it.
Talking about the same, Salman Khan explained that he had joked about it because Abhinav wasn't active on the show. Then he told Rubina to not use his name for support as things get big if attached to his name. Rubina Dilaik was then seen defending herself, saying that she didn't mention Salman Khan's name anywhere.
Salman Khan further shared that it was Rubina herself who was showing her husband in a low light. He said, "aapne inko khud neecha dikhaya hai, by saying, mere husband hai, ye mere sath aaye hai. Mera kaam accha chal raha hai, inka nahi chal raha hai. Isliye ye mere sath aaye hai." He added, "Ye aapke balbute pe is ghar me nhi aaye hai. Ye apne balbute pe aaye hai. Agr ye aapke shauhar nhi hote to bhi apne balbulte pe hi aate."
Later, Rubina Dilaik was seen apologising to the host Salman Khan who said he had already forgotten it all.
Is The Game Going Fair?
Rubina Dilaik's fans aren't really happy to see her getting bashed by the host Salman Khan every now and then and many feel that the game is getting unfair. A user on Instagram commented, "Rubina is one of the best thing that has happened to bb14.. is salman is gonna bash her coz use nikki ya rahul ko battamizi k lie kuch nhi kehna.. then baranar this game is going unfair. Bb ne decide kia is bar ki ejaz bnega captain and uskebwjh se hi 4ro red zone mai aaj jo nhi hone the! Captain toh sirf abhinav hi bnna tha! Nikki toh jibh nikaal nikaal ke aage badha denge bb wale...coz battamiz toh chiye na ghr mai ek do including rahul😂."
Another one wrote, "Big boss iss bar biased hai ...their target is #rubinadilaik coz she is so strong...t hate bb14😭😭😭 hamari sherniko target kar rahi ha bb14 so wrong ....#rubinadilaik we love you ...stay strong❤️❤️❤️ please guys support #rubinadilaik ❤️❤️."
A lot of her fans also think that it is only Rubina Dilaik who is giving TRP to the show. A user on social media commented, "Rubina Trp to yahi de rahi...Ghar mein contestant ko dikkat hai bahar mein haters ko..BB14 winner Rubina."
Another user on social media had a question to ask. She wrote, "Y are they all targeting Rubina one every wkw episode and not saying a word to irritating Nikki??."
If you have been a regular follower of the Bigg Boss show, you know that every season there is one contestant who is put to target someway or the other. Last season, it was Himanshi Khurana who slammed by the host Salman Khan on different occasions. Many of her fans felt that the host and makers were biased towards her. Is it Rubina Dilaik this season?
Do you think Rubina Dilaik is being targetted by the makers for some reason or it is her game that is making her go through all of it?
Share your thoughts with us. For more stories on Bigg Boss 14, stay tuned!