Bigg Boss 14 contestant Rubina Dilaik has gained confidence of senior contestants Gauahar Khan and Hina Khan and got special attention in the house when she entered the game with her husband Abhinav Shukla. From being Miss Shimla to becoming a contestant in a game hosted by Salman Khan, here is a complete low down on her graph since she left Shimla.
A famous name in the TV industry, Rubina shot to fame with "Chhoti Bahu" and the rest is history. She had a relationship with someone and married a man who was an entomologist at Punjab Agricultural University in Ludhiana before joining the acting world. So far, the actress who loves trekking and embarks impromptu journeys with her husband has had a wonderful journey, and here is everything you need to about her from scratch.
Rubina maybe a big name in the showbiz but she is a beauty with brains for sure. She was in fact a national level debate champion in her school days and then crowned Miss Shimla in 2006 when she participated in some beauty pageants.
Relationships Before Marriage
The actress was in a relationship with her co-star Avinash Sachdeva (Chhoti Bahu), before she got married to Shukla. Rubina and Abhinav dated for 3 years and got married in 2018, in Shimla.
Marriage
The couple's love story began at a mutual friend's house where Abhinav fell in love with Rubina's saree look. Abhinav once said in an interview to a media house: "I met Rubina at a friend's house during Ganpati. I checked her out as she looked resplendent in a sari. You generally see girls in western clothes and then you get to see that someone can look so stunning in a sari as well. So I saw her and I was like, wow she's beautiful."
He then commented on one of Rubina's photoshoots and asked her to let him shoot her pictures.
Rubina Dilaik has said in the past that she made the first move as because she knew it in her gut that this was meant to be.
They have many common interests like coffee and travelling. Rubina also shared once that Abhinav loves to click photographs and she enjoys being his subject.
Bigg Boss Journey
Now that the couple has entered the controversial game which glues the nation to the TV or phone screens, there are many theories to the couple's entry. It is not being a couple in a house where they are split into teams and are pitted against the other. Not just that, the couple will have to brave many other situations which we all know BB 14 will come up with in the form of tasks.
Don't Miss: BB 14: Eijaz Khan's Girlfriends, Rape Accusation, Mental Illness! All You Need To Know About Him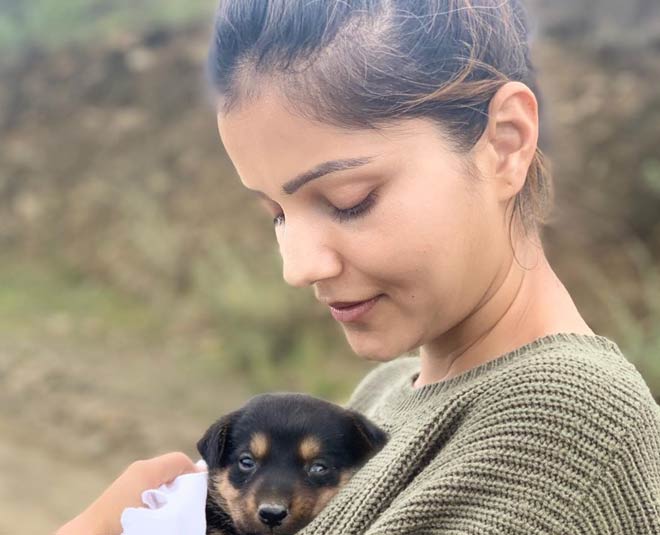 Speaking to a media house, Rubina said in an interview that "Well, there are advantages and disadvantages to participating as a couple. On one side, we'll have each other's back, and emotional support. However, when we will be pitted against each other, it will be difficult and unpleasant, but we will work as contestants then. We both will never cheat on our team by siding with our partner.
"Neither me nor Abhinav ever had an inclination towards the show when we were approached individually. We are less of city people and enjoy our time in nature and solitude. We are not the right contenders who would give 'appropriate content'. However, the offer became interesting when it came as a couple.
Don't Miss: BB 14: Jasmin Bhasin Decoded: Work Life To Affairs, Everything You Need To Know About Her
"We are both very distinct and strong individuals and have certain qualities and flaws. In this age and time, one requires a partner who you can look up to, and also have an amicable way to be in a relationship. We have learnt all these things with the passage of time, and I will not lie, we have had problems and challenges in our marriage too. However, what keeps us together is that we have not lost our own individuality.
"We never overshadow or want to change each other. And I think Bigg Boss is the only platform where one can keep a private aspect in public, and touch lives through that. I think we will learn about ourselves, each other and the relationship through the show, and also set an example for others," she added.
Well, this show indeed is their first project together so let's see what are they going to do and how long will they last. Who do you think has the capabilty to win the show?
Stay tuned to HerZindagi to know more about the BB 14 contestants.
Did you like this article ?