It is the month of 2020 and we all are desperately awaiting the new year to arrive soon. According to beliefs, New years are symbolic of the entrance of new opportunities, things of joys, and the end of misery, and hoping the best for the coming year, we all hope and wish, that may this year overflow with happiness and cheers of laughter for everyone.
Therefore to give your new year a perfect start, we all should start preparing for it. And to do that, we are here with some cool and easy DIY ideas that will help you accentuate your new year celebrations easily. So, take a look.
DIY 'Happy New Year' Garland
Happy New Year garlands are very mandatory pieces of decoration for new year's party so, let's take a look at how we can go ahead and make one for ourselves.For this project, we will be needing black chart paper, thing rope or ribbon, scissors, glue, and silver glittered rubber sheet.
Start by writing Happy New Year, in all caps on the silver glitter sheet and then cut it out accurately using the scissors. Remember to write the laterally inversed letters on the silver sheet and then cut the letters or they will appear to be reversed. Now take the black chart paper and cut equal size rectangles and then make a triangular cut on the bottom of each rectangle. Stick the glitter letters on the black paper and attach it to the rope like a garland.
DIY '2021' Bottle Decor

Another interesting way to amp up your new year's party this time is to decorate your home with this bottle decor DIY(Fabric Jewellery DIY Projects). These make a perfect decor piece and can be kept on tables or counters. For this DIY you will need some white paint, some gold spray paint, thermacol sheet, strong adhesive glue, golden glitter and small golden streamers. Take 4 similar glass bottles, glass bottles because they look more elegant. And colour those glass bottles with a coat of white paint. Double coat the bottles and let them dry.
Meanwhile, take the thermacol sheet cut out '2021' of equal size and cover them with gold spray paint. And leave for 24 hours, afterwards brush the thermacol numbers with glue and sprinkle glitter over them, covering them entirely. Now spray paint the glass bottles with gold spray paint, let them dry, and stick the numbers on each of the bottles. Stick the streamers onto the top of the bottles and there you go!
DIY New Year Party Props
Party props are super trendy and you can use them for click selfies etc. To make these props, you will be needing a black chart paper, a golden rubber sheet, popsicle sticks, glue, and some tape. Start by cutting different shapes, measuring the size of your face and head, and then add a golden highlight with the golden sparkly sheet. Stick the golden sheet over the respective shapes and lastly add the popsicle stick to hold the props. Voila!
Don't miss: Check Out These Cute Christmas Themed DIY Projects
DIY New Year Pop Up Greeting Card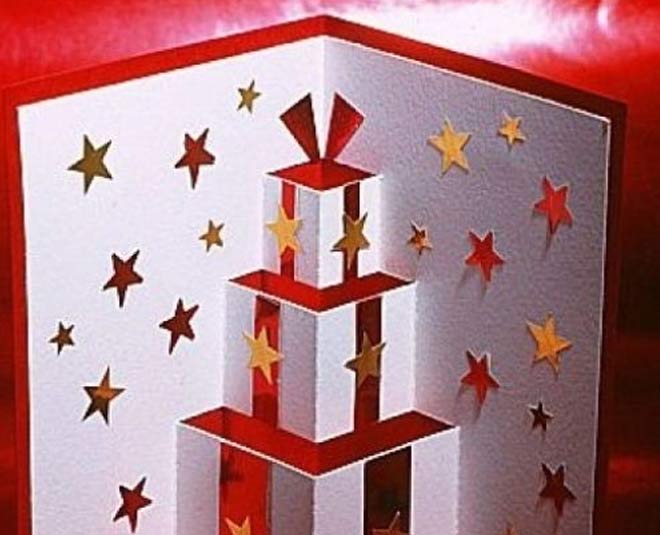 New year greeting cards are also very mandatory. And in this age of WhatsApp texts and Facebook messages if you want to keep the tradition of gifting greeting cards, alive, then make this DIY(How to make DIY light decor for home) pop up card. For this DIY you will need, a white chart, a red chart, and some stick-on stars. Cut a rectangle out of the white chart, then fold it into two halves.
Then make 6 small cuts in ascending order so that the second cut is bigger than the first. Now open the card and pull the cuts inwards to make a cake-like pop-up. Now decorate the card with stars and write your heartfelt messages and present this to your close ones.
Don't miss: Check Out How To Make A DIY Box Card For Gifting
If you liked reading this article then stay tuned to Her Zindagi for more articles like this.